Pro Vice Chancellor, Research & Knowledge Exchange
School of Sport
T: 01904 876738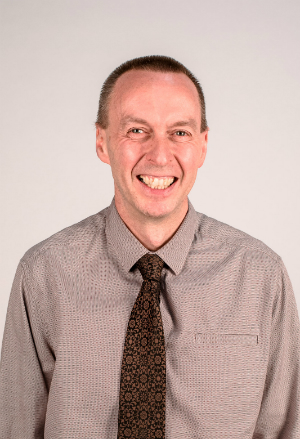 As Pro Vice Chancellor, Research & Knowledge Exchange, Professor Andy Smith leads on delivering York St John University's research strategy, Research Excellence Framework (REF) submission and preparations for the Knowledge Exchange Framework (KEF). Andy also holds the portfolio of Business Development and leads York St John's relationship with the new Mental Health Hospital.
In his own words, Andy says he has had an unusual career and has an eclectic range of research interests. His passion is teaching students and helping them research. His ambition is to help students reach their full potential and to support them in mastering topics and skills that they find interesting but challenging. After graduating with a Degree in Sport and Recreational Studies, Andy worked in the private sector for 10 years managing and then directing a number of health clubs and Clinics. Through this work he became interested in why some people stick to an exercise programme whilst others drop out (an area of research called Exercise Adherence). He then pursued this interest through a part time PhD at the University of Exeter supervised by Professors Stuart Biddle and Neil Armstrong. After gaining his Doctorate he entered Higher Education where he has held a number of posts including Head of School and Director of Institutional Advancement and Development.
Andy was Chair of the British Association of Sport and Exercise Sciences (BASES) between 1998 – 2000 having previously been Conference Organiser (1997), the Association's Secretary (1993-1995), and headed up the Open Section (1991-1993).
He has been an accredited Sport and Exercise Scientist since 1994 working with a range of clients and organisations, and now holds Chartered status. He was the founding Chair of Active York (City of York's sport and active leisure partnership) serving the community in this role between 2003-2006.
In May 2012 Andy became the University's first Head of Sports Performance and Participation with responsibility to take York St John University Sport to another level using our new 57 acre sport park.
Andy's community and academic work has received the following recognition:
2011 Awarded an MBE for his service to Higher Education and Community Sport
2008 Awarded a Hefce/CASE Fund Raising Scholarship to study how philanthropy is used to fund Higher Education in Florida, USA
2005 Awarded the title of York Pride Person of the Year by the Evening Press and City Council sponsored by the Norwich Union
2002 Awarded an Honorary Fellowship by BASES for making 'an exceptional contribution to the field of Sport and Exercise Science'.
1991 Received a FEPSAC Young Researcher award for my research on Attribution Theory
And he is also an endurance athlete and have competed in numerous running and cycling races.
Further Information
Teaching
Central to my portfolio and vocation is teaching and learning from 'my' students. My research students have gone on to become a professor, research fellows, accredited sports scientists, exercise leaders and teachers.
In 2000 I was a member of the QAA Benchmarking Statement Group for Sport, Leisure, Hospitality and Tourism which shaped the sport and exercise science curriculum. Throughout my career I have used and encouraged the use of innovative teaching methods which can be read about in the following:
Laycock, R., Smith, A., and Liefeith, A (2006). Breaking Bones: Animating the Biomechanics of Sport Injury Vol 5, No 2. Journal of Hospitality, Leisure, Sport and Tourism Education.
In 2004 I defined exercise science as 'a theory-based, research-led discipline that seeks applied solutions to health problems related to physical inactivity, and which aims to understand and promote individual and public health and wellbeing through evidence-based physical activity interventions.'
Smith, A. 2004. What is Exercise Science? Vol 3 No 2. Journal of Hospitality, Leisure, Sport and Tourism Education. http://www-new1.heacademy.ac.uk/assets/hlst/documents/johlste/vol3no2/0076.pdf
Given my role in developing exercise science in the UK, much of my teaching is in this area across a number of modules including Sport and Exercise Psychology. I also make a contribution to research methods modules and the supervision of under and postgraduate theses.
I believe that the key to stretching and challenging students is to involve them in both research studies and professional practice.
Professional Activities
I have been an accredited sport and exercise scientist since 1994 and have been in professional practice in health clubs, clinics, sports clubs and universities. In 2013 I became a Chartered Scientist through BASES. My clients have included the NHS, professional football and rugby clubs, world class athletes and most importantly members of the general public. My interventions are based on detailed needs analysis and evidence based practice.
I am currently working on a Futurology of Sport to predict and help create the professional practice of the future. For example I am interested in how genetical modification, nanotechnology and non-human (artificial) intelligence will revolutionise how sport and exercise scientists work with clients and what they do to improve performance and health.
Since 2012 I have been on secondment to the Vice Chancellors Office reporting to the Chief Operating Officer (David Chesser) on the development of sport facilities, sport participation and sport performance. In 2012 the University purchased a 57 acre site complete with over 1000 trees and bordered by the River Foss. I have co-ordinated the development of this site into a Student and Community Sport Park. New facilities that have already been built and opened include i) a floodlit 3G pitch; ii) a floodlit hockey pitch; iii) floodlit tennis and netball courts; iv) a 110m athletic sprint track; v) a strength and conditioning Gym and related changing rooms. Work is currently on-going to i) build a multimillion pound indoor Sport Centre and ii) 6 top class grass pitches.
I have also worked with the Student Union to secure funding from Sport England to offer a Sport for Wellbeing project to increase participation. I have also worked with others to put in place a performance enhancement plan to improve the University's results on varsity, BUCS and community leagues.
Research
I have been conducting research for 25 years and my work is wide-ranging and varied. In roughly chronological order my research and scholarly interests are listed as follows:
Interdisciplinary approaches to sport and exercise science exploring how biomechanics, physiology and psychology can be combined to create a rounded picture of the exerciser or sports performer. Work from this period includes interdisciplinary sports and exercise science. BASES Workshop. John Moores, Liverpool. May, 1997.
Exercise adherence looking at why some people are active whilst others are sedentary and exploring how to get those who do the least exercise to do a little bit more. Work from this period includes Smith. R.A. and Biddle. S.J.H. (1999). Attitudes and exercise adherence: Tests of the theories of reasoned action and planned behavior. Vol 17 No 4. Journal of Sports Sciences.
GP 'referral' schemes looking at how doctors and others can link with leisure services to provide exercise on 'prescription'. Work from this period includes Craig, A., Dinan, S., Smith, A., Taylor, A., and Webborn, N. (2001) Exercise Referral Systems: National Quality Assurance Framework. National Health Services.
At the start of 2015 I have research at 5 different stages of development as reported below-
Stage 1 Seeking Funds and/or ethical approval to conduct research: I currently have 3 applications for funding under review. With Professor Alyson Tobin, I have 2 grant applications under consideration to conduct research on synthetic sport surfaces. With colleagues from across the University I have 1 grant application under review to investigate the experience of Military Veterans in 'Transition'.
Stage 2 Collecting Data or reviewing literature: I am currently collecting data for 2 studies. With Nat Norett and other colleagues I am reviewing the literature on bullying in school sport. This work is being funded by the Cohon Foundation. I am also working with Frances Dodd to collect data on the 'frames of reference' of different professions working together on a Sport Development project.
Stage 3 Writing up research to submit for peer review: I am currently writing up 5 studies. With colleagues I am currently co-authoring 3 systematic reviews. With Dale Foresdyke I am writing up a systematic review on the psycho-social aspects of sport injury. With Luke Madge I am co-authoring a review on cardiac events in marathons. With Ollie Waite I am writing up a systematic review on sudden death in marathons. In addition I am co-authoring i) a case study on recreation in a group of people with stable heart disease and ii) a case study on an 'upstream' intervention designed to increase sport participation.
Stage 4 Research under peer review: With John Grey and Hazel James I have 1 paper under review which proposes a model to describe and understand professional practice in Strength and Conditioning.
Stage 5 Correcting papers prior to publication: With John Grey and Hazel James I am correcting 1 paper for publication in the Canadian Journal of Health and Fitness on Personal Training.
I am currently PhD supervisor for three members of staff, have successfully supervised five PhD students to completion, one Masters by Research and three BASES accreditation applicants. All of my research is linked by a desire to create evidence based practice and policy.
I have recently become the Founding Interdisciplinary Section Editor of the Journal of Applied Case Studies in Sport and Exercise Science.
Publications
Smith, A. (2016). What might be the next big research questions and ideas for physical activity and health? Invited Opening Keynote lecture at the Faculty of Health and Wellbeing Research Day. 1 July at Sheffield Hallam University.
Harrison, N and Smith, A. (2016).Careers and culture in sport and the military Cultures. Summer Edition. The Sport and Exercise Scientist.
Smith A, (2016) Exercise is recreation not medicine, Journal of Sport and Health Science (2016), doi: 10.1016/j.jshs.2016.03.002
Forsdyke D, Smith A, Jones M, Gledhill, A. (2016) Psychosocial factors associated with outcomes of sports injury rehabilitation in competitive athletes: A mixed studies systematic review, British Journal of Sports Medicine, 2016;50:537– 544.
Waite, O., Smith, A., Madge, L., Spring., Noret, N,. (2016) Sudden cardiac death in marathons: A systematic review. The Physician and Sportsmedicine, Vol. 44, Iss. 1.
Smith, A. (2015) Recreation not Medication: Exercise for Community and Wellbeing. In: Cheng, S., Ronkainen. and Tikkanen, O. (eds) Proceedings of the Scientific Symposium on the Physical Activity Continuum Throughout the Lifespan. Shanghai, China, 10 – 11 November 2015. Shanghai Jiao Tong University, pp. 3.
Noret, N., Smith, A., Birbeck, N., Velija, P., and Mierzwinski, M. (2015) Bullying in School Sport. Report no. 1. The Ben Cohen Standup Foundation.
Gray, J., Smith, A., and James, H. (2015) An Aristotelian investigation into personal training. Health & Fitness Journal of Canada. Volume 7 Number 4.
Gray, J., Smith, A., and James, H. (2015) From "Locker-Rack–Shower–Repeat" to a coaching focused model of strength and conditioning. Health & Fitness Journal of Canada. Volume 7 Number 3.
Debate
Smith, A. (2015) Is exercise a medicine? Debater at the Exercise and Health Technology Centre Scientific Symposium. China.
Expert Panel
Smith, A. (2015) What kind of exercise is most vital for good health? Expert panel member at the Exercise and Health Technology Centre Scientific Symposium. China.
Andy has had over 70 papers and articles published and made over 100 conference and workshop presentations. The most important of these to him are listed below:
Opening Keynote Speaker
Smith, A. (2015) Recreation not Medication: Exercise for Community and Wellbeing. Invited Opening Keynote lecture at the Exercise and Health Technology Centre Scientific Symposium. 10th November at Shanghai Jiao Tong University, China.
Smith, A. (2010) Resilience in an Age of Austerity. The Sport and Exercise Scientist.
This paper is important to Andy as it provides advice on how Sport and Exercise Science Departments can thrive and survive in difficult economic times. He hopes it may help the subject area across the UK HE sector maintain and enhance the service it provides students.
Sanctuary, C., Smith, A. and Thombs, B. (2010) Towards a Theory of the Interactive Factors Implicated in Successful Individual Performance in Cricket. International Journal of Sports Science and Coaching. Vol 5, No 2.
This paper is important to Andy as the first author, Colin Sanctuary, was an undergraduate and a Doctorate student of his who also did his BASES supervised experience with him.
Smith, A. (2010) Exercise, Resilience and Lupus. Keynote lecture at the 19th Annual Lupus conference. at the Old Swan Hotel, Harrogate.
This lecture is important to Andy as it gave him the opportunity to speak directly to people with Lupus.
James, I., Smith. A., Smith, T., Kirby, E.,; Press, P., and Doherty, P. (2009) Randomized controlled trial of effectiveness of pedometers on general practitioners' attitudes to engagement in and promotion of physical activity. Journal of Sports Sciences, 27: 7, 753 — 758.
This paper is important to Andy Smith as it is one of the few RCTs published in Exercise Science. It also reflects the huge impact Professor Doherty has had on his thinking and research.
Smith, A. with a case study from Sara Moore (2009) The Way Forward for Physical Activity and Health Promotion: Designing Interventions for the Future. In Dughill, Crone and Murphey. (Eds). Physical Activity and Health Promotion: Evidence-based Approaches to Practice. Wiley.
This book chapter is important to Andy because it was one of the first publications in which he included material from his work in Futurology.
Smith, A. (2006) Why Nietzsche was wrong about philanthropy: A new funding source for education and the application of Sport and Exercise Science? Keynote lecture at BASES conference. 12th September 2006 at the University of Wolverhampton.
This lecture is important to Andy as it gave him the opportunity to reflect on how Sport and Exercise Science Departments could fund research in developing areas such as nanotechnology, genetics and artificial intelligence.
Crone, D., Smith, A., and Gough, B. (2005) "I feel totally at one, totally alive and totally happy": A Psycho-social explanation of the physical activity and mental health relationship. Health Education Research. 20 (5) 600 – 611.
This paper is important to Andy as it focused on the importance of using exercise to feel good now rather than in the future (the old before and after perspective).