Aesthetica
York St John University's partnership with Aesthetica magazine goes from strength to strength with a series of high-profile events and exhibitions for 2018.
Aesthetica Short Film Festival (ASFF) 2018
From 7-11 November the University will be once again be hosting events as part of the BAFTA qualifying Aesthetica Short Film Festival (ASFF). Now in its 8th year, the film festival is just one of many events that make up York's thriving art scene.

Providing a platform for celebrating the best independent film making in the UK, this year's festival promises to be the biggest and most ambitious yet with over 300 films and 100 events across 15 venues.

As a proud sponsor of ASFF, York St John University is delighted to be hosting three days of events featuring masterclass sessions with film industry innovators including Dazed, BFI Network and Pinewood Studios. For the first time in the festival's history the University is also opening up its doors to aspiring filmmakers for ASFF pitching sessions with production and distribution companies including Dogwoof, StudioCanal and Curzon.

The festival is a fantastic part of York's event calendar and gives visitors, students and the local community a great opportunity access a prestigious film festival and benefit from the creative inspiration the event brings.
To keep up to date with ASFF, visit the Aesthetica website, follow on Facebook or Twitter.
ASFF 2017 Official Trailer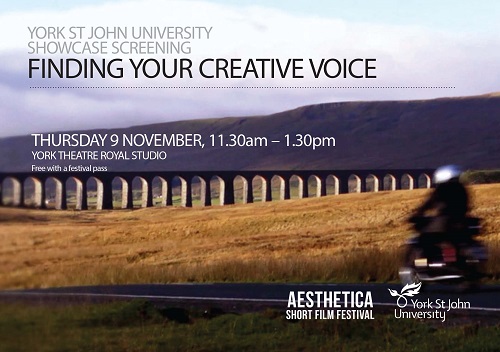 Finding your creative voice
Last year, York St John University held a showcase as part of the Aesthetcia Short Film Festival, an event for aspiring creatives as well as a celebration of the talent coming out of the School of Performance and Media Production.
York St John University has a longstanding film production reputation going back 50 years and we were delighted to invite some of our successful graduate film-makers back for a screening of short films made during their time at the University.
One of the hardest challenges facing filmmakers is how to find their unique style. York St John's graduate filmmakers talked through overcoming this issue, utilising a range of genres, techniques and processes. The session reflected upon the difficulties and rewards of creative freedom.
This event was part of the 2017 Aesthetica Short Film Festival. For more information on the festival for 2018, visit the ASFF website.
Future Now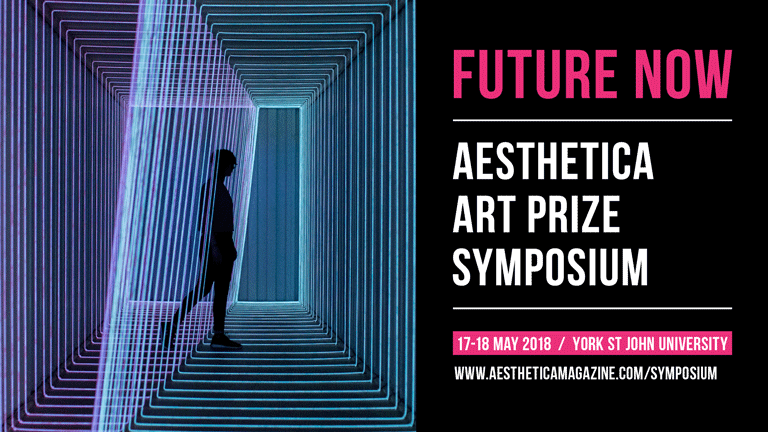 The Future Now Symposium is a dynamic, two-day event hosted by York St John University on 17-18 May to provide an imaginative platform for attendees to consider the arts ecosystem within a broader social, political and professional context.
Future Now pass holders can also claim a free ticket to a private view of the Aesthetica Art Prize exhibition at York Art Gallery on 17 May.
The world is increasingly shaped by surveillance and data collection, and the human condition has become one of rehearsal and performance. Exploring the wider effects of over-consumption, media stimulation and data dissemination, this year's Symposium topics call into question new modes of communication, offering reflection upon the era of post-truth through discussions surrounding photography, design, sculpture, painting and journalism.
Book your place at the Symposium here.
York St John University and Aesthetica
York St John University is one of the key partners of Aesthetica, a British art and culture magazine. The magazine was founded in 2002 by York St John University alumna Cherie Federico. Cherie graduated with a masters in English in 2003 and is also an honorary fellow of the University.
We are proud to host two key Aesthetica events on campus:
The Aesthetica Art Prize Symposium – Future Now (17 - 18 May 2018)
Aesthetica Short Film Festival – BAFTA recognised (November 2018)
Academic colleagues from a wide range of courses share their expertise at the Symposium and the Festival and we are delighted to offer our students the opportunity to attend Aesthetica's prestigious events that attract leading figures in the fields of art and culture to campus.