Develop as an artist and refine your fine art practice. Identify, explore and professionalise your approach.
The Fine Art MA focuses on progressing your practice and developing you as a professional artist. You'll produce a rich body of work underpinned by theoretical understanding. The course emphasises creating, supported by technical knowledge. You will learn to research, develop and refine your ideas. The practical skills you establish will be supported by an academic understanding.
Location – York campus
Duration – 1 year full-time | 2 years part-time
Start date – September 2019, September 2020
School – Art, Design & Computer Science
Minimum Entry Requirements
Portfolio You will be required to submit a portfolio of visual work

Interview You may be invited to attend an interview
Tuition Fees
UK and EU 2019-20 £6,500

International 2019-20 £12,750
Course overview
As a student on our Fine Art MA you will develop a deeper knowledge of your fine art practice.
The course has been designed for students who have recently finished Undergraduate degrees and for those returning to learning.
You will have the opportunity to identify, develop and professionalise your personal approach to making art. You will expand your knowledge and skill through a combination of taught sessions, tutorials, critiques, briefs and live projects, field trips and participatory events. You will be encouraged to think globally, produce work of high quality and develop your professional networks.
You will be supported to work independently and to explore your own potential. You will be able to focus on areas that are directly relevant to your interests. You will build on your knowledge of fine art through material thinking and critical theory. Your studio practice will be informed by experience in professional and scholarly fields.
Special features of this course include guest speakers, masterclasses, access to specialist studios and workshop spaces, national and international field trips, group exhibitions, networking opportunites, and the chance to be involved with staff research and symposiums.
Course structure
Modules include:
Material intelligence (30 credits)
Specialist expansive studio practice (30 credits)
Navigating and locating practice (30 credits)
Specialist professional practice (30 credits)
Masters project (60 credits)
Teaching and assessment
The teaching and learning environment includes workshop facilities, teaching spaces, technologies and exchanges between analogue and digital cultures.
You will take part in workshops and studio sessions, seminar discussions, supervised projects, critiques, professional experiences and project work.
Your creative development will progress through ongoing action, reflection and evaluation, supported by research and expanded through different modes of reflective practice. You will gain an in-depth understanding of the different methods of artistic production and will be able to situate your creative practice within the wider visual arts landscape.
Formative assessment will be employed throughout the course through a range of tasks, projects and presentations. Summative assessment will take a variety of forms including presentations, portfolios, exhibitions and written work.
Feedback is delivered in written or recorded verbal form within three weeks of the assessment.
Fees and funding
To study for a Postgraduate degree with us, you will need to pay tuition fees for your course. How much you pay will depend on whether you're a UK & EU student or an international (non-EU) student. Tuition fees are charged for each year of your course.
Tuition fees
UK & EU 2019 - 20
The tuition fee for 2019 entry to this Postgraduate course is £6,500 for full-time UK/EU, Jersey, Guernsey and Isle of Man students.
Postgraduate Loan: A Postgraduate Loan is available to help you pay for your Master's course. Find out more on the Government website.
A 10% discount is applicable to all YSJ Alumni (subject to a minimum of 120 credits and achievement of a recognised award) undertaking PG level study (excludes PGCE).
International (non-EU) 2019 - 20
The tuition fee for 2019 entry to this postgraduate course is £12,750 for international students.
Due to immigration laws, International students on a Tier 4 visa must be studying full-time.
Entry Requirements
Minimum entry requirements
Qualifications: Requirements for entry are currently being developed. Please register your interest in this course using the form below.
Portfolio: Applicants are required to submit a portfolio of visual work, this can be done digitally.
Interview: Applicants are also invited for interview.
APEL policy
If you can't meet these minimum requirements it may be possible to take into account evidence of Accreditation of Prior Experiential Learning (APEL) as an alternative method of meeting the programme's entry requirements. In such a case, appropriate references and records of employment might be presented to support the applicant's case for admission.
Terms and conditions
Our terms and conditions, policies and procedures contain important information about studying at York St John University. These can be accessed through our Admissions webpages.
Apply for this course
You can apply directly to the course via our Apply Now links. Please select the variant of the course that you intend to undertake (e.g. full-time or part-time) as the link will take you to a customised form for the specific course. You will need to create a login and password and complete the online form. Please contact two referees in advance of submitting your application as an automated request will go out as soon as you submit, and your application will not be reviewed until both references are in place.
More to explore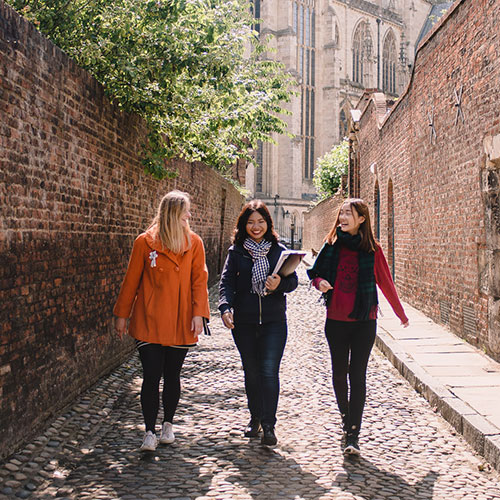 Your next steps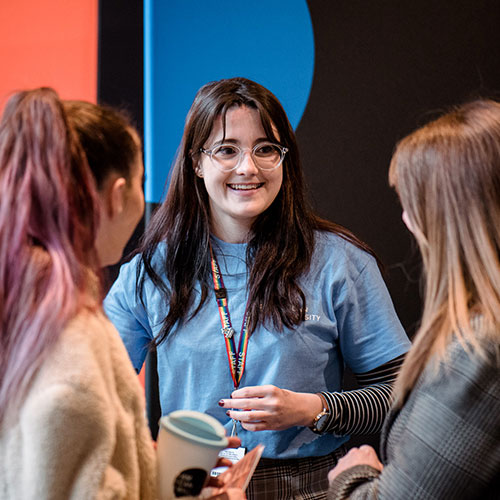 Visit us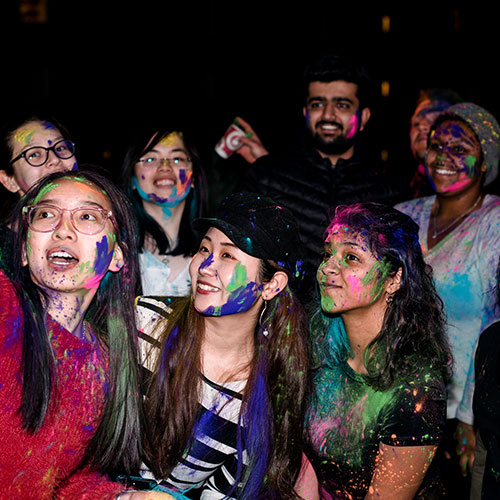 Student life