Learn the skills you need to thrive in the world of marketing and be central to business success.
Develop your critical understanding and knowledge of marketing, with a focus on strategic marketing, brand management, consumer behaviour, marketing communications and digital marketing. Develop your leadership skills and your individual and organisational potential. This course teaches you key theories, tools and techniques and how to apply them.
York campus
Duration – 1 year full-time | 2 years part-time
Start date – September 2020
School – York Business School
Minimum Entry Requirements
2:2 Undergraduate degree from a UK or NARIC listed institution

Experience current or recent work experience in a related discipline
Tuition Fees
UK and EU 2020-21 £6,500

International 2020-21 £12,750
Course overview
The Marketing MSc brings together relevant contemporary academic theory and research with a practical understanding of organisational operations. You will develop an integrated and critically aware understanding of management in the context of contemporary business and marketing.
A distinctive element of the programme is the opportunity to gain professional accreditation from the Chartered Management Institute (CMI) alongside the academic award.
This programme:
Enables you to develop a sound understanding of the skills necessary to succeed in various organisations.
Develops responsible and ethical managers.
Supports the development of international marketing skills.
Uses assessment methods which mirror organisation-based activities.
Provides a supportive platform for critical reflection through the application of academic theories to real work situations.
Will give you excellent personal and academic support. You will be allocated an academic tutor to support you throughout the programme.
Course structure
Level 1
Modules
15 credits
Compulsory
The study of business in contemporary society requires an understanding of many topics. We will introduce a range of pervasive and contemporary issues in the study of business. This module is your chance to identify the research expectations of postgraduate study. You will develop a critical awareness of the research process. We will also support you to discover your specialism.
15 credits
Compulsory
Develop an understanding of the theoretical and practical issues relating to sustainable business. You will consider these issues in the context of environmental, social and economic needs. Explore how these may differ at national and global levels. To do this, you will review the relationships between business and society in an uncertain world.
15 credits
Compulsory
Explore how to integrate various promotional efforts into strategic management and marketing plans. This is the foundation for building successful brands. We will show you how to put theory into practice in the evolving market place. As part of the module, you will produce a full marketing communications plan.
15 credits
Compulsory
Gain the skills and knowledge required to produce strategic marketing plans. You will learn to use strategic marketing simulation software to do this. We will challenge you to consider a range of marketing theories on this module. You will assess how all aspects of marketing should link to the strategic marketing planning process.
15 credits
Compulsory
On this module you will gain a broad understanding of how to analyse business data. You will explore effective methods of summarising data and understanding the relationship between variables. We will give you practical skills and techniques in data analytics. The module introduces the blockchain and the scope of the blockchain industry. You will learn how to understand blockchain and explore blockchain trends.
15 credits
Compulsory
Discover why organisations must understand their customers to succeed. This module covers the complexities of consumer behaviour. You will analyse and evaluate the impact of internal drivers on the consumer, as well as considering how the marketer should respond to these psychological drivers.
15 credits
Compulsory
Digital technology has revolutionised marketing. This module will provide a broad understanding of digital and interactive tools. It will help you to understand, assess and develop digital marketing strategies and tactics. You will learn about website marketing and usability, search engine optimisation, social media and more.
15 credits
Compulsory
This module introduces you to core theories about branding and brand management. Explore academic research in brand management and discuss contemporary issues. You will look beyond logo design and think about brand as a strategy. Consider its personality, values and the message it projects in the market place.
60 credits
Compulsory
We have designed this project to build on your learning throughout the programme. It gives you the opportunity to apply everything you have learnt to a current marketing issue. You will define, research and analyse a topic of your choice, identifying potential solutions and reaching evidence-based conclusions. Your capstone project can take the form of either an academic dissertation or an applied business consultancy project.
Teaching and assessment
A range of assessment tools are used including presentations, critical essays, portfolios and reflective journals and case study work. Each module tutor will provide opportunities for formative assessment feedback to inform your work prior to submission.
You will receive detailed feedback on assessments to help you develop and continuously improve your performance. Advice will be provided in relation to development, further areas for research and guidance on how to enhance your subject knowledge.
You will receive study support including academic writing and research skills to enhance employability and career development in the field of business management.
Entry requirements
Qualifications
Minimum Entry Requirements
2:2 Undergraduate degree from a UK or NARIC listed institution

Experience current or recent work experience in a related discipline
Qualifications
Entry onto this postgraduate course requires a minimum of a 2:2 undergraduate honours degree in a related discipline from a UK or NARIC listed institution.
If your undergraduate honours degree is not in a related discipline but you can demonstrate extensive professional experience in the subject, your application will be considered.
International Students
If you're an international student, you'll need to demonstrate experience, or qualifications equivalent to those above.
If your first language is not English you must show evidence of English Language competence at IELTS level 6.0 (with no skill below 5.5) or equivalent.
Experience
Entry onto this postgraduate course will require you to demonstrate current or recent work experience. This will enable you to fully engage with the course.
APEL policy
If you can't meet these minimum requirments it may be possible to take into account evidence of Accreditation of Prior Experiential Learning (APEL) as an alternative method of meeting the programme's entry requirements. In such a case, appropriate references and records of employment might be presented to support the applicant's case for admission.
Fees and funding
UK & EU 2020 - 21
The tuition fee for 2020 entry to this postgraduate course is £6,500 for full-time UK/EU, Jersey, Guernsey and Isle of Man students.
For UK/EU, Jersey, Guernsey and Isle of Man students studying part time, the tuition fee for 2020 entry to this postgraduate course is £3,250 per year.
Postgraduate loans are available to help you pay for your master's course. Find out more about postgraduate funding opportunities.
International (non-EU) 2020 - 21
The tuition fee for 2020 entry to this postgraduate course is £12,750 for international students.
Due to immigration laws, international students on a Tier 4 visa must be studying full-time. For more information about visa requirements and short-term study visas, please visit the International Visa and Immigration pages.
More information about funding your studies is available on our International Fees and Funding page.
Tuition Fees
UK and EU 2020-21 £6,500

International 2020-21 £12,750
Alumni Scholarships
If you are continuing to postgraduate study directly after studying at undergraduate level with us, we offer a reduction in fees depending on the classification of degree you achieve.
If you are graduating from an undergraduate degree at York St John University this year you could be entitled to:
a 50% reduction in course fees if you achieve a 1st
a 35% reduction if you achieve a 2:1
a 20% reduction if you achieve a 2:2
These reductions apply to all York and London-based taught MA, MBA, MSc and MRes courses, except for Physiotherapy (Pre-registration) MSc, Occupational Therapy (Pre-registration) MSc and all PCGE courses.
All York St John University alumni are eligible for a 10% reduction on their postgraduate course fees regardless of when you graduated. The 10% alumni discount will not be added on top of these reductions.
Additional costs and financial support
COURSE-RELATED COSTS
Whilst studying for your degree, there may be additional costs related to your course. This may include purchasing personal equipment and stationery, books and optional field trips.
ACCOMMODATION AND LIVING COSTS
View our accommodation pages for detailed information on accommodation and living costs.
More to explore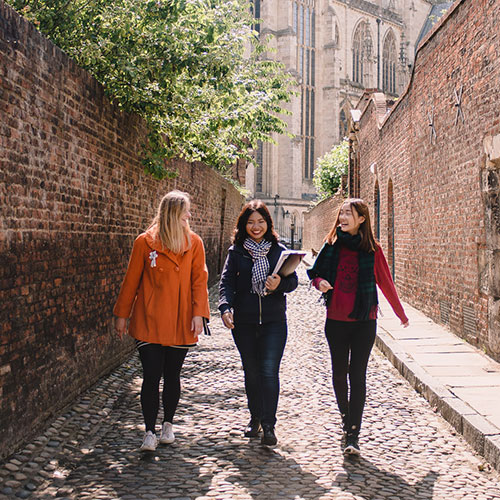 Your next steps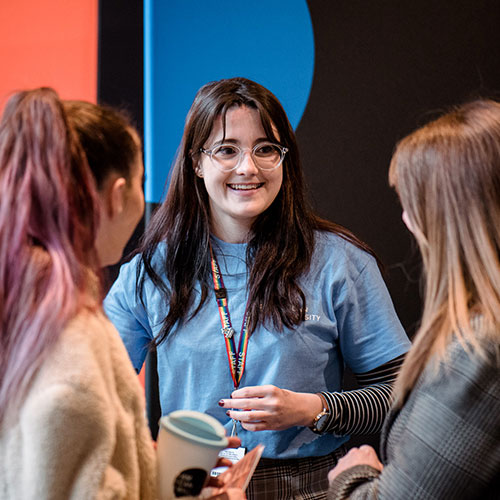 Visit us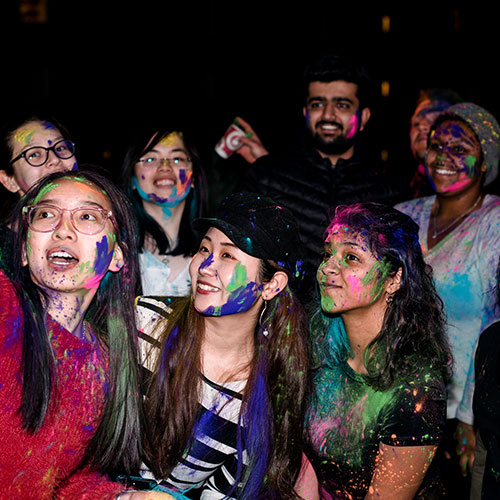 Student life