Undergraduate course
Business Management BA (Hons)
Learn how managers keep their business on track to meet its goals, whilst gaining practical experience with leading businesses.
If you've set your sights on a career in management, studying our Business Management degree provides an excellent starting point, offering the opportunity to develop your employability. You will also develop managerial skills and perspectives, whilst gaining valuable, practical experience of management situations. Alongside classes you can also utilise a Continuing Professional Development framework to develop your practical skills and help you to build links with the business community.
York campus
UCAS Code – N202 | With placement year N887
Duration – 3 years full-time
Start date – September 2020, September 2021
School – York Business School
Minimum Entry Requirements
96 UCAS Tariff points

3 GCSEs at grade C/4 (or equivalent) including English Language
Tuition Fees
UK and EU 2020-21 £9,250 per year

International 2020-21 £12,750 per year
Course overview
As the global business environment continues to become increasingly competitive and challenging, businesses need to take more risks and develop sustainable business models that serve their customers and have a positive impact on society. This course aims to provide you with a critical understanding of the management of organisations.
Studying the BA (Hons) Business Management award is a great opportunity to gain a degree that is focused on your long-term career prospects. Whether you are wanting to manage your own business or you are interested in working in a large corporation, you will need to possess an understanding of how businesses operate and how skilled managers can contribute to their success.
Importantly, management is about people, and we will enable you to develop your own skills as a team player, a group member and ultimately as a manager of others. Your Business Management degree will allow you to specialise in management and gain an insight into how managers work to meet organisational objectives. Alongside this knowledge you will also develop the skills you will need to be effective as a future business leader in the dynamic digital age.
Special features
A focus on the management of organisations builds the knowledge and skills you will need as a manager. This includes the management of people, resources and business activities
Accreditation by the Chartered Management Institute (CMI) giving you a professionally recognised qualification (Level 5 Diploma in Management and Leadership) alongside your degree
Throughout the course there are opportunities to engage with practising managers, organisations, employers and entrepreneurs and take part in work related experiences and internships
Year in industry
All of our business students have the option of adding in a year in industry and / or a semester of studying abroad with one of our partners to their course. A year in industry gives students fantastic experience and is attractive to potential employers. This normally takes place after the second year of the course and extends the course duration by one year (15% of the standard tuition fee is chargeable). Study Abroad normally takes place for a semester of the second year of the course and doesn't extend the course duration as credits achieved abroad count towards your degree.
You don't need to decide whether you would like to take either of these options until after you have started the course with us.
Course structure
Level 1
At level one (year one), the modules are designed to give you a grounding in the key theoretical areas of business management. You will study six modules each worth 20 credits and will be introduced to a range of specialist subject areas.
Modules
Compulsory modules:
Organisational Behaviour in the Digital Age
The purpose of this module is to examine and critically assess a number of key concepts and issues associated with behaviour in organisations. It is designed to develop students' understanding of the key characteristics of work organisation, the context of organisational behaviour, and how a number of different organisational variables affect individual and organisational performance. This module discusses the role of contemporary business in the modern digital age. It seeks to consider the changing role and nature of business and how it influences society and the way business is conducted.
Practising Responsible Business Behaviours
This module examines the nature of business enterprise and its relationship with wider society, seeking answers to the question: what does it mean for businesses to behave responsibly? There is an ongoing debate regarding this question, with answers ranging from 'just maximize shareholder value' to 'consider everyone who is affected, including unborn future generations', with many variations in between. In this ongoing debate we encounter ideas regarding, for example, stakeholder theory, the triple bottom line, corporate social responsibility, business ethics, the role of the state or of supra-national organizations, and so on.
Entrepreneurship and the Business Environment
The purpose of this module is to provide students with an understanding of the internal and external business challenges facing managers today. Students will be introduced to the theoretical underpinning of the business environment which will further develop their abilities to analyse and address managerial issues posed by the drivers that influence organisations The module exposes students to the exciting, challenging and increasingly complex work of entrepreneurship. Students will also develop a critical understanding of contemporary discourses surrounding 'entrepreneurs' and 'entrepreneurship' as they are found in the wider culture and society at large.
Managing Business Resources
Resource management is the efficient and effective deployment and allocation of an organisation's resources when and where they are needed. Such resources may include financial resources, inventory, human skills, production resources, or information technology. The purpose of this module is to give students a broad understanding of the ways in which human, financial and physical resources are managed within a business organisation. In addition, students will appreciate the importance of effective resource management.
Managing Employee Performance in the Contemporary Workplace
The module introduces the students to how organisations can drive sustained performance by creating a high-performance work organisation (HPWO). It aims to introduce students to the key concepts and theories underlying Performance Management and how these relate to individual employee performance. It will consider performance as a systematic and continuous process for enhancing organisational performance by developing the performance of individual and teams, taking account of different organisational contexts and environments.
Business analytics and the Blockchain
The aim of this module is to give you a practical grounding in the skills and techniques necessary to conduct data analytics and anticipate the effects of the blockchain on both short and long-term strategy. The module introduces the blockchain and the scope of the blockchain industry.
Basic statistical models are introduced in this module. As future business leaders, students will learn to understand blockchain, explore blockchain trends, investigate the market disruptions caused by technology and the impact of blockchain in industries worldwide. The module is designed to get you over the basic hurdles you will face when beginning to learn data analytics and management techniques, and will cover some of the basic tasks that you face as a data analyst and will put you in a position to extend your knowledge of applying your analytical techniques.
Level 2
At level two (year two) you further develop your knowledge and managerial skills. You will study six modules (20 credits each) designed to embed key knowledge in managerial practice while at the same time developing skills that will enhance your CV. You will also have the opportunity to undertake a Professional Placement.
Modules
Management Practice in Disruptive Times
This module provides students with a broad understanding of the key concepts and principles of management and leadership. It considers the differences between management and leadership, through the development of theories and models, and the impact on organisations of different approaches. The module also allows students to analyse their own management and leadership skills and devise a personal plan which will allow them to develop these further.
Finance Analysis and Application
This module is built around key decisions that managers must make on a day to day basis; what to produce, how and how much, at what price, how to best use the resources available. The focus is on costs; understanding costs, cost behaviour, and using this information for planning and control decisions. The control aspect concerns the monitoring of results; making sure that all is going according to plan. This information and knowledge is applicable to all sorts of organisations; non-profit, retail, wholesale, manufacturing.
Leading and Developing High Performing People
The purpose of the module is to give students a broad knowledge and understanding of managing people in organisations. It will identify the factors required for the effective and efficient management of people within a legal and ethical framework. Students will develop the ability to apply learned theory and skills to people and change situations in order to improve business performance.
Managing a Diversity and Inclusivity in the Technological Revolution
Policy development and changes in contemporary practice for the effective management of a diverse workforce, and the developing business case argument, e.g. market orientation, customer focus and access to the talent pool, has led to significant changes in the way organisations approach their recruitment and retention strategies. A strategic approach to managing a diverse workforce is an essential requirement of all organisations. This module will draw upon the concepts and principles in relation to management of workforce composition exploring issues associated with implementing diversity strategy into operational activity.
Management Research Methods
Organisations frequently require both an understanding of how and why data is acquired, and an ability to collect, analyse and interpret it. These skills are also important if students wish to progress to postgraduate study or careers in consultancy services. This module considers the use of quantitative and qualitative research methods in subject contexts, and allows students to develop skills in the collection, analysis and reporting of relevant data. In addition, this module will develop students' project planning and management skills as a tool to manage the research process.
Professional Placement
The overarching rational for this module is for students to begin to understand and begin plan towards their own personal transition from university into the workplace. The module will provide the student with a vocational opportunity aimed at enhancing their future work readiness. It is designed to develop skills, knowledge and understanding in a range of career-related personal, professional and key skill areas. The module specifically engages with issues such as career decision making, the recruitment cycle applying for jobs, sourcing and embarking on a placement or a group or individual project, CV writing and action planning.
Or
Business, Creativity and Opportunism Skills for the Workplace of Today
This module explores the fundamentals of entrepreneurship and intrapreneurship and the behaviour and skills required to 'think out of the box' to identify and pursue opportunities. You will establish what the behaviours and skills are of an entrepreneur, define creativity and innovation, as well as ask why they are so important to entrepreneurs. We will explore idea generation and evaluation techniques and learn how to recognise enterprise opportunities.
Level 3
At level three (year three or four), you study four specialist management modules (3 core and one option each worth 20 credits) while also taking a specialist research investigation (40 credits) in a subject area of your choosing.
Modules
Research Investigation
The aim of this module is to facilitate and express independent enquiry in a substantial piece of individual self-directed research work. This module provides students with the opportunity to plan and conduct a piece of research through individual and independent activity and to present their findings in using visual aids and in written academic format that meets professional standards. Students will develop research objectives, formulate appropriate methodologies, and apply problem solving and analytical skills in a business context of their choice. You will be able to choose between a traditional dissertation, an organisation-based project, a business research project and a business creation project.
Dissertation: The aim of this module is to facilitate and express independent enquiry in a substantial piece of individual self-directed research work. This module provides students with the opportunity to plan and conduct a piece of research through individual and independent activity and to present their findings using visual aids and in a written academic format that meets professional standards. Students will develop research objectives, formulate appropriate methodologies, and apply problem solving and analytical skills in a business context of their choice.
Business Research Project: The aim of this module is to facilitate and express independent enquiry on a small-scale substantial piece of individual self-directed research work. This module provides students with the opportunity to conduct a piece of research through individual and independent activity and to present their findings in using visual aids and in a written academic format that meets professional standards. Students will develop research objectives, formulate appropriate methodologies, and apply problem solving and analytical skills in a business context of their choice.
Consultancy Project: The aim of the consultancy project is to give students the opportunity to combine an investigation into an authentic challenging business project with an in-depth research-based report. This offers links with potential employers and demonstrates an understanding of the application of business principles in a real-world situation. Students will develop their research skills alongside techniques of reporting back on findings.
Business Creation Project: The aim of the Business creation project is to support entrepreneurial students in their professional development as the business founders of the future. The module is intended to allow students to develop a full business proposal and plan which will be supported by primary and secondary research. This module will involve students in a demanding process of personal and professional developed, leading to an integrated and critically aware understanding of business creation from a pioneering industry and academic perspective.
Developing Organisational Strategy in the Digital World
The requirement for effective strategic management is increasing due to the highly complex and turbulent environments in which most private and public sector organisations currently exist. The study of organisational strategy encompasses theory and practice from a broad range of business sectors. As such, this module draws on concepts introduced in earlier modules and furthers the critical understanding of these topics and their inter-relationships. The module examines theories and models used in strategic management and decision making and reviews existing practice.
Operations and Project Management
This module seeks to develop an appreciation of the theoretical and practical issues relating to project management and operations management from a strategic and operations perspective. Students will develop a broad and critically understanding of the different aspects of organisations operations and the relationships between the various operational areas.
Strategic Leadership for Innovation and Change
This module provides students with a detailed understanding of the key concepts and principles of leadership and how leadership may be used to influence innovation and change within organisations. It considers leadership as a fundamental and pivotal role within organisational development and in particular how the behaviour of a leader influences both individual and organisational performance and creativity. The module also seeks to identify how leaders may interact with individuals to raise their performance.
Year 3 option modules may include
Business Ethics and CSR
It is important to integrate questions of business ethics & CSR with broader concerns around corporate citizenship, globalisation and sustainability. Therefore, there is value in bringing together diverse perspectives in order to offer a comprehensive and holistic account of contemporary business ethics & CSR. Furthermore, this module aligns well with the mission of the PRME (Principles for Responsible Management Education) initiative to inspire and champion responsible management education.
This module will provide students with a critical understanding of business ethics & CSR and enable them to apply these concepts to the corporations' major stakeholders. It seeks to encourage students to draw upon concepts and principles so that they can critically explore issues associated with the ethical challenges facing organisations that cross different functions in a fast-changing global business environment.
Organisational Psychology
This module explores different psychological theories and their application in organisational settings. The module will enable you to develop your appreciation of the psychological study of work organisations and work behaviour in a contemporary business context. You will explore the application of contemporary work and organisational psychology to business issues and functions. Key subjects covered during the module include psychological assessment at work; learning, training and development; leadership, engagement and motivation; well-being and work; organisational design, change and development; and applying work and organisational psychology.
Technological Issues in a Digital Era
Advances in IT have transformed the way in which people live, work, learn, communicate and conduct business. This module examines the issues arising from advances in IT, and the responsibility that business managers and technical developers have with regards to computer use. The module will serve to increase the understanding of issues related to ethics, professional conduct and social responsibility as they arise in the field of IT. The module provides students with an opportunity to develop skills of analysis and problem solving, enabling students to develop a critical awareness of responsible IT use. This enables them to deal with the problems, choices and constraints involved in the development of effective and sustainable strategies.
Teaching & assessment
Introduction
All modules are delivered utilising a range of teaching and learning strategies including lectures, seminars, guest speakers, tutorials, workshops and a range of events and learning activities.
You are supported initially in the use of guided learning strategies in Level 4 developing towards autonomous, well-judged use of collaborative and independent learning strategies in Levels 2 and 3.
Delivery
Throughout the programme you will be introduced to a range of different teaching and learning strategies. For example, in Level 1 you will undertake case based learning in which we real cases to develop your your awareness of the decision making process you may require as a manager. At Level 2 there will be evidence of practice based learning in which you will be expected to engage in practical based activities as you develop your skills in managing people, while also developing skills in managing projects. Finally at Level 3 you will demonstrate your skills through practice and enquiry based learning giving you the opportunity to develop creative and innovative solutions to problems and prepare for the future as a business leader in the digital era.
Contact Hours
42 hours contact time per module
Self-Study
As a university student, there is an expectation that you will develop from being a dependent learner to being an independent one. This means you are expected to undertake self-study and group learning. In year one you will be provided with guidance to progress your learning and self-development. By the time you get to year 3 it is hoped you will have developed greater autonomy and independence.
Staffing
The academic staff who deliver the BA (Hons) Business Management programme bring a wealth of professional experience from the world management to York Business School. You will be taught by academic and industry experts who worked for global organisations. Your teaching staff also have many years of practical management and strategic work experience in the Not-for-profit organisations have served as trustee/director for housing associations, such as Housing 21, social arts organisations, such as Arts Care Gofal Celf, and York CAB.
The team have research profiles and you will be provided with the opportunity to join them in their research through our 'Students as Researchers' scheme.
The course will also be supported the course at every level through professional accreditation, guest lectures, live projects work and internships and placements.
Placements
Business School Degrees with Placement
The emphasis of these courses, which include a placement year in industry, is on gaining practical experience; allowing you to apply the skills you have developed on your programme in a commercial setting and gain valuable experience whilst in real employment.
The placement occurs at the end of your second year, for between 9 and 12 months. You will return to University to spend your fourth year completing your degree. Students who undertake the placement year in industry often return for their final year more focused on their studies and are deemed to be more job-ready by employers.
At York St John University we provide you with support to help you source a placement which meets with your career aspirations; however, it is your responsibility to secure your own placement through the competitive recruitment process.
From the end of your first year, and throughout your second year, placement preparation sessions, delivered by the Careers, Placements and Student Opportunities Team and York Business School, will provide you with help and guidance on the placement year in industry process. This will include sessions on CV and cover letter writing, assessment centres and interview techniques, identifying placement opportunities and professional conduct. The sessions will provide opportunities to engage with employers, organisations offering placement years, guest speakers and former placement students.
During your placement you will keep a reflective journal of your experiences. You will be allocated an academic mentor from within York Business School, who will monitor your progress throughout the placement. This may include video conferencing or email conversations and each student will have a minimum of two field visits, which will include a conversation with the employer. You will also be in contact with the Careers, Placements and Student Opportunities Team. On completion of your placement you will return to University and be expected to take part in an event to showcase your experiences and achievements from placement.
To undertake the placement year in industry, you will need to have achieved the minimum requirements for progression in Year 2. During the Placement Year your fees with be reduced to 15% of the annual value.
York Business School Consultancy Clinic
At York Business School we also have a Business Consultancy Clinic, where students can sign up to work as a business consultant in their specialist field. You can get involved with short term or longer term projects working in a team with other students to fulfil a consultancy brief for a real organisation. York Business School undergraduate & postgraduate students work together in consultancy teams with the support from our academic staff to provide advice and tackle organisations challenges, develop innovative solutions and offer the advice and support needed to achieve your organisational outcomes at all levels.
Assessment Methods
You will undertake a variety of assessments which include the use of written assignments (often in the form of reports), individual and group presentations, exams and tests, and practical activities. An essential part of the assessment is to encourage both learning and the development of skills as well as preparing you for the requirements of the workplace.
You will have opportunities for formative assessment and feedback to inform your work prior to submission and you will receive detailed feedback on assessments to help you develop and continuously improve your performance whilst on the programme. Advice will be provided in relation to development, further areas for research and guidance on how to enhance your knowledge of business and practice.
You will have the opportunity for study support including academic writing and research skills to enhance employability and career development in the field of Business Management.
Entry Requirements
Qualifications
The minimum entry requirements for this course are:
96 UCAS Tariff points
3 GCSEs at grade C/4 or above (or equiavalent) including English Language
Foundation Year
This course is available with a foundation year. This option is ideal if you do not yet meet the minimum requirements for entry straight onto a degree course, or feel you are not quite ready for the transition to Higher Education. A foundation year prepares you for degree level study, giving you the confidence and skills needed to make the most of your course. Passing it guarantees you a place on this degree course the following academic year.
Advanced Entry
Considering transferring to join us in year 2 or 3 of our Business Courses?
Please see our Advanced Entry page for information on the courses available and how to apply.
Personal statements
Essential criteria
As well as a strong standard of written English, we also look for an interest and enthusiasm for the subject. This can be done in a variety of ways, either from an academic viewpoint, for example studying a business related A Level, or through relevant work experience or placements.
Valued criteria
Candidates can demonstrate a real enthusiasm for the subject that goes beyond achieving good grades in exams. Examples of this include:
Career plans
Attending workshops or seminars related to the chosen subject area
Showing leadership and teamwork skills through project work or awards such as the Duke of Edinburgh or sports teams, theatre groups etc.
Experience of work
Canditates may also look to undertake professional qualifications such as accounting qualifications or CIPD.
Terms and conditions
Our terms and conditions, policies and procedures contain important information about studying at York St John University. These can be accessed through our Admissions webpages.
More to explore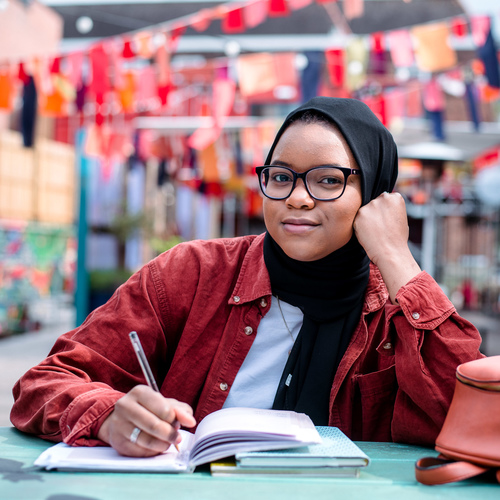 Join us in 2020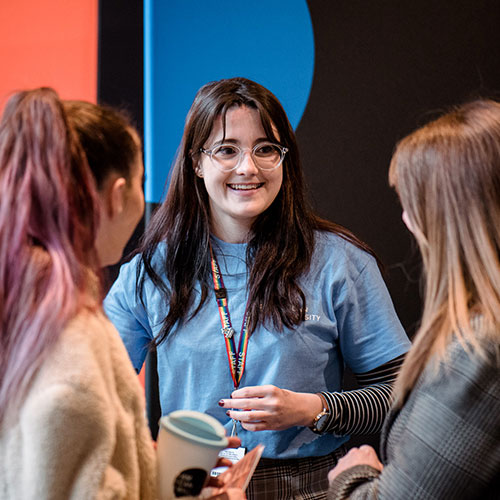 Visit us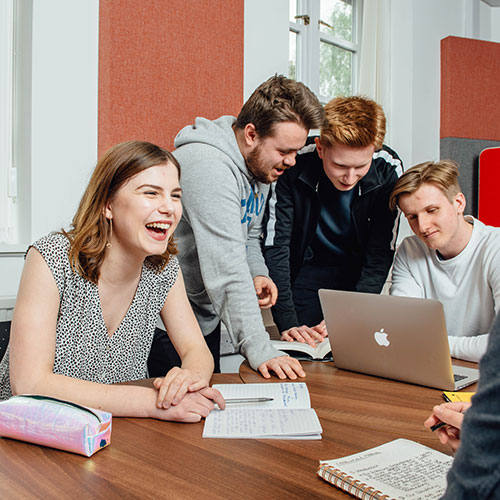 York Business School