Gain an in-depth knowledge of economic principles along with the practical skills needed to succeed in the industry.
This Economics BSc (Hons) course focuses on practical expertise. It will provide you with a firm understanding of the interaction of crime, fiscal and monetary policy, political issues, international constrains and role of happiness in economy. You will develop a solid knowledge of the foundations in econometrics modelling as well as other critical areas.
York campus
UCAS Code – L2N6 | With placement year L2N7
Duration – 3 years full-time
Start date – September 2020, September 2021
School – York Business School
Minimum Entry Requirements
96 UCAS Tariff points

3 GCSEs at grade C/4 or above (or equivalent) including English Language and Mathematics
Tuition Fees
UK and EU 2020-21 £9,250 per year

International 2020-21 £12,750 per year
Course overview
Why choose this course:
Gain an in-depth knowledge of markets and economy. This programme is focused on developing practical skills needed for a career as an economist, consultant or policy advisor.
To enhance your CV, we fund your membership of the Royal Economic Society during your study. Membership increases your professional profile as a future economist and enables you to access competitions, grants, conferences, job market and symposiums.
We invite a range of high profile guest speakers. Our cooperation with businesses provides a great opportunity for networking, internships and work related experiences.
Field trips and real-life economic projects and live experiments embedded in the programme.
Opportunity to compete in economics competitions both within the University and on national and international scales.
Opportunity to qualify as a Microsoft Office Specialist.
Access to a range of specialist resources including, Financial Information Database (FAME) and Financial Times Interactive to support your learning and research.
Opportunity to take a placement year, giving you chance to gain experience while studying.
Year in industry
All of our business students have the option of adding in a year in industry and / or a semester of studying abroad with one of our partners to their course. A year in industry gives students fantastic experience and is attractive to potential employers. This normally takes place after the second year of the course and extends the course duration by one year (15% of the standard tuition fee is chargeable). Study Abroad normally takes place for a semester of the second year of the course and doesn't extend the course duration as credits achieved abroad count towards your degree.
You don't need to decide whether you would like to take either of these options until after you have started the course with us.
Course structure
Level 1
Modules
Principles of Applied Economics
The module aims to provide knowledge and comprehension of the basic economic principles and techniques related to microeconomics and macroeconomics.
Economic Policy and Practice
This module provides understanding of quantitative techniques and their usefulness in theoretical and applied economics with focus on developing a deeper understanding of modern macroeconomics.
Perspectives on Economic Growth and Development
This module provides an introduction to key economic theories such as economic growth and chance to discuss their application to different countries. You will explore the factors underpinning economic growth such as labour, capital and technological changes and explain how they can contribute to economic growth and stability.
Dynamics of the Economic Environment
This module provides an introduction to key forces such as political, technological, demographic and ecological environments that affect economies. The module feeds into level 5 module International trade.
Developing Analysis Techniques
This module introduces essential quantitative methods for modelling and analysing financial data. In addition, statistics and probability concepts will be discussed and applied to various events. These theories will then be used to analyse practical situations.
Practising Responsible Business Behaviours
This module examines the nature of business enterprise and its relationship with wider society, seeking answers to the question: what does it mean for businesses to behave responsibly? In this debate we encounter ideas regarding stakeholder theory, the triple bottom line, corporate social responsibility, business ethics, the role of the state or of supra-national organisations and so on.
Level 2
Modules
This module explores factors that affect distribution of income, work, opportunities and inequality. We examine current changes in the labour market and the effectiveness of government policy focusing on data rather than theoretical models.
This module seeks to understand the patterns of international trade, past, present and future by understanding the underlying forces that drive international trade. International trade draws upon ideas from economic theory, business strategy and political economy. This module considers events in the real world, providing a balanced appreciation of theory and its application.
Crime is an important economic issue for policy makers and government. This module explores various determinants of crime including poverty, education, employment as well as motivations for committing crimes all within the context of economics. This module discusses recent crime issues and examples of policy interventions to reduce crime as well as economic developments and investigates their impact on economy and crime levels.
This module is designed for students who are interested in understanding the issues that are present in everyday news: anti-competitive practices, the effect of market power on consumer welfare, incentives for product innovation, and the private and public effects of mergers.
The skills of analysing economic and financial data are paramount for proper Financial and Investment Management. This module will give students the ability to discuss and apply econometric techniques to answer research questions using real world data. Emphasis will be placed on what econometric methods to use in different circumstances and how to interpret and evaluate the results of empirical analysis.
This module considers the use of quantitative and qualitative research methods in subject contexts, and allows students to develop skills in the collection, analysis and reporting of relevant data.
In this module, students begin their transition from university into the workplace. It is designed to develop skills, knowledge and understanding in a range of career-related personal, professional and key skill areas.
Business, Creativity and Opportunism Skills for the Workplace of Today
This module explores the fundamentals of entrepreneurship and intrapreneurship and the behaviour and skills required to identify and pursue opportunities. You will establish what the behaviours and skills are of an entrepreneur, define creativity and innovation, as well as ask why they are so important to entrepreneurs. We will explore idea generation and evaluation techniques and learn how to recognise enterprise opportunities.
Level 3
Modules
This module is to familiarise students with how experiments in economics are used and to illustrate their application to simple economic situations. Rather than relaying theoretical models, this module enables students to design and perform their own experiment in isolation.
Contemporary Business Economics:
Prospective managers working in an international context require a clear understanding of key aspects of the international economy. The module has a firmly contemporary focus, with the international business economics topics delivered being selected to address current issues of importance.
This module draws on extensive interdisciplinary work that tries to identify the factors that affect happiness. Such factors go beyond the traditional measures of material welfare (such as income) and also focus on things such as relationships, religion, age, marriage, leisure, inequality, war, human rights, democracy, the natural environment, health, etc.
This module uses economic decision making which can be used to solve business problems. The module will focus on the development of a critical understanding of how economic concepts (profits, demand, cost, pricing production, competition, business cycles) can be used to solve business problems.
Beyond Economics: Understanding the Changing Global Economy
This module provides students with the opportunity to analyse and evaluate the bridge between politics and economics on an international level.
This module provides students with the opportunity to plan and conduct a piece of research. You will be able to choose between a traditional dissertation, an organisation based project, a business research project and a business creation project.
Teaching & assessment
All modules are delivered utilising a range of teaching and learning strategies including lectures, seminars, guest speakers, tutorials, workshops and a range of events and learning activities.
Throughout the programme you will be introduced to a range of different teaching and learning strategies. This includes case-based learning, live projects and practice and enquiry based learning. This gives you the opportunity to develop creative and innovative solutions to problems.
As a university student, there is an expectation that you will develop from being a dependent learner to being an independent one. This means you are expected to undertake self-study and group learning. In year one you will be provided with guidance to progress your learning and self-development. By the time you get to year 3 it is hoped you will have developed greater autonomy and independence.
You will undertake a variety of assessments that include the use of written assignments (often in the form of reports), predominantly practical activities with some individual and group presentations, exams or tests. An essential part of the assessment is to encourage both learning and the development of skills as well as preparing you for the requirements of the workplace.
You will have the opportunity for study support including academic writing and research skills to enhance employability and career development in the field of Economics.
Entry Requirements
Qualifications
The minimum entry requirements for this course are:
96 UCAS Tariff points
3 GCSEs at grade C/4 or above (or equiavalent) including English Language and Mathematics
Foundation Year
This course is available with a foundation year. This option is ideal if you do not yet meet the minimum requirements for entry straight onto a degree course, or feel you are not quite ready for the transition to Higher Education. A foundation year prepares you for degree level study, giving you the confidence and skills needed to make the most of your course. Passing it guarantees you a place on this degree course the following academic year.
Advanced Entry
Considering transferring to join us in year 2 or 3 of our Business Courses?
Please see our Advanced Entry page for information on the courses available and how to apply.
Personal statements
Essential criteria
As well as a strong standard of written English, we also look for an interest and enthusiasm for the subject. This can be done in a variety of ways, either from an academic viewpoint, for example studying an economics related A Level, or through relevant work experience or placements.
Valued criteria
Candidates can demonstrate a real enthusiasm for the subject that goes beyond achieving good grades in exams. Examples of this include:
Career plans
Attending workshops or seminars related to the chosen subject area
Showing leadership and teamwork skills through project work or awards such as the Duke of Edinburgh or sports teams, theatre groups etc.
Experience of work
Canditates may also look to undertake professional qualifications such as accounting qualifications or CIPD.
Terms and conditions
Our terms and conditions, policies and procedures contain important information about studying at York St John University. These can be accessed through our Admissions webpages.
Fees and funding
To study for an undergraduate degree with us, you will need to pay tuition fees for your course. How much you pay will depend on whether you're a UK & EU student or an international (non-EU) student. Tuition fees are charged for each year of your course.
Find out more about funding for Foundation Year and/or Placement Year by visiting the Funding Advice pages of our website. York St John offer special reductions to students graduating from York St John University Undergraduate degrees in 2019 and continuing directly onto Postgraduate study. Find out more about discounts and scholarships. There may also be some additional costs to take into account throughout your studies, including the cost of accommodation
Tuition fees
Home / EU students
The York St John University tuition fee for the 2019 entry to Foundation Degree, BA and BSc, PGCE Primary and Secondary and UG Health Programme degrees is £9,250 per year for UK/EU, Jersey, Guernsey and Isle of Man students.
Tuition fees may be subject to inflation in future years.
Overseas students
The York St John University tuition fee for the 2019 entry to Foundation Degree, BA and BSc, PGCE degrees is £12,750 per year for international students.
Tuition fees may be subject to inflation in future years.
Additional costs and financial support
COURSE-RELATED COSTS
Whilst studying for your degree, there may be additional costs related to your course. This may include purchasing personal equipment and stationery, books and optional field trips.
STUDY ABROAD
For more information on tuition fee reductions and additional costs for studying abroad, please visit our study abroad webpages.
ACCOMMODATION AND LIVING COSTS
View our accommodation webpages for detailed information on accommodation and living costs.
FINANCIAL HELP AND SUPPORT
Help and advice on funding your studies at York St John is available through our Money Advice service.
More to explore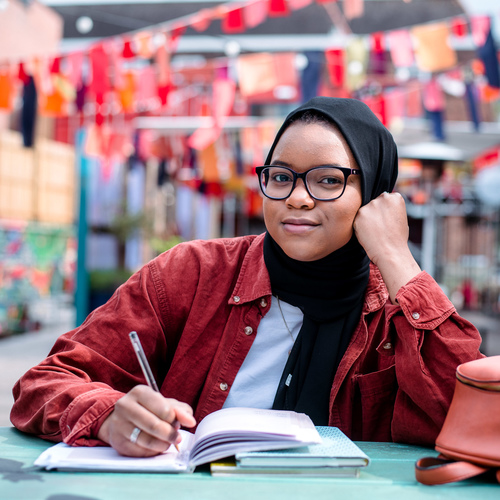 Join us in 2020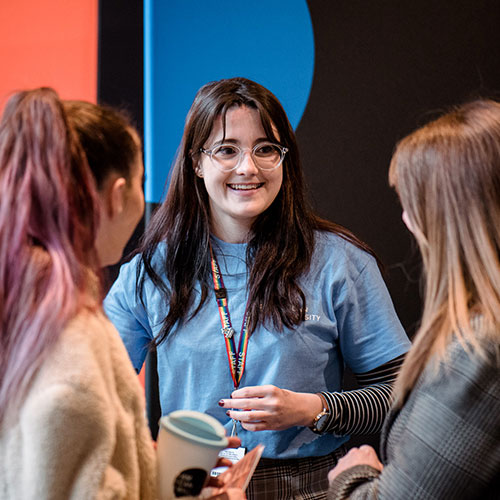 Visit us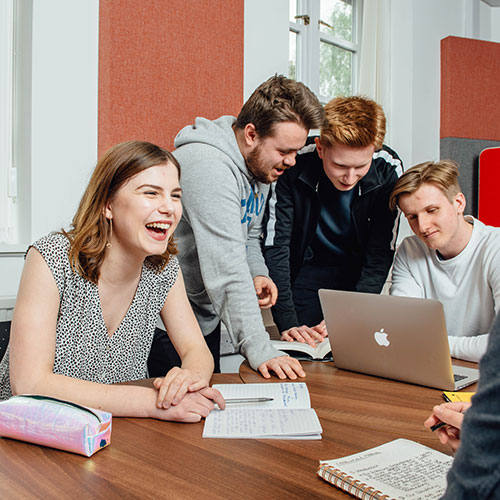 York Business School