Undergraduate course
International Tourism and Hospitality Management BA (Hons)
If you want a career in one of the biggest industries worldwide, this is the course for you. Study tourism and hospitality from a business and management perspective.
Hospitality and Tourism is one of the world's biggest industries. It employs over 60 million people globally. This degree will provide you with the skills needed to pursue a management career in this industry. It's the key to travelling the world and immersing yourself in different cultures.
York campus
UCAS Code – N8N2 | With placement year N830
Duration – 3 years full-time | 4 years with placement year
Start date – September 2020, September 2021
School – York Business School
Minimum Entry Requirements
96 UCAS Tariff points

3 GCSEs at grade C/4 (or equivalent) including English Language
Tuition Fees
UK and EU 2020-21 £9,250 per year

International 2020-21 £12,750 per year
Course overview
If you want to work in global tourism or hospitality this is the course for you. In year one you'll explore how business operates and how tourism and hospitality function within that. In your second and third year, you'll develop specialist knowledge and understand the importance of tourism and hospitality to global economic development. You'll also focus on how sustainability in this industry is important.
We want you to understand the nuances in the sub-sectors we call tourism and hospitality. To understand this, we'll take you to some of York's cultural and heritage sites. This gives you a context for understanding similar offerings around the world.
Broaden your experience with field trip opportunities. We'll take you to venues associated with tourism and hospitality both internationally, and in the UK.
Our course equips you with the skills and knowledge to pursue a management career. Although this course prepares you for managing within the tourism and hospitality industries, the skills are transferable to alternative management roles.
Course structure
Level 1
Modules
Hospitality in the 21st Century
20 credits | Compulsory
This module is an introduction to the key areas of hospitality and events. Learn how important these sectors are to the economy. Understand the terminology of hospitality and events and develop an awareness of how demand has changed. A key element of this module will be to understand consumer behaviour in this sector.
Tourism Insight and Industry
20 credits | Compulsory
This module will introduce you to the history and development of service industries with a focus on tourism and leisure. You'll examine how tourism services are produced, provided and consumed. The structure of the industries will be explored in relation to the public, commercial and not for profit sectors of tourism provision.
Tourism: Past, Present and Future
20 credits | Compulsory
On this module, you'll look at current global destinations and explore how they have developed over time. Learn to understand how they've responded to changes in the global tourism environment and how they prepare for the future. We'll encourage you to use your creativity and innovation to comprehend what the future holds for destinations and how they can prepare for change.
Practising Responsible Business Behaviours
20 credits | Compulsory
This module examines the nature of business enterprise and its relationship with wider society. It seeks to answer the question: what does it mean for businesses to behave responsibly? By engaging with this debate you'll encounter ideas such as the stakeholder theory, the triple bottom line, corporate social responsibility and business ethics.
Business analytics and the Blockchain
20 credits | Compulsory
This module will give you the practical skills to conduct data analytics and anticipate the effects of the blockchain on strategy. We'll introduce you to the blockchain and the scope of the blockchain industry. Basic statistical models are introduced in this module. You'll learn to understand blockchain, explore blockchain trends, investigate the market disruptions caused by technology and the impact of blockchain in industries worldwide.
Level 2
Modules
Destination Marketing
20 credits | Compulsory
This module provides a theoretical context for understanding how tourism destinations are marketed. The module focuses on key features of destination marketing as a social and cultural business practice and a subjective experience. As part of this module, you'll get the opportunity to go on an international field trip.
Cultural and Heritage Tourism
20 credits | Compulsory
We aim to provide you with knowledge and experience to critically understand and evaluate the role of culture and heritage in the context of the visitor economy. It seeks to develop both a theoretical basis and an operational sense of the role of culture and heritage in tourism.
Hospitality & Service Operations
20 credits | Compulsory
This module will provide you with skills that can be applied in complex business environments involving hospitality service operations. You'll explore challenges that a hospitality manager will face from various dimensions of the business and covers design, planning, control and quality issues related to the service operations.
Managing People in Service Industries
20 credits | Compulsory
The module provides a contextualised approach to the management of people in the services industries. These businesses are people focussed and the management of people is a crucial element in achieving success and excellence. You'll apply relevant theories to a range of organisational scenarios.
Research Methods for Service Industries
20 credits | Compulsory
This module considers the use of quantitative and qualitative research methods in subject contexts. It will allow you to develop skills in the collection, analysis interpretation and reporting of data. Develop your planning and time management skills as you manage the research process from conception to delivery.
Professional Placement
20 credits | Optional
Enhance your employability with this vocational module. Work with your tutors to understand the recruitment cycle and how to apply for jobs. Embark on a placement, gain experience and build a network of professional connections. You'll finish the module with a CV and career action plan ready to put into action when you graduate.
Business, Creativity and Opportunism Skills for the Workplace of Today
20 credits | Compulsory
On this module, you'll explore what the behaviours and skills of an entrepreneur are. Define creativity and innovation and ask why these traits are so important to entrepreneurs. We'll guide you as you develop the behaviours and skills required to 'think outside the box' to identify and pursue opportunities.
Level 3
Modules
Responsible Tourism
20 credits | Compulsory
Explore the concept of sustainability in tourism and question what being responsible means for tourists and other stakeholders in tourism. How can we develop tourism for local communities in a sustainable way, especially in developing countries? We want you to investigate the different ways tourism impacts the economy, culture and the environment. Solve the problem of how we conserve cultural and natural heritages for future generations.
Consumer Culture and Tourism
20 credits | Compulsory
Study this module to gain an understanding of consumer behaviour in the tourism industry. You'll draw on ideas from psychology, sociology and anthropology as you explore the nature of tourists. What role do why play? What are their behaviours and motivations? These are just some of the questions you'll confront on this module.
Hotel Operations Management
20 credits | Compulsory
We've designed this module to give you the opportunity to examine the hotel industry in detail. You'll consider some of the issues facing contemporary hotel managers. You'll explore the strategic, operational and financial decisions that affect the success and development of these businesses. We'll equip you with the techniques that underpin the management and servicing of hotels.
Contemporary Issues in Hospitality
20 credits | Compulsory
This module will help you understand what issues the international hospitality industry faces. Such issues include industry structure and supply, business environments, sustainability and emerging technologies. Learn to review and evaluate how these issues impact international hospitality businesses.
Research Investigation
40 credits | Compulsory
On this module you'll embark on a substantial piece of research work on a subject of your choice. It's your opportunity to plan and conduct a piece of research and present your findings. You will be able to choose between a traditional dissertation, an organisation-based project, a business research project and a business creation project.
Dissertation: A written piece of work based on research conducted independently.
Business Research Project: An investigation into a business area of your choosing.
Consultancy Project: Investigate an authentic challenging business project and produce an in-depth research-based report.
Business Creation Project: Develop a full business proposal and plan which will be supported by primary and secondary research.
Certificate in Management and Leadership
Modules include:
Responsible Business
Management and Leadership
Dissertation
Business Research Project
Organisation Based Project
Teaching & assessment
All modules are delivered by lectures, seminars, guest speakers, tutorials, workshops and a range of events and learning activities.
You will receive 42 hours of contact time per module. You will be expected to develop as an independent learner by engaging with self-study and group learning.
You will undertake a variety of assessments. These include:
written assignments
individual and group presentations
exams and tests
practical activities.
You will have opportunities for formative assessment and feedback to inform your work prior to submission. We'll give detailed feedback on assessments to help you develop and improve your performance.
Study support is available to help you improve your academic writing and research skills. This will enhance employability and career development in the field of Business Management.
Business School Degrees with Placement
The emphasis of these courses, which include a placement year in industry, is on gaining practical experience. The placement occurs at the end of your second year, for between 9 and 12 months. You will return to University to spend your fourth year completing your degree.
Entry Requirements
Qualifications
The minimum entry requirements for this course are:
96 UCAS Tariff points
3 GCSEs at grade C/4 or above (or equivalent) including English Language
Foundation Year
This course is available with a foundation year. This option is ideal if you do not yet meet the minimum requirements for entry straight onto a degree course, or feel you are not quite ready for the transition to Higher Education. A foundation year prepares you for degree level study, giving you the confidence and skills needed to make the most of your course. Passing it guarantees you a place on this degree course the following academic year.
Advanced Entry
Considering transferring to join us in year 2 or 3 of our Business Courses?
Please see our Advanced Entry page for information on the courses available and how to apply.
Personal statements
Essential criteria
As well as a strong standard of written English, we also look for an interest and enthusiasm for the subject. This can be done in a variety of ways, either from an academic viewpoint, for example studying a business related A Level, or through relevant work experience or placements.
Valued criteria
Candidates can demonstrate a real enthusiasm for the subject that goes beyond achieving good grades in exams. Examples of this include:
Career plans
Attending workshops or seminars related to the chosen subject area
Showing leadership and teamwork skills through project work or awards such as the Duke of Edinburgh or sports teams, theatre groups etc.
Experience of work
Canditates may also look to undertake professional qualifications such as accounting qualifications or CIPD.
Terms and conditions
Our terms and conditions, policies and procedures contain important information about studying at York St John University. These can be accessed through our Admissions webpages.
More to explore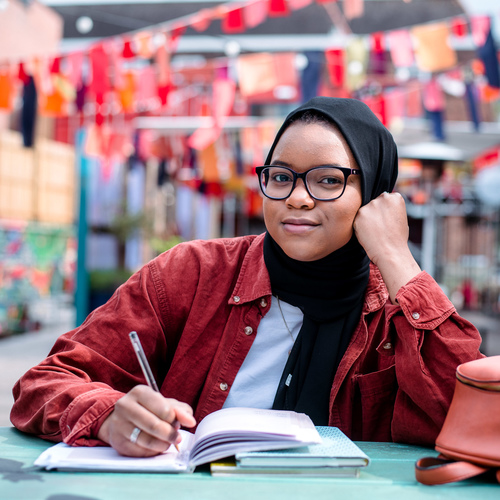 Join us in 2020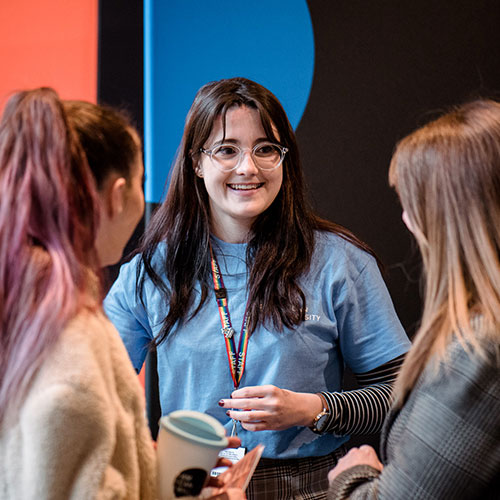 Visit us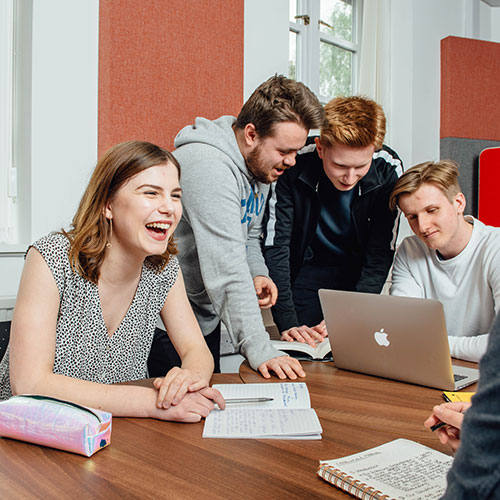 York Business School