Undergraduate course
International Business Management BA (Hons)
Study towards working in a global context in national, international and multi-national companies whilst learning a range of key management concepts with a clear international focus.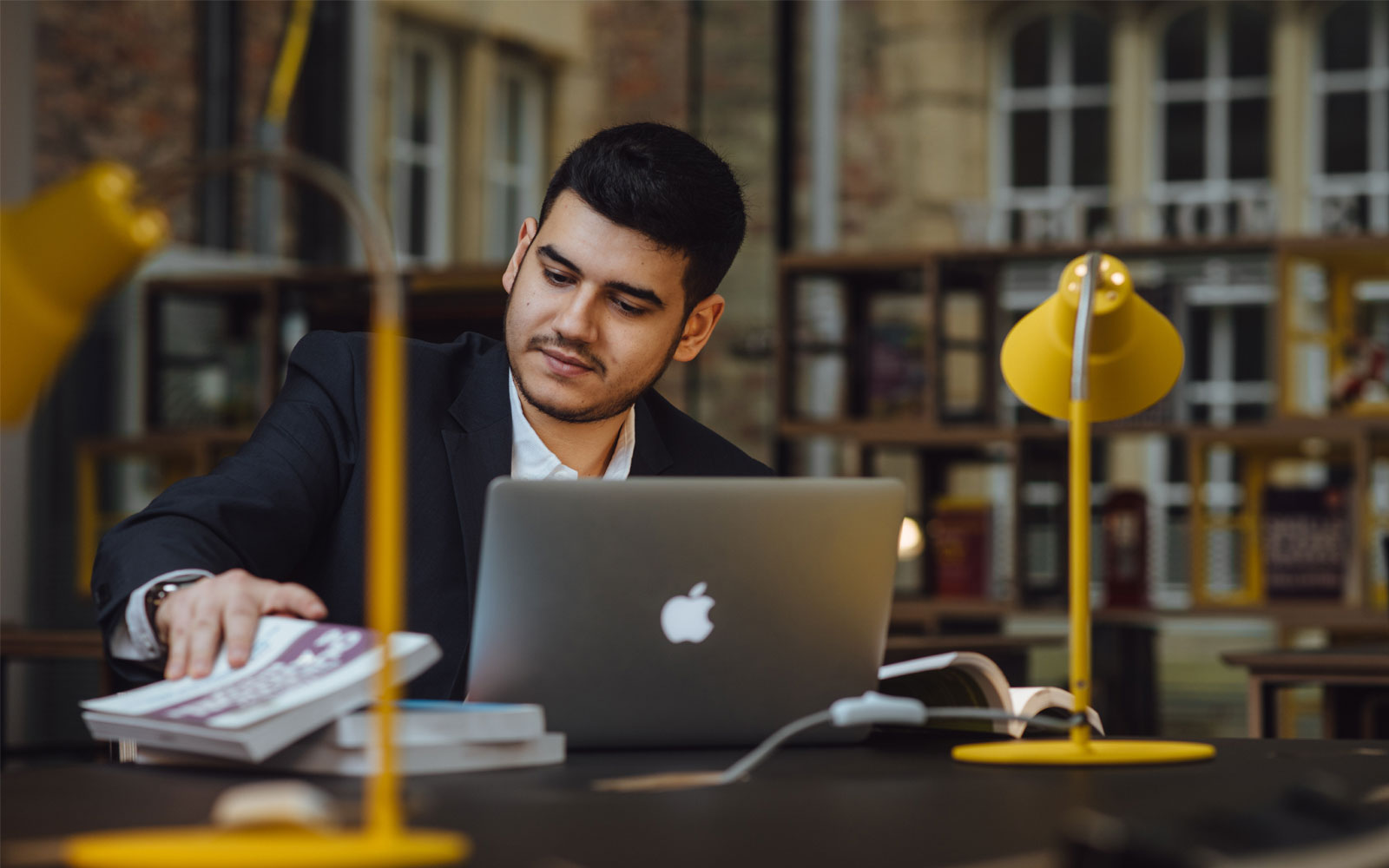 The increasing globalisation of business means that managers with an international perspective are in demand. If the area of international business fascinates you, this degree could be the perfect stepping stone towards a career in broad range of fields. This programme is designed to reflect the contemporary importance of preparing you to work in a global context in national, international and multi-national companies.
Subject to final approval
Available in Clearing
UCAS Code – N120 | With placement year N1W7
Location – York campus
Duration – 3 years full-time | 4 years with placement year
Start date – September 2019
School – York Business School
Minimum Entry Requirements
96 UCAS Tariff points

3 GCSEs at grade C/4 or above (or equivalent) including English Language
Tuition Fees
UK and EU 2019-20 £9,250 per year

International 2019-20 £12,750 per year
Course overview
Studying International Business is a great opportunity to gain a degree that is focused on your long-term career prospects. Whether you are thinking of setting up your own business, working in a large corporation, the public sector or the ever-growing tourist industry you will need to possess an understanding of how businesses operate and how skilled managers can contribute to their success.
By focussing on international business, you'll gain specialist insight into the issues that impact and influence internationalisation efforts by a range of organisations, with a primary focus upon profit-making enterprises.
If you want to gain international experience, boosting your CV for work after you study, you can opt to include time studying abroad. The university has connections with institutions across the globe including in the USA, Australia and Europe.
On the International Business BA (Hons) programme you will take part in lectures, seminars, workshops, task focused activities, field-trips and excursions and informative engagements with industry practitioners.
Features:
Accredited by the Institute of Export & International Trade
A focus on employability and work-readiness - your studies will help you to gain cutting-edge career awareness and clarify your career goals and how to achieve them
Research informed teaching where experts in their subjects will work with you and develop your knowledge, critical thinking and analytical awareness
Dedicated one on one support from your personal tutor to enable you to reach your potential with capped seminar sizes of 20-25 students
A technology-enhanced and digitally aware programme from experts that will help you to learn how to use digital media and data analytics to inform your global business skills
Course structure
Level 1
Modules
Compulsory modules
Compulsory modules:
Preparing for Business: This module will give a broad awareness of the fundamentals in business from a financial, economic, marketing and organisational perspective. The skills learned can be applied to any business organisation but learning for this module will be likely to give greater emphasis to a small business environment with the aim to make the interdependencies of the above areas more apparent. The fundamentals will be delivered in the lecture with the aim of giving all learners a basic awareness of the various disciplines and the associated issues that may arise.
Responsible Business: This module examines the nature of business enterprise and its relationship with wider society, seeking answers to the question: what does it mean for businesses to behave responsibly? There is an ongoing debate regarding this question, with answers ranging from 'just maximize shareholder value' to 'consider everyone who is affected, including unborn future generations', with many variations in between. In this ongoing debate we encounter ideas regarding, for example, stakeholder theory, the triple bottom line, corporate social responsibility, business ethics, the role of the state or of supra-national organizations, and so on. This module aligns well with the mission of the PRME (Principles for Responsible Management Education) (PRME) initiative to inspire and champion responsible management education. The challenge in this module of applying ideas from a complex ongoing debate to contemporary business and societal issues will support students in the development of both academic and employability skills.
Introduction to Economics: This module is designed to provide an introduction to economics. The module aims to provide knowledge and comprehension of the basic economic principles and techniques related to microeconomics and macroeconomics. The emphasis is on developing an understanding of economic principles and allowing students to make a use of standard economic techniques. The module considers the different issues related to microeconomics theories that can be applied to business decisions. It also considers the different issues related to macroeconomics theories and provides an insight into the impact of macroeconomic environment on business decisions.
Ventures in Entrepreneurship: The aim of this module is to expose students to the exciting, challenging and increasingly complex work of entrepreneurship and business 'start-ups'. Students will gain hands-on experience of planning, implementing and running their own business through the business simulation software SimVenture Evolution. This will give a sense of the challenges inherent in starting up and running a new enterprise. Students will also develop a critical understanding of contemporary discourses surrounding 'entrepreneurs' and 'entrepreneurship' as they are found in the wider culture and society at large.
The Politics of Business: Politics is a contested field of study and can link to a wide array of concepts including power, distribution, legitimacy and authority. The priorities and choices of political institutions and power structures that exist in society have a significant impact upon a range of social and economic activity. This module provides students with a broad understanding of the key concepts and principles of politics and how these affect both individuals and organisations in a way that critically underpins a student perspective on the wider hinterland of social sciences.
Optional modules:
Economic Policy and Practice: This module explores the fundamental concepts and techniques of microeconomic and macroeconomic analysis. It provides an opportunity to apply microeconomic theory to issues and problems related to decision making of economic agents. The module aims to provide understanding of quantitative techniques and their usefulness in theoretical and applied economics with focus on developing a deeper understanding of modern macroeconomics. Module will help to develop a deeper understanding of how decisions of consumers, firms and government are interlinked. It aims to analyse contemporary economic events and enable students the procurement of skills to assess the likely trends in macroeconomic variables that will facilitate decision-making.
Finance and Capital Markets: This module will provide students with an introduction to the essential concepts of finance and capital markets. Students will be able to describe the role of financial intermediary's within the economy as well as the functions they perform. Students will be able to exhibit an understanding and be able to evaluate the impact of financial markets on the wider economy. It will give students the skills to understand and apply discounting techniques in different types of valuation models. It will equip students with an understanding of the structures within various financial markets.
Language Module
All modules are worth 20 credits, except Dissertation which is worth 40 credits and Study Abroad which is worth 60 credits.
Level 2
Modules
Compulsory modules:
Management and Leadership: This module provides students with a broad understanding of the key concepts and principles of management and leadership. It considers the differences between management and leadership, through the development of theories and models, and the impact on organisations of different approaches. The module also allows students to analyse their own management and leadership skills and devise a personal plan which will allow them to develop these further.
International Finance: This module will give students the ability to analyse the theoretical and practical aspects of international financial markets. The development and current state of the international monetary system will be analysed. Theories of exchange rate determination will be compared and applied in relation to historical and current events in order to critically analyse their relative importance. These theories will be used to address issues around the development international financial crises in order to analyse and discuss the impact of different types of crises on the wider economy.
Research Methods and Project Management: Organisations frequently require both an understanding of how and why data is acquired, and an ability to collect, analyse and interpret it. These skills are also important if students wish to progress to postgraduate study or careers in consultancy services. This module considers the use of quantitative and qualitative research methods in subject contexts, and allows students to develop skills in the collection, analysis and reporting of relevant data. In addition, this module will develop students' project planning and management skills as a tool to manage the research process.
International Trade: This module seeks to understand the patterns of international trade, past, present and future by understanding the underlying forces that drive international trade. International trade draws upon ideas from economic theory, business strategy and political economy. Contemporary international trade is also closely related to international production: the operation of international supply chains and production networks often linked to foreign direct investment. This module considers how these ideas relate to each other and to events in the real world, providing a balanced appreciation of theory and its application.
Optional modules:
Employee Resourcing: A fundamental part of the human resource management (HRM) role is employee resourcing. This module provides a broad understanding of the wider context of employee resourcing, including the importance of understanding the competitive business environment, changing labour markets and regulatory environments. It then explores Human Resource Planning (HRP) and job design, recruitment and selection models, processes and tools and how organisations go about positioning themselves within labour markets. The module also examines staff turnover, induction and retention, succession planning and retirement and dismissal processes. A key underpinning to the module is consideration of the ethical and business case for fair employee resourcing strategies and processes and examination of resourcing outcomes.
Strategic Marketing Planning: The aim of this module is to provide students with knowledge of marketing planning in a global context. With markets shifting and changing constantly it is crucial that businesses and other organizations are able to assimilate information and conduct effective marketing planning. This module provides knowledge and understanding of marketing in an applied context. Key marketing theories and principles are applied to the practical aspects of marketing planning. Students learn how to analyse marketing requirements as they affect a particular operation and work towards producing a workable marketing plan that covers all the relevant aspects of marketing. Students will use real life cases or work-based material.
Managing Finance: This module is built around key decisions that managers must make on a day to day basis; what to produce, how and how much, at what price, how to best use the resources available. The focus is on costs; understanding costs, cost behaviour, and using this information for planning and control decisions. The control aspect concerns the monitoring of results; making sure that all is going according to plan. This information and knowledge is applicable to all sorts of organisations; non-profit, retail, wholesale, manufacturing.
Study Abroad: This module is intended to accommodate flexibly the varying needs of exchange or study abroad students. For instance, this may be required when the modules offered by the host institution are sufficiently close to the modules that the student would be taking at York St John University. The module's aim is to support students' development in their subject knowledge while exposing them to the language and culture of the host country, whilst enhancing their foreign language skills.
People Management: The module explores the changing nature of work and contemporary issues in people management. This module will seek to encourage students to consider the various aspects of people management as part of the wider culture and managerial contexts in which they have been developed. The module will consider the psychological and sociological issues related to the management of people and the issues around people management. To consider the development of people management strategies in the context of the Principles for Responsible Education (PRME).
Developing Talent in Organisations: Managing and developing talent is considered key to driving sustained organisational performance. This module examines the strategic nature of talent development in organisations as they compete with each other to secure and develop a competitive workforce. It provides a broad understanding of the factors to be considered when implementing and evaluating inclusive learning and development (L and D) activities within various organisational contexts. It details what is required to support the learning of individuals, groups and organisations to drive sustained performance. It also considers how different L and D delivery methods, such as formal, informal, action learning, coaching and mentoring, e-learning and blended learning can enhance inclusive learning within organisations and the impact of different learning interventions on social outcomes.
Corporate Finance: The aim of this module is to create an understanding of the financial decisions that are made by corporations. Students will evaluate stakeholder theory and its relationship to a business's objectives. Company valuation will be examined through various investment tools and their relative merits will be discussed. The sources of finance for a business will be studied and the implications these have for the company's cost of capital. The interrelationship between capital structure, dividend policy and a company's cost of capital will also be addressed.
Language Module
All modules are worth 20 credits, except Dissertation which is worth 40 credits and Study Abroad which is worth 60 credits.
Level 3
Modules
ompulsory modules:
Dissertation: The aim of this module is to facilitate and express independent enquiry in a substantial piece of individual self-directed research work. This module provides students with the opportunity to plan and conduct a piece of research through individual and independent activity and to present their findings in using visual aids and in written academic format that meets professional standards. Students will develop research objectives, formulate appropriate methodologies, and apply problem solving and analytical skills in a business context of their choice.
Developing a Business Research Project: The aim of this module is to prepare students to undertake an independent enquiry through individual self-directed project work. This module provides students with the skills and knowledge to design and plan a research project. Students will develop research objectives, formulate appropriate methodologies, and critique literature. Students will develop a project plan which they can undertake through their final semester.
Developing an Organisation Based Project: The aim of this module is to develop the student's skills in conducting a research project in response to a brief from an organisation. This module acts as a bridge into the industry they research. Students develop their research skills and their ability to structure an influential document.
Contemporary Business Economics: Prospective managers working in an international context require a clear understanding of key aspects of the international economy. The module has a firmly contemporary focus, with the particular international business economics topics delivered being selected to address current issues of importance. This module provides an accessible overview with an applied business focus. While it deals with difficult conceptual issues, these are explained fully in the clearest possible way and illustrated with examples and news reports.
Business Research Project: The aim of this module is to facilitate and express independent enquiry in a small scale substantial piece of individual self-directed research work. This module provides students with the opportunity to conduct a piece of research through individual and independent activity and to present their findings in using visual aids and in written academic format that meets professional standards. Students will develop research objectives, formulate appropriate methodologies, and apply problem solving and analytical skills in a business context of their choice.
Organisation Based Project: The aim of the Organisation Based Project is to give students the opportunity to combine investigation into an authentic challenging business project with an in-depth research-based report. This offers links with potential employers and demonstrates understanding of the application of business principles in a real-world situation. Students will develop their research skills alongside techniques of reporting back on findings.
International Marketing: The purpose of this module is to provide students with a detailed knowledge and awareness of marketing theory and operations at an international level. An understanding of international marketing is particularly important in bringing together a number of contemporary management issues such as cultural diversity and strategic decision-making as well as focusing on specific marketing problems as they are represented in the context of international marketing operations. This module develops knowledge and understanding of the international context of marketing and particular issues that affect marketing decision-making and planning at this level. Students will be exposed to the complexities and modalities of international marketing practice by analysing product development, branding and market entry strategies in a number of international contexts. Students will also be introduced to the operational issues relating to marketing across national and world-regional boundaries and the challenges of operating across different cultures.
International Political Economy and Development: This module provides students with the opportunity to analyse and evaluate the bridge between politics and economics on an international level within the context of development. Theoretically, the module seeks to engage with the varied interpretations of IPE's scope, focusing on the contribution of a range of actors in the international spectrum analysed in terms of their influence upon development. The module enables students to hone a critical understanding of 'the political' internationally, and how this understanding can support the analysis of economic development in growth across a range of international markets from within socio-political frameworks.
Optional modules:
Operations and Project Management: This module seeks to develop an appreciation of the theoretical and practical issues relating to project management and operations management from a strategic and operations perspective. Students will develop a broad and critically understanding of the different aspects of organisations operations and the relationships between the various operational areas.
Organisational Strategy and Decision Making: The requirement for effective strategic management is increasing due to the highly complex and turbulent environments in which most private and public sector organisations currently exist. The study of organisational strategy encompasses theory and practice from a broad range of business sectors. As such, this module draws on concepts introduced in earlier modules and furthers the critical understanding of these topics and their inter-relationships. The module examines theories and models used in strategic management and decision making and reviews existing practice.
Business Creation Project: This module allows the entrepreneurial student who wishes to start their own business to undertake research into a business creation opportunity that they may wish to continue following graduation. Students will undertake independent enquiry in a substantial piece of individual self-directed research work aimed at business start-up. This module provides students with the opportunity to plan and conduct a piece of research through individual and independent activity into a business opportunity and to present their findings in using visual aids and in written format that meets professional standards. Students will make decisions on the business prospect and the viability of undertaking the venture.
All modules are worth 20 credits, except Business Creation Project and Dissertation which are each worth 40 credits and Study Abroad which is worth 60 credits.
Teaching & assessment
The BA (Hons) International Business programme is based on the philosophy that development should be incremental and so the teaching and academic delivery progresses at each level to enable you to become a more critically aware and thoughtful business student. The programme encourages you to develop the skills and competencies of a future manager. To do this, you should be capable of making management decisions at both a strategic and at a tactical level, emphasising the complexity and dynamics of economics and the international arena and taking cognisance of the integrative nature of the various factors which impinge upon business decisions. The programme incorporates frameworks for reviewing, reflecting, analysing and critiquing existing individual and organisational practices. The outcome of this process will be a critical appreciation, in order to: make justified decisions; apply those decisions in a variety of contexts; communicating the decisions and make integrative links between disciplines and across organisations.
Delivery
Throughout the programme you will be introduced to a range of different teaching and learning strategies. For example, in level 1 you will undertake case-based learning in which we use real cases to develop your awareness of the decision-making process you may require as a manager. At level 2 there will be evidence of practice-based learning in which you will be expected to engage in practical based activities as you develop your skills in international trade, finance and cross-cultural management. Finally, at level 3 you will demonstrate your skills through practice and enquiry-based learning giving you the opportunity to develop creative and innovative international business strategies in areas such as marketing and economics. You will also undertake your final piece of work the research investigation and you will have the unique opportunity to carry out either; a dissertation, an organisation-based project, a live consultancy project or a business creation project.
Contact Hours
42 hours contact time per module.
Self-Study
As a university student, there is an expectation that you will develop from being a dependent learner to being an independent, critical and thoughtful business practitioner undertaking independent study. This means you are expected to undertake self-study and group learning. In year one you will be provided with guidance to progress your learning and self-development. By the time you get to year 3 it is hoped you will have developed greater autonomy and independence.
Staffing
The academic staff who deliver the BA (Hons) International Business Management programme bring a wealth of professional experience from the world management to York Business School. You will be taught by academic and industry experts who worked for global organisations. The team have research profiles and you will be provided with the opportunity to join them in their research through our 'Students as Researchers' scheme. The course will also be supported the course at every level through professional accreditation, guest lectures, live projects work and internships and placements.
Entry Requirements
Qualifications
The minimum entry requirements for this course are:
96 UCAS Tariff points
3 GCSEs at grade C/4 or above (or equivalent) including English Language
Personal Statement
Essential criteria
As well as a strong standard of written English, we also look for an interest and enthusiasm for the subject. This can be done in a variety of ways, either from an academic viewpoint, for example studying a business related A Level, or through relevant work experience or placements.
Valued criteria
Candidates can demonstrate a real enthusiasm for the subject that goes beyond achieving good grades in exams. Examples of this include:
Career plans
Attending workshops or seminars related to the chosen subject area
Showing leadership and teamwork skills through project work or awards such as the Duke of Edinburgh
Candidates may also look to undertake professional qualifications such as accounting qualifications or CIPD
Interest in other cultures and international relations
Fees and funding
To study for an undergraduate degree with us, you will need to pay tuition fees for your course. How much you pay will depend on whether you're a UK & EU student or an international (non-EU) student. Tuition fees are charged for each year of your course.
Find out more about funding for Foundation Year and/or Placement Year by visiting the Funding Advice pages of our website. York St John offer special reductions to students graduating from York St John University Undergraduate degrees in 2019 and continuing directly onto Postgraduate study. Find out more about discounts and scholarships. There may also be some additional costs to take into account throughout your studies, including the cost of accommodation
Tuition fees
Home / EU students
The York St John University tuition fee for the 2019 entry to Foundation Degree, BA and BSc, PGCE Primary and Secondary and UG Health Programme degrees is £9,250 per year for UK/EU, Jersey, Guernsey and Isle of Man students.
Tuition fees may be subject to inflation in future years.
Overseas students
The York St John University tuition fee for the 2019 entry to Foundation Degree, BA and BSc, PGCE degrees is £12,750 per year for international students.
Tuition fees may be subject to inflation in future years.
Additional costs and financial support
COURSE-RELATED COSTS
Whilst studying for your degree, there may be additional costs related to your course. This may include purchasing personal equipment and stationery, books and optional field trips.
STUDY ABROAD
For more information on tuition fee reductions and additional costs for studying abroad, please visit our study abroad webpages.
ACCOMMODATION AND LIVING COSTS
View our accommodation webpages for detailed information on accommodation and living costs.
FINANCIAL HELP AND SUPPORT
Help and advice on funding your studies at York St John is available through our Money Advice service.
More to explore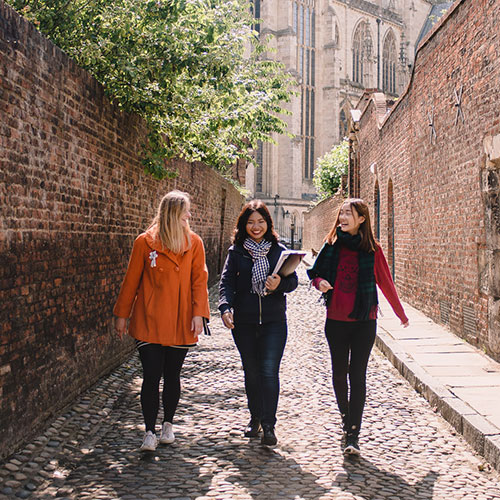 Join us this September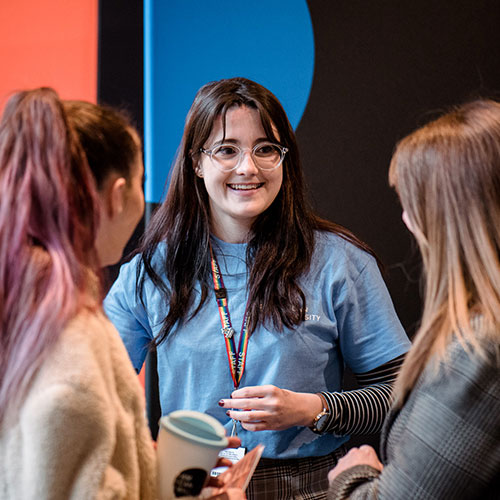 Visit us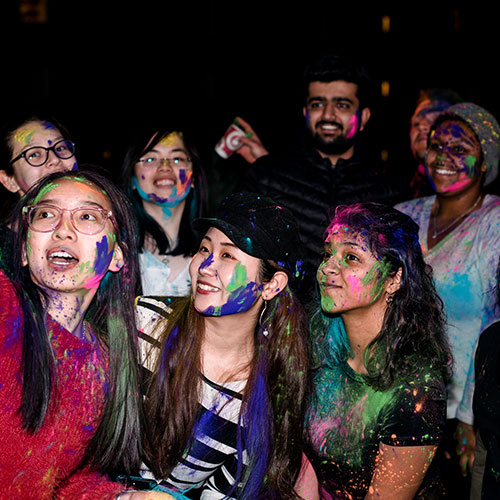 Student life