Undergraduate course
Applied Biosciences (Medical Biochemistry) BSc (Hons)
Explore the causes of disease at the molecular level. Discover a range of exciting and novel treatments strategies.
This programme allows you to specialise in the subject you're most interested in. You'll study the functions and interactions between essential biological molecules. This will allow you to investigate, analyse and understand the triggers for common biochemical disorders. If you want to discover the molecular changes associated with health and disease, this is the programme for you.
Subject to final approval
York campus
UCAS Code – 7Y68
Duration – 3 years full-time | 6 years part-time
Start date – September 2020, September 2021
School – Health Sciences
Minimum Entry Requirements
104 UCAS Tariff points to include a minimum of BCC at A2 with a grade B or above in Biology

4 GCSEs Graded C/4 or above (or equivalent) including English Language, Maths and Double Integrated Science
Tuition Fees
UK and EU 2020-21 £9,250 per year

International 2020-21 £12,750 per year
The York St John Experience
Course overview
If you have a keen interest in biochemistry and the desire to focus on detailed mechanistic changes, this is the degree for you. In your first year, you'll gain an in-depth knowledge of human biology and biochemistry. In your second and third year, you'll specialise your studies. You will develop your understanding of normal metabolic pathways and physiology in health. Uncover the inherited and sporadic changes that cause prevalent diseases. We'll offer new insights into how our biological systems change in response to a variety of diseases. You'll conduct a detailed analysis of hypertension, diabetes, cardiovascular disease and more.
Our team of academic and technical staff will interact with you during and after your studies. They're passionate about helping you achieve your ambitions. While studying, you'll develop your scientific knowledge and employability. Our focus on transferable and multidisciplinary skills give you a range of employment options when you graduate.
We give you the opportunity to take your learning to the next level with placements. Gain hands-on experience both at the University and in local industrial laboratories. We'll support you to organise short placements throughout your studies. Alternatively, you can choose to take part in a year-long external placement in industry.
Our Applied Biosciences courses have distinct award titles but these titles represent a specialism, not a separate degree course. The Applied Biosciences suite will share all first year modules with the existing Biomedical Science degree and have the same entry criteria. You will be able to swap between courses at the end of your first year, but once you start your second year, you will need to remain on your chosen specialist route. Once you have studied all subjects in your first year, you can make an informed choice about which area you enjoy and would like to specialise in.
Have a look at the other specialisms available:
Applied Biosciences (Cancer Biology) BSc (Hons)
Course structure
Level 1
Modules:
Professional Skills for Biomedical Sciences - This module will develop your study skills, laboratory skills and professional skills to help you during your course and in future employment or studies. Topics include analysis of scientific data, report writing and some statistical analysis, plus how to undertake laboratory techniques safely and with precision.
Human Anatomy and Physiology - You will study the organisation of the nervous system and endocrine control of cell function, plus the structure and function of the cardiovascular, pulmonary, musculoskeletal, gastrointestinal and the renal systems.
Biological Molecules and Reactions - You will analyse the major classes of biomolecules (nucleic acids, proteins, carbohydrates and lipids), their physical and chemical make-up and how these properties affect their biological functions.
Cellular Biology - You will study cellular and sub-cellular structures and their functions, plus the structure of intra and intercellular communication networks. This module also includes analysis of the genetic basis of some common human diseases.
Biochemistry and Metabolism - This module examines how and why energy is derived from biological molecules such as carbohydrates, lipids and proteins. Amino acid and protein metabolism and the regulation of biochemical reactions using enzymes are also studied.
Introductory Microbiology and Immunology - This module provides an introduction to microorganisms, their culture, structure and classification. Microbial interaction with humans leads into an introduction to immunology and our innate defences against infection.
(all 20 credit modules)
Level 2
Modules
Research Methods and Professional Practice - This module will further develop your laboratory skills, research skills and ability to work competently to improve your academic and professional skills, thus enhancing your ability to work autonomously and your employability.
Haematology, Immunology and Transfusion Science -This module analyses the constituents of blood in health and disease. You will study haemostasis, thrombosis and bleeding diseases, leading into blood transfusion/transplantation and the health and safety aspects of handling blood. Key causes and immunotherapies for autoimmunity, immunodeficiency and allergy are also studied.
Clinical Biochemistry - This module explores the principles and application of methods used in clinical biochemistry for the diagnosis, evaluation and prognosis of diseases. Organ function tests, lipoproteins and cholesterol, diabetes, renal function and the biochemical effects of malignant disease are all considered.
Molecular Biology - This module examines the structure and function of bacterial and eukaryotic DNA in detail. The tools of molecular biology including gene cloning, restriction enzymes, PCR, DNA sequencing, constructing plasmids and selection of clones are also investigated.
Structural and Analytical Biochemistry - This module investigates methods and techniques for structure determination of some membrane, regulatory proteins and structural proteins. This is used as a framework for discussion on domains, motifs, structural homology, etc. You will also analyse the interactions of other macromolecules like nucleic acids, proteins, lipids, amino acids and carbohydrates.
Cellular Signalling and Communication - This module covers the diverse mechanisms used by cells to communicate, including the major classes of signalling molecules and their receptors. You will explore the composition and classification of G-proteins, second messengers and post-translational modifications of proteins and their activation and modulation in health and disease.
(all 20 credit modules)
Level 3
Modules
Research Project (40 credits) - You will be assigned an approved project which offers the opportunity to undertake a substantial piece of laboratory research work. The module will develop communication and presentation skills, individual research skills and allow you to apply your knowledge to a particular research problem.
Cancer Biology - This module considers the basis of carcinogenesis and the molecular, cellular and physiological hallmarks of cancer. You will investigate key oncogenes and tumour suppressor genes and their effects on cell signalling pathways, DNA repair, the cell cycle, apoptosis, senescence and metastasis.
Molecular Immunology - This module builds on your knowledge of the structural properties of immune receptors, antigen interactions and signal transduction. You will also explore the causes of reactive immunology, autoimmune diseases and allergies, plus treatment strategies.
Biology of Disease - This module discovers the biological basis, clinical presentation and treatment of important non-infectious human diseases including cardiovascular conditions, diabetes, COPD, neurological disorders and sepsis.
Drug Design, Development and Delivery - This module investigates the chemical and pharmaceutical science concepts that underpin the design and formulation of medicines. You will discover how medicines are sourced, developed and manufactured, and how the quality of these medicines is assured, to ensure patient safety.
(all 20 credit modules except Research Project)
Teaching & Assessment
Modules build in complexity as you progress. In year one you'll consider the normal physiological state of the human body and how it responds to disease. Explore these disease states in more detail in year two and three.
Delivery and contact time
Each module runs on the same day each week throughout the semester. You'll study one subject each day. This mode of delivery is very popular in student feedback.
Depending on whether you have practical classes, your contact hours will vary week-to-week. Usually, each 20 credit module contains 10-15 workshops plus at least three practical classes. You can use the laboratories to enhance your practical skills in your own time. Academic and technical staff will supervise these sessions.
We expect you to undertake further reading outside of taught sessions. Completing coursework assessments is a further expectation. These may include:
- Laboratory reports
- Case studies
- Preparing posters or presentations
- Reading published journal articles.
Assessment
We've designed the assessment strategy for this programme to allow you to show your skills and abilities. We use a wide variety of assessment types. We have a small number of examinations and all modules have coursework assessments. We assess some modules by coursework only. We will always offer practice assessments before any formal assessments. Your assessments will build in complexity as you progress through the degree. This means you will have the subject knowledge and skills to tackle them. We also spread your assessments throughout the semester to avoid clustering of deadlines.
Entry requirements
Qualifications
104 UCAS Tariff points
4 GCSEs at grade C or above (or equivalent) including English Language, Maths & double integrated Science
Fees and funding
To study for an undergraduate degree with us, you will need to pay tuition fees for your course. How much you pay will depend on whether you're a UK & EU student or an international (non-EU) student. Tuition fees are charged for each year of your course.
Find out more about funding for Foundation Year and/or Placement Year by visiting the Funding Advice pages of our website. York St John offers special reductions to students graduating from York St John University Undergraduate degrees in 2019 and continuing directly onto Postgraduate study. Find out more about discounts and scholarships. There may also be some additional costs to take into account throughout your studies, including the cost of accommodation.
Tuition fees
Home / EU students
The York St John University tuition fee for the 2019 entry to Foundation Degree, BA and BSc, PGCE Primary and Secondary and UG Health Programme degrees is £9,250 per year for UK/EU, Jersey, Guernsey and Isle of Man students.
Tuition fees may be subject to inflation in future years.
Overseas students
The York St John University tuition fee for the 2019 entry to Foundation Degree, BA and BSc, PGCE degrees is £12,750 per year for international students.
Tuition fees may be subject to inflation in future years.
Additional costs and financial support
COURSE-RELATED COSTS
Whilst studying for your degree, there may be additional costs related to your course. This may include purchasing personal equipment and stationery, books and optional field trips.
STUDY ABROAD
For more information on tuition fee reductions and additional costs for studying abroad, please visit our study abroad webpages.
ACCOMMODATION AND LIVING COSTS
View our accommodation webpages for detailed information on accommodation and living costs.
FINANCIAL HELP AND SUPPORT
Help and advice on funding your studies at York St John is available through our Money Advice service.
More to explore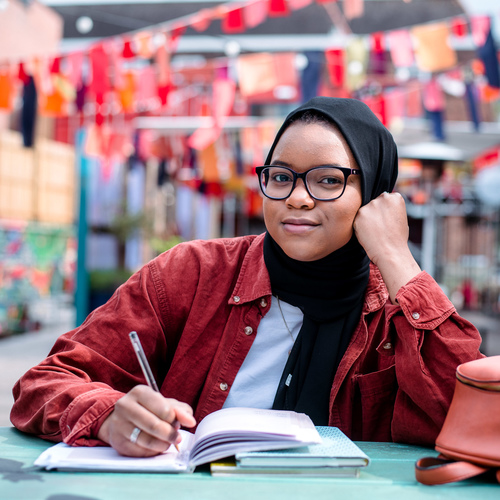 Join us in 2020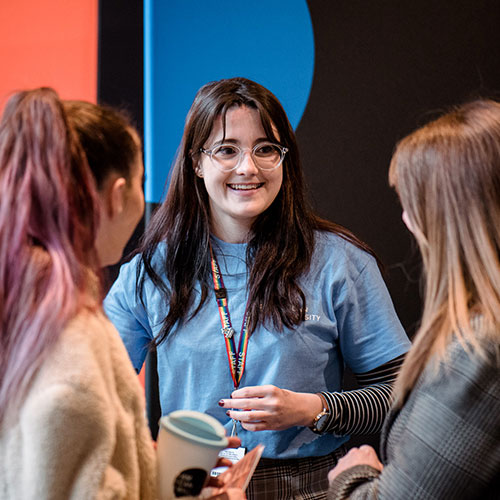 Visit us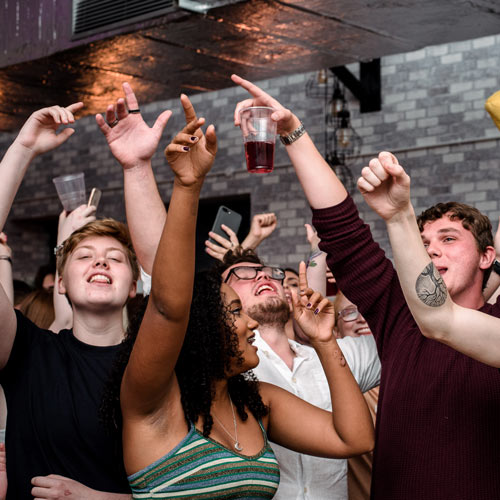 Student life