Gain the clinical skills required to be a professional Physiotherapist on this practical and student-centered course.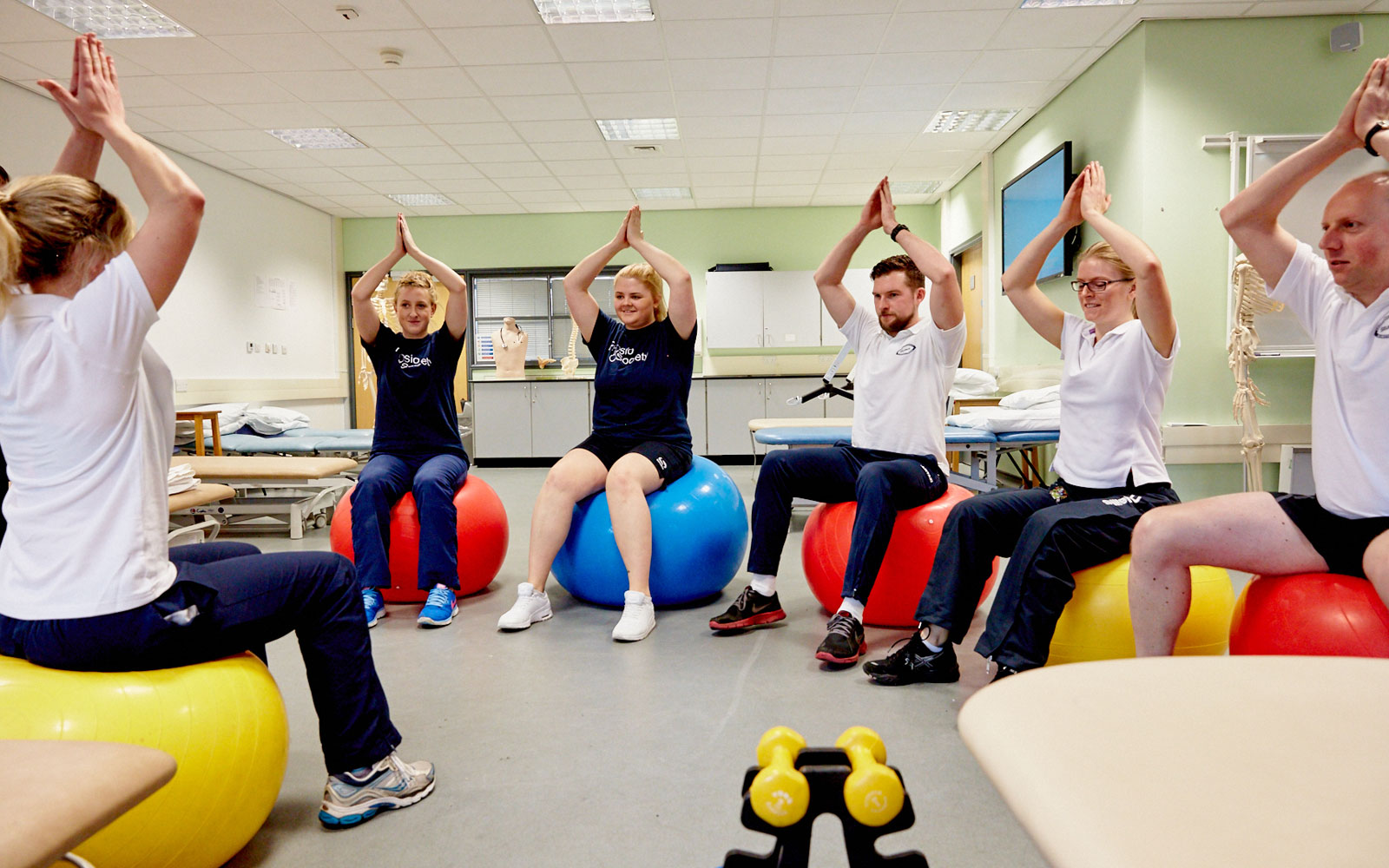 Physiotherapists are professionals who use clinical and reasoning skills and knowledge to aid in the diagnosis and rehabilitation of patients with acute and chronic conditions at all ages. Physiotherapy at York St John University offers the advantage of studying in a small cohort within a student-centered environment. This programme aims to produce high calibre, successful Physiotherapy graduates who are fit for purpose and practice.
94% 94% of Graduates from Physiotherapy course were in professional/managerial jobs or further study after six months - DLHE 2017
UCAS Code – B160
Location – York campus
Duration – 3 years full-time | 6 years part-time
Start date – September 2020
School – Health Sciences
Tuition Fees
UK and EU 2019-20 £9,250 per year

International 2019-20 £12,750 per year
The York St John Experience
Course overview
You will adopt a problem-led approach using a blend of traditional and innovative teaching methods delivered by research-active lecturers with a wealth of clinical experience in a variety of settings. Graduates will be competent, reflective, critical thinking practitioners who are able to take responsibility for their own professional development and implement the delivery of safe, ethical and effective physiotherapy services in a wide variety of inter-professional and multicultural contexts appropriate to the changing needs of the service user and emerging professional roles.
Physiotherapy interventions include manual therapy, therapeutic and electro-therapeutic modalities which are used to maximise the function and potential of individuals. You will undertake a minimum of 1,000 hours of professional practice, during which you will be supervised by experienced physiotherapists. Your placements will be in a variety of clinical locations to ensure that you gain wide-ranging experience across the physiotherapy profession. During Year 2 there are opportunities for international placements.
Methods of assessment may include presentations, assignments and case studies. Practical assessments allow you to demonstrate the skills and knowledge required for professional practice. A research project will be undertaken in Year 3.
As a qualified physiotherapist you could find employment within a range of settings, including the NHS, GP practices, schools, hospices, charitable organisations, sports clubs, within industry settings and private organisations. On successful completion of the programme graduates will be able to meet the requirements for registration with the Health and Care Professions Council (HCPC) and membership of the Chartered Society of Physiotherapy (CSP).
Course structure
Level 1
Modules:
Foundations of Physiotherapy Practice (30 credits)
This module will provide students with an understanding of human anatomy and physiology, specifically related to the musculoskeletal system, central and peripheral nervous system, and cardiovascular and respiratory systems. This will be integrated with foundational principles of physiotherapeutic interventions utilised in the assessment and treatment of some more common conditions and pathologies.
Exercise Rehabilitation & Health Promotion (20 credits)
Exercise therapy is a key component of physiotherapy practice with a broad range of health service users. Students will develop the skills to apply exercise therapy to an individual and group situation to foster effective management and inter-professional working in users who may have acute and/or long term conditions. Exercise therapy is also related to working with individuals and groups of patients in discussing, planning and managing messages targeting health promotion.
Professional Development (30 credits)
This module will support students to develop into professional practitioners who have an awareness of professional issues within physiotherapy and in healthcare more broadly. Students will build on their developing clinical knowledge from Foundations of Physiotherapy Practice and Exercise Rehabilitation & Health Promotion modules at level 4 by establishing knowledge of professional standards, fostering appropriate professional relationships and initiating understanding of evidence based practice.
Practice Placement 1 (20 credits)
Provides the opportunity to practice, under supervision, patient assessment, clinical management and handling skills, decision making and participation in general patient care in primary and secondary care environments.
Level 2
Modules
Specialisms of Physiotherapy (30 credits)
This module will enhance and integrate the students' knowledge and understanding of neuro-musculoskeletal, cardiovascular respiratory and neurological conditions from level 4. The aim of the module is to develop students' knowledge of applied anatomy in the 3 core areas of physiotherapy, with pathology and dysfunction, considering a variety of pathologies across the life span. Practical skills will be further developed including manual therapy, movement analysis and treatment interventions, underpinned by clinical reasoning and evidence to support physiotherapy practice.
Research Methods (20 credits)
The research methods module at level 5 will support the evidence based clinical modules running concurrently in enabling effective critical appraisal and decision-making of practice-based activity. Success in the research methods module will enable students to write a coherent research proposal which will lead to the student being able to undertake their dissertation module at level 6.
Practice Placements 2, 3 & 4 (20 credits)
Three consecutive five week placements in semester 2 will provide the opportunity to practice, under supervision, patient assessment, clinical management and handling skills, decision making and participation in general physiotherapy management. There is the potential for students to undertake an international placement during this semester.
Level 3
Modules
Dissertation (40 credits)
The dissertation module in level 6 will build on previous learning related to evidence based practice initiated in level 4 and developed during the research methods module in level 5. Students will approach the dissertation module with a thorough understanding of research issues enabling them to undertake their own research project and contribute to the evidence base in so doing.
Employability & Service Development 920 credits)
This module will prepare students for employment in the contemporary health and social care environment where clinical services and practice are constantly developing and changing. Health and social care policy and organisation, legal and ethical issues, leadership and service development, will be explored in preparation for employment. Careers guidance will be incorporated, using a variety of skills such as reflection, professional development planning, and the development of a professional portfolio.
Advancing Practice (20 credits)
This module will enable students to advance their knowledge in more complex areas of practice through the use of selected scenarios. The module will be responsive to the changing nature of health and social care e.g. patients with multiple co-morbidities.
Practice Placements 5 & 6 (40 credits)
Students have the opportunity to work with an emphasis on the holistic treatment of patients with complex problems across a variety of conditions. This will be based in a range of primary and secondary care environments allowing the students to experience differing settings of health care delivery.
Teaching & Assessment
Central to this physiotherapy course is the development of clinical reasoning and critical appraisal of evidence-based practice particularly with respect to complex health and social care situations utilising an inter-disciplinary focus. These skills will be further developed through professional practice placements in contemporary settings. Students will focus on developing a knowledge base in physiotherapy, which is evidence-based and strongly underpinned by research.
Delivery
Central to our approach is enquiry-based learning (EBL). This approach to learning is intended to challenge and engage students. EBL enables students to take increasing control of their own learning as they progress through their degree programme. Moreover, it encourages students to acquire essential skills which are highly valued in graduates namely: creativity, independence, team-working, goal-setting and problem-solving.
Contact hours
Typically University classroom based activities will compromise of approximately 15 to 20 hours of face to face contact per week. This decreases in year 3 as students become more autonomous learners responsible for their own dissertation projects. All placements are full time.
Self-study time
Outside of taught sessions, you will be expected to undertake further reading around the subjects you are studying and complete coursework assessments that include preparing for placement, reading published journal articles, scientific writing and preparing posters or presentations for assessment.
We have hard-copy and electronic textbooks as part of the reading list for modules that you can access from the Information Learning Services website from anywhere, and academic staff will also direct you to relevant sources to support your learning.
Staffing
All the physiotherapy teaching staff are HCPC registered physiotherapists with extensive clinical expertise in a wide variety of settings. Some staff have very recently joined us from clinical practice so the team consists of experienced academics alongside those who can bring contemporary insight into programme delivery to ensure students graduate fit for purpose in today's ever changing healthcare environment. Staff are also research active, and the team is complimented by visiting lecturers and service users throughout the programme.
Placements
The professional practice element of learning is integral to the programme and an essential component of professional development. Professional practice facilitates the transition from student to competent therapist by providing scope for reasoning and reflection in the practice environment that complements and extends their academic studies.
Placements are sought within the current geographical region of the Yorkshire and the Humber. Students are required to complete a minimum of 1000 hours professional practice education to fulfil the statutory and professional requirements. Placements will last 5 weeks. A variety of placement opportunities will be experienced by students to ensure competence in a range of health and social care settings. There may be opportunities at level two for students to undertake an international placement.
Assessment methods
The assessment strategy for Physiotherapy has been carefully designed to allow the demonstration of skills and abilities using a wide variety of assessment types. Assessment methods range from practical case study presentations, written evidence based reports, assignments, poster presentations and vivas.
Entry requirements
Qualifications
The minimum entry requirements for this course are:
ABB from A2 subjects to include Grade B or above in Biology or PE (but excluding General Studies)
DDM from BTEC Extended Diploma in a related subject. The Health & Social Care Extended Diploma is accepted to cover the Biology requirement.
5 GCSEs at grade C or above (or equivalent) including English Language, Maths and Science
Please note, we do not accept Adult Numeracy or Key Skills in lieu of GCSE Maths
Access Diplomas to include 45 credits at Level 3, including a minimum of three modules at Level 3 in Biology, with Distinction and Merit grades that exceed 128 UCAS Tariff points.
Work-shadowing experience. This could be in any setting that a physiotherapist works in, or in another healthcare environment that provides an insight into healthcare practice. There is no specified amount of work experience that is required and where work shadowing experience is difficult to obtain an insight intot he depth and breath of physiotherapy can be obtained through online research.
Satisfactory medical report
Satisfactory Enhanced DBS check
Personal statements
Essential criteria
As well as a strong standard of written English, we also look for the ability to demonstrate a strong knowledge in the subject. Candidates must have relevant experience, which, ideally may include time spent in physiotherapy work places or alternatively extensive research into the breadth and diversity of physiotherapy. Applicants must then show reflection/ learning/ insight on this experience.
Valued criteria
Candidates can demonstrate a real enthusiasm for the subject that goes beyond achieving good grades in exams. Students will be expected to deliver care, compassion and commitment with excellent communication skills promoting values based practice. Examples to support these values could include:
Experience of caring for a friend/relative
Mentoring at school
Working at a summer camp
Volunteering for the Riding for the Disabled Association
Completing Duke of Edinburgh awards
Experience of coaching
Work experience with other professionals in the health and/or social care sector
Showing evidence of self-awareness by talking about yourself and not just your achievements
Understanding the range of work possibilities within the Physiotherapy profession
Interviews
All applications are reviewed against the entry criteria and personal statement. Due to the large number of applications that we receive, we are unable to interview everyone. Therefore, all applications that are deemed to be outstanding will be invited for interview with the remaining places being filled through random selection (using a random numbers integer) from among those applications that are rated as very good.
If you have any questions about the interview process please contact Toni Bailey, Subject Director of Physiotherapy: T.Bailey@yorksj.ac.uk or T: 01904 876420.
Fees and funding
To study for an undergraduate degree with us, you will need to pay tuition fees for your course. How much you pay will depend on whether you're a UK & EU student or an international (non-EU) student. Tuition fees are charged for each year of your course.
Find out more about funding for Foundation Year and/or Placement Year by visiting the Funding Advice pages of our website. York St John offers special reductions to students graduating from York St John University Undergraduate degrees in 2019 and continuing directly onto Postgraduate study. Find out more about discounts and scholarships. There may also be some additional costs to take into account throughout your studies, including the cost of accommodation.
Tuition fees
Home / EU students
The York St John University tuition fee for the 2019 entry to Foundation Degree, BA and BSc, PGCE Primary and Secondary and UG Health Programme degrees is £9,250 per year for UK/EU, Jersey, Guernsey and Isle of Man students.
Tuition fees may be subject to inflation in future years.
Overseas students
The York St John University tuition fee for the 2019 entry to Foundation Degree, BA and BSc, PGCE degrees is £12,750 per year for international students.
Tuition fees may be subject to inflation in future years.
Additional costs and financial support
COURSE-RELATED COSTS
Whilst studying for your degree, there may be additional costs related to your course. This may include purchasing personal equipment and stationery, books and optional field trips.
STUDY ABROAD
For more information on tuition fee reductions and additional costs for studying abroad, please visit our study abroad webpages.
ACCOMMODATION AND LIVING COSTS
View our accommodation webpages for detailed information on accommodation and living costs.
FINANCIAL HELP AND SUPPORT
Help and advice on funding your studies at York St John is available through our Money Advice service.
More to explore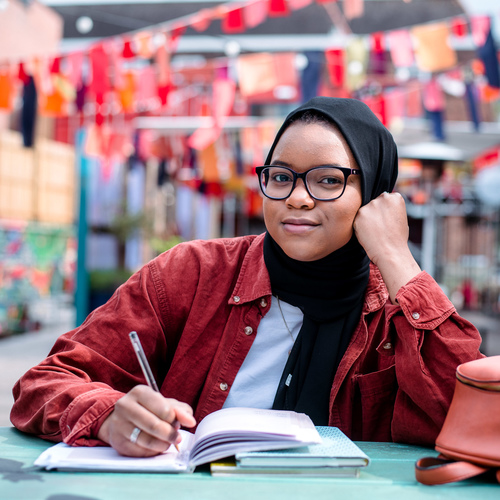 Join us in 2020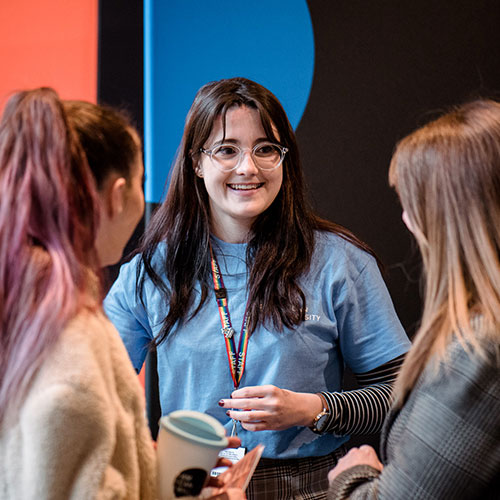 Visit us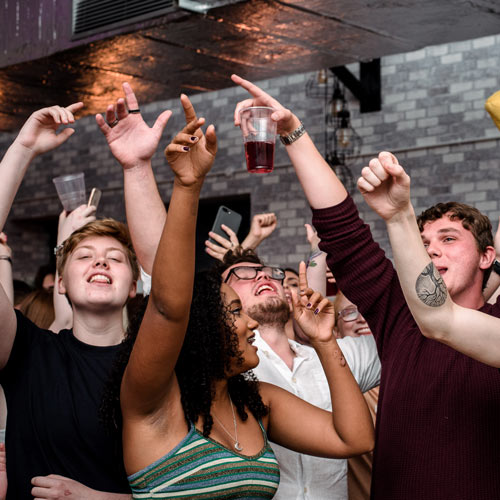 Student life