Undergraduate course
Creative Writing & English Language BA (Hons)
Creative Writing and English Language allows you to develop your own creative potential with words while also getting to grips with language and linguistics.
Creative Writing emphasises the importance of engaging with the wider world of literature in order to develop your own writing. You'll have the opportunity to study brilliant writing from the past, as well as learning from contemporary creative practitioners. In the English Language modules, you will consider questions such as 'what is language?' and learn about how it is structured and articulated. You will have the choice of a range of modules giving you the opportunity to study topics such as how we convey meaning and how language varies according to different speakers and situations.
92% of Creative Writing students were satisfied with their course (NSS 2019)
York campus
UCAS Code – WQ83
Duration – 3 years full-time | 6 years part-time
Start date – September 2020, September 2021
School – Humanities, Religion & Philosophy
Minimum Entry Requirements
96 UCAS Tariff points

3 GCSEs at grade C/4 (or equivalent) including English Language
Tuition Fees
UK and EU 2020-21 £9,250 per year

International 2020-21 £12,750 per year
The York St John Experience
Course overview
Creative Writing emphasises the importance of engaging with the wider world of literature in order to develop your own writing. You'll have the opportunity to study brilliant writing from the past, as well as learning from contemporary creative practitioners. Our course is led by a team of exciting, award-winning writers, and we also have a lively programme of visiting writers and guest speakers. As a student here, you'll be part of the York Centre for Writing, a hub for innovative new creative work with strong links to the wider literary community and to the publishing industry.
Through events such as the York Literature Festival, our students benefit from studying and learning directly from internationally-acclaimed writers. Recent Festival and University guest writers have included Margaret Atwood; award-winning poets Simon Armitage and Daljit Nagra; Booker-nominated York novelist Fiona Mozley; innovative graphic novelist and illustrator Graham Rawle; and Bradford noir-writer A.A. Dhand. We also have regular visits from industry professionals and innovators, including agents, publishers and literary activists.
How does language allow us to express social identities and cultural values? In what way is language a psychological process? This programme explores these fascinating areas and much more by analysing real-life language. Our students organise a lively programme of languages and linguistics-related events, including guest speakers, trips, conferences and social activities with opportunities to be involved in staff research as a volunteer or paid researcher.
As part of this course you will have the opportunity to apply to study abroad in your second year in exciting destinations including Japan, North America, Poland, Spain or Sweden. Assessment is through a variety of methods including essays, presentations, online work, class tests and examinations. Popular careers for our graduates include teaching, publishing and journalism, advertising and marketing, management, IT, social work and speech and language therapy. Many of our graduates also go on to study at Postgraduate level.
Course structure
Level 1
In Creative Writing, Level 1 provides a foundation and introduces core creative and critical skills.
Creative Writing modules include:
Introduction to Creative Writing
Forms of Narrative
Writing to Order
English Language modules include:
Semantics and Pragmatics
Language and Society
English Language and Linguistics
Multilingualism
BSL Beginners
Phonetics
Descriptive Grammar of English
Level 2
Level 2 allows you to focus on specific forms (eg fiction, poetry, script), to develop a critical understanding of form and genre, and helps you to develop key employability skills through project work and professional skills modules.
Creative Writing modules include:
Working with Words: Publishing and Performance
Writing Fiction
Writing Reality: Creative Non-Fiction
Writing Poetry
Scriptwriting
English Language modules include:
Linguistic Diversity in the Classroom
Language and Literacy
World Englishes
Analysing Media Texts
Language, Gender and Sexuality
Sociolinguistics of British Sign Language
Language at Work
Psycholinguistics
Sociolinguistics
Applied Phonetics and Phonology
Language and Literacy
Level 3
At Level 3 all Creative Writing students have the opportunity undertake an extended Creative Writing Project: a portfolio of work which will develop your independent learning and creative practice skills. There are also modules which provide exciting critical and creative perspectives: Writing Genres and Experimental Writing: Theory and Practice.
Creative Writing modules include:
Creative Writing Dissertation
Writing Genres
Contemporary Writing 1: Innovation and Experimentation
Contemporary Writing 2: Literary and Publishing Cultre Now
English Language modules include:
Dissertation (40 credits)
Child Language Acquisition
English Accents and Dialects
Attitudes to Language
Speech and Language Pathology
Theories and Methodologies in TESOL
Language, Identities and Cultures
Reflections in Linguistics
Teaching & assessment
Delivery
The aim of our Creative Writing teaching is to help you to become a better writer. We do this by helping you to understand how literary texts work, which means reading and analysing texts as well as practising writing your own original creative work. We use a combination of different methods of delivery to help achieve this: you'll find that you are supported to share your work-in-progress in regular workshop settings, so that you get used to developing and re-working your writing with feedback. You'll also benefit from lectures, seminars, masterclasses, and other opportunities for group learning. There will be a host of additional events and projects that you can get involved in each year to supplement your learning.
Creative Writing is a highly interactive discipline: discussions, debates, peer-feedback, and writing activities are a crucial part of the learning process. We do not want students to be passive learners, but instead expect you to be actively engaged and involved with your degree subject.
English Language & Linguistics modules are delivered using a mixture of lectures, workshops and seminars. Seminar groups typically have up to 30 students.
Academic and research skills are embedded in modules, for example, academic writing and referencing, peer review, use of web-based resources for document sharing, and the use of wikis and blogs.
Contact hours and self-study time
In your first year, you will typically study three modules each semester. Each module will normally have three hours of contact time each week, so you'll have a minimum of 9 hours each week in University. This is just the starting point for your learning, as we also expect that you'll be engaging each week in independent study: you'll be undertaking reading and writing activities outside the classroom as directed by your module tutor. Creative Writing and English Language is an interactive subject, but also requires you to develop the skills of self-directed writing and time-management that are crucial to being a professional writer. There'll be additional guest events and individual tutorials with your academic tutor to attend throughout the year.
Assessment methods
Your creative writing will mainly be assessed through coursework, and you will often be required to develop a portfolio of original writing accompanied by a critical or reflective commentary. As well as developing creative work and critical analyses, there are other assessment opportunities designed to help you develop new skills and prepare for graduate employment. You will encounter a wide range of assessment opportunities, including project work, organising events and publications, giving presentations, and developing reflective writing.
In English Language, assessment methods vary from module to module. There is an exam on Descriptive Grammar of English in semester two of first year. Other assessment methods include essays, presentations, data analysis, online tests, peer reviews, class tests, blog posts and research proposals and reports.
Entry Requirements
Qualifications
The minimum entry requirements for this course are:
96 UCAS Tariff points
3 GCSEs at grade C/4 or above (or equivalent) including English Language
Foundation Year
This course is available with a foundation year. This option is ideal if you do not yet meet the minimum requirements for entry straight onto a degree course, or feel you are not quite ready for the transition to Higher Education. A foundation year prepares you for degree level study, giving you the confidence and skills needed to make the most of your course. Passing it guarantees you a place on this degree course the following academic year.
Personal Statement
Essential criteria
As well as a strong standard of written English, we look for a demonstration of knowledge and commitment to the subject. This can be shown in a variety of ways – for example, through previous study (including English language, theatre, film studies, media, history), wider reading and creative writing. Tell us why you want to study Creative Writing, and how you think you would benefit from the course.
Valued criteria
Candidates can demonstrate a real enthusiasm for the subject that goes beyond achieving good grades in exams. You might mention any of the following:
Your writing experience in a range of different genres and forms.
The impact of reading on your writing.
Transferrable skills (e.g. research and planning skills, collaboration, having an open mind, being pro-active).
Lectures, readings, or performances you've attended.
Societies you belong to (e.g. writers groups, book clubs).
Literary journals and magazines you read.
Further study you've taken (e.g. in modern languages).
Future career plans and ambitions for your writing.
Terms and conditions
Our terms and conditions, policies and procedures contain important information about studying at York St John University. These can be accessed through our Admissions webpages.
More to explore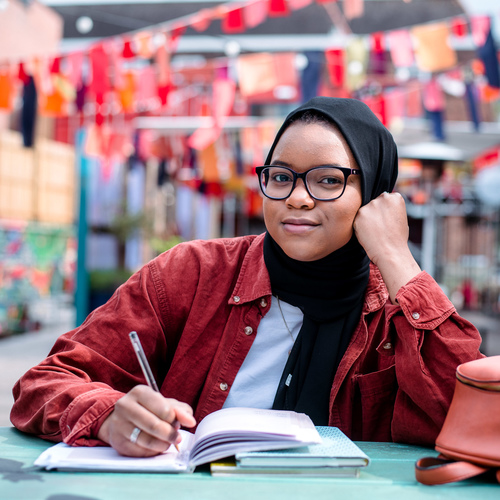 Join us in 2020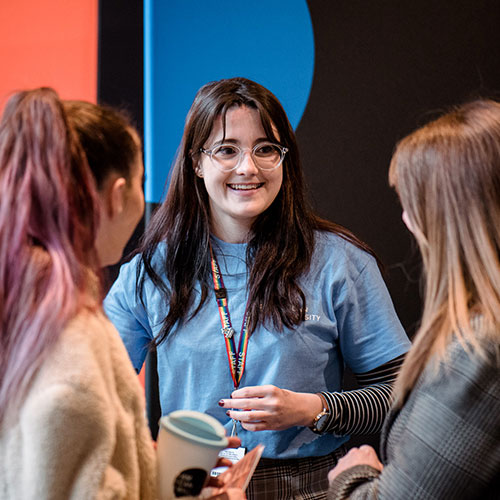 Visit us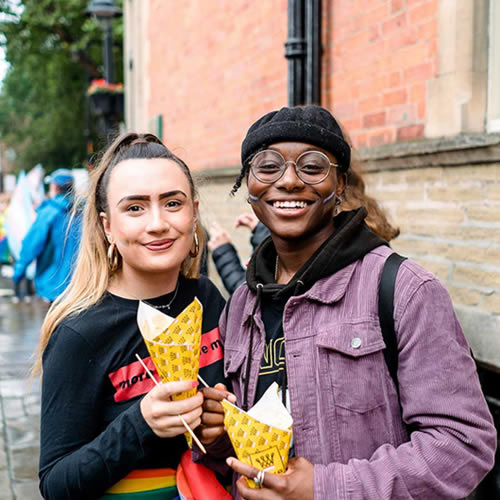 What makes us different