Undergraduate course
Creative Writing BA (Hons)
Are you driven to write? Love to explore writing that has pushed boundaries?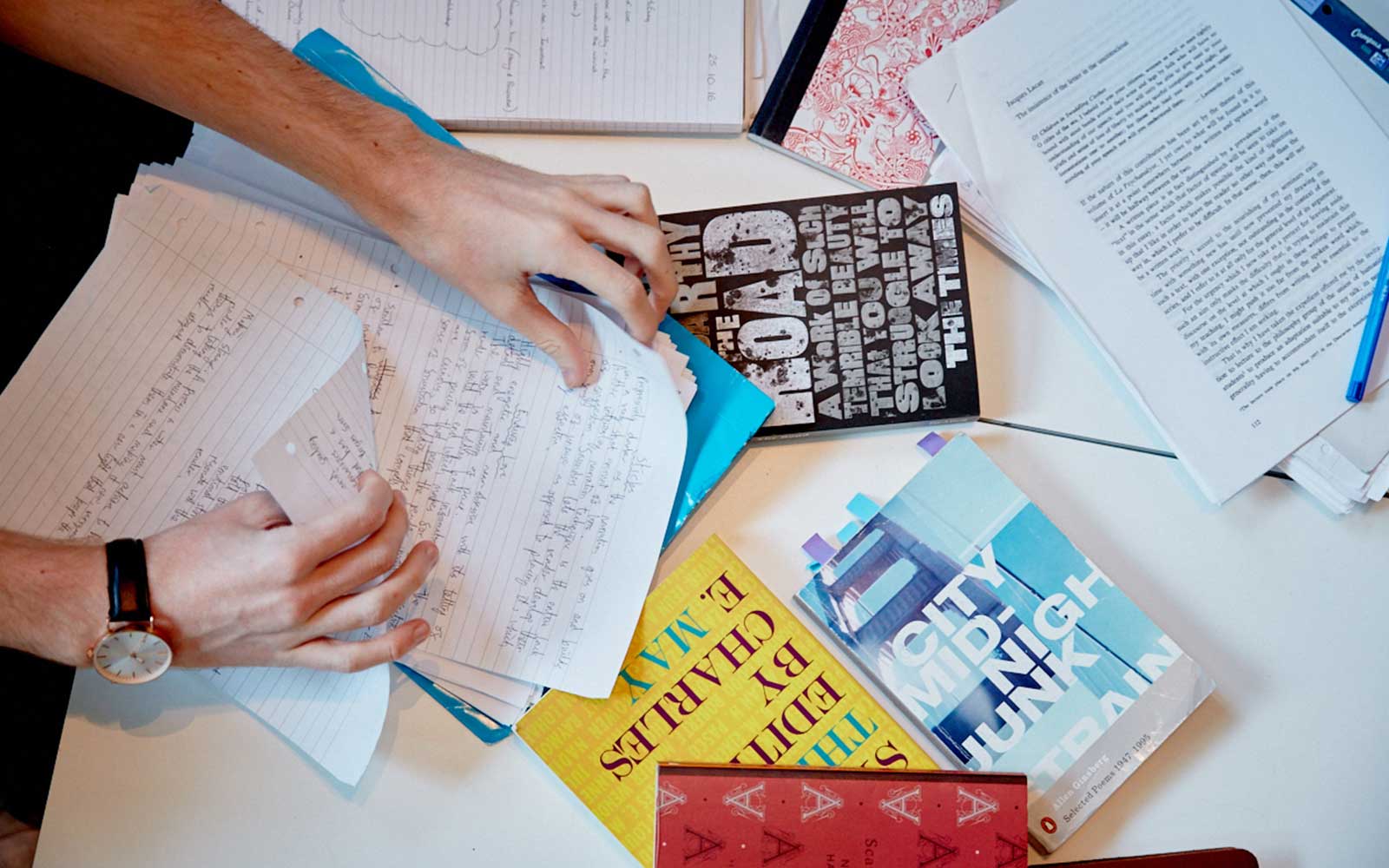 If you love reading and writing, then we can help you to develop your creative potential. Creative Writing is taught by a team of award-winning writers, and helps to foster skills that matter in the workplace as much as on the page. Communication, creativity, reflection, analysis and collaboration are at the heart of this degree.
UCAS Code – 3S3S
Location – York campus
Duration – 3 years full-time | 6 years part-time
Start date – September 2019, September 2020
School – Humanities, Religion & Philosophy
Minimum Entry Requirements
96 UCAS Tariff points

3 GCSEs at grade C/4 or above (or equivalent) including English Language
Tuition Fees
UK and EU 2019-20 £9,250 per year

International 2019-20 £12,750 per year
The York St John Experience
Course overview
Whether you are penning your own poetry, finding your way with fiction, shaping scripts, exploring creative non-fiction or experimental writing, our Creative Writing Programme enables you to develop work in a variety of forms and genres.
It's an exciting time to join us. You'll become part of the York Centre for Writing, a hub for innovative new work with strong links to the wider literary community and to the publishing industry. Our participation in the annual York Literature Festival will give you the chance to study and learn directly from many popular and internationally-acclaimed writers. We also have regular visits from industry professionals and innovators, including agents, publishers and literary activists.
Good writing comes through good reading, so our course emphasises the importance of engaging with the wider world of literature in order to develop your own style. You'll study brilliant writing from the past, as well as learning from contemporary creative practitioners. You'll learn to read and analyse texts to develop a deeper understanding and you'll have the chance to get involved in events, performances and publications.
We place a strong emphasis on giving you transferable skills, so that whether you pursue a career in writing, the arts or another profession, you'll have the empathy, insight, independent thinking and experiences to help you succeed. You will develop both intellectual skills and the practical skills necessary for employability, as well as gaining a wealth of experience relevant to the publishing industry and beyond.
Course structure
Level 1
Modules
Modules include:
Introduction to Creative Writing
This module is designed to introduce you to good writing practices and to familiarise you with sharing your work in progress in a workshop environment – which will be a major part of your degree programme. You will be introduced to a variety of strategies and techniques for starting to write.
Forms of Narrative
Good writers are good readers first and foremost. This module aims to introduce you to theories, debates, and practices in narrative, in order to enhance your understanding of narrative as it functions within literature and culture generally. You'll explore films, novels, poetry, plays, graphic novels, and other experimental forms of narrative. There is a choice of creative or critical assessments.
Writing to Order
This module is intended to introduce you to a range of professional contexts and practices for creative writing. Previous guest speakers have included successful novelists, poets, scriptwriters and researchers, who have shared their professional experiences with students. The module gives you the opportunity to experiment with a range of written forms, as well as sharing your work in progress and learning more about how professional writers work.
Please note: modules offered may vary, subject to revalidation
Level 2
Modules
Writing Fiction
An opportunity to read and produce a range of fictional forms, from flash-fictions to novellas, short stories to novels. You will develop an understanding of characterisation; voice; plotting; narration; dialogue and point of view. By the end of the course, you'll have written your own fiction portfolio.
Writing Reality: Creative Non-Fiction
You will have the opportunity to explore examples of non-fiction such as journalism, creative non-fiction, fictocriticism, manifestos, political tracts, graffiti, non-fiction graphic novels, blogs, online journals, live-tweeting and new media, travel writing, documentary and life writing. By viewing, reading and watching a range of non-fictional texts, you will develop your own original non-fictional texts.
Writing Poetry
From the sonnet to the prose poem, learn about the formal qualities of poetry, how to produce dazzling imagery and perfect rhythm; manipulate voice and pace. You will study a range of contemporary poets, supplemented by visits and readings from some of them. You will produce your own portfolio of pieces by the end of the course.
Scriptwriting - This module addresses the essential elements of scriptwriting – writing convincing dialogue, creating interesting characters, and constructing coherent stories – within a creative and supportive atmosphere. You will develop your expressive and technical skills in writing scripts for one or more of the following disciplines: radio, television, stage and film, culminating in the creation of your own original script.
Publishing, Production and Performance - The aim of this work-related module is to develop your understanding of the relationship between creative writing practices and employability in the creative industries. You'll have the opportunity to explore and engage with methods and means of literary publishing, production, and performance. You will also work collaboratively to produce a group publication and performance/reading event, gaining first-hand experience of specific editorial, production, and marketing activities. With an eye to employability, this module's chief aim is a practical understanding of broader opportunities within the sector.
Please note: modules offered may vary, subject to revalidation
Level 3
Modules
Creative Writing Dissertation
In your final year, you will be ready to devise your own, original creative writing project. You'll write a dissertation (an extended piece of writing), in a form of your own choosing with the support of an individual supervisor. This is the creative and intellectual culmination of your degree, and provides the opportunity to focus on researching and developing a piece of work that particularly excites you. Many students find this to be one of the most rewarding experiences of their degree.
Experimental Writing: Theory and Practice
This module provides the opportunity to learn from some of the most innovative approaches to creative writing. You'll study the relationship between creative practice and the theory, philosophy, or politics which often underpins the boldest experimental work. The broad range of material and techniques considered under the label of 'experimental' will include text-based work, as well as combinations of different media, and visual and performance art.
Writing Genres
You'll develop a critical understanding of how genre operates in the literary world, as well as developing your skills of writing within and/or against particular genres. You will also be given the opportunity to critically explore differentiations between "high" and "low" culture. You will develop an understanding of the emergence of genres such as crime, horror, dystopia, noir, and romance, as well as the emergence of new genres and contemporary sub-genres.
Creative Research in Practice
This module brings together the skills developed throughout you Creative Writing degree, giving you the opportunity to devise new creative projects that are underpinned by research. The module simulates the conditions of professional project development and encourages autonomy, project management and decision making, to help prepare you for a writing life beyond your degree.
Please note: modules offered may vary, subject to revalidation
Literature Modules
There will also be the opportunity to select from modules across the Literature degree programme.
Modules
These may include:
Theorising Literature: Power and Identity
The critic Michel Foucault once wrote that 'power is everywhere'; on this module we seek to uncover the ways that economic, social, and cultural power is portrayed and exerted through the written word. Who has the power in a literary text? And how do we as readers discern this? We will discuss these issues as they relate to identity politics and the intersections between class, gender, race, sexuality, ability, nation, and age in selected literary works.

Canonicity
This module prepares students to reflect on the study of Literature at Undergraduate level by introducing them to two key, overarching concepts: the idea of literary value and the canon. The module is designed to complement semester 1 modules in which issues of literary value and the canon are raised, albeit in less detail, and to provide a meta-context for students to learn and reflect on why they study what they study at university as well as, more precisely, how canonical assumptions can influence their reading and writing.
Adaptations
We look at the different ways books and films tell stories, and what happens to literature and literary characters when they get 'translated' onto the screen. In addition to examining specific examples of film adaptation, students can choose to experiment creatively on a project of their own.
Science Fiction for Survival
Drawing on a range of theoretical and critical concepts around utopianism, the module will consider landmarks in the history of Science Fiction in order to develop students' understanding of key concerns relevant to the genre. The title 'Science Fiction for Survival' aims to highlight the way in which science fiction, through its attention to both technology and ideology, encourages readers/viewers to consider the way in which humanity's post-industrial choices have impacted directly on the well-being of the planet and its diverse human and non-human inhabitants. Students on the module will have the opportunity to get involved with the project Terra Two: An Ark for Off-World Survival, and to develop content for the site.

Literary Theory
Is it proper to remove literary texts from their historical contexts, or is historical awareness essential to any understanding of the text? Is it really the case that a text can mean anything to anybody, or are there more objective ways of understanding what texts are and how they work? What is actually happening when we read literature? And what is 'literature' anyway? This module will engage with the fundamental questions lying behind the discipline of literary studies. Through a direct discussion of theoretical texts, it will examine concepts such as beauty, culture and language from a range of perspectives.
Cultures of the Now: Contemporary Writing
This module encourages students to consolidate their understanding of the history of literature by examining a range of texts from a variety of locations – Europe and the USA, but also Africa and the Asian subcontinent – in order to get a grip on the strange paradoxes of our own global moment. Is the world a fragmented assortment of local traditions, or a conformist monoculture? What do those in one part of the world owe to those living in another? And is the popularity of literary texts which seek to represent and understand 'the other' something to celebrate, or simply another manifestation of consumerism?
Gender and Sexualities
When it comes to issues of gender and sexuality, what is natural and what is cultural? How have gender debates informed popular culture and critical theory? How are different genders and sexualities presented in film and literature? And how do different cultural groups use popular culture and literature to reinforce, challenge, transgress or disrupt traditional gender expectations? Coming in the final semester of third year, this module challenges students to draw on all of the skills, theories and approaches they have rehearsed throughout the degree to confront, explore and interrogate the representation of gender roles and sexuality in popular culture.
Please note: modules offered may vary, subject to revalidation
Teaching & Assessment
We don't believe that exams are the best way to develop creative skills, so you won't find any of these on your Creative Writing degree. You will mainly be assessed through coursework, and will often be required to develop a portfolio of original writing accompanied by a critical or reflective commentary. You may be asked to write some essays, in order to develop your critical skills of literary analysis. But as well as developing creative work and critical analyses, there are other assessment opportunities designed to help you develop new skills and prepare for graduate employment. You will encounter a wide range of assessment opportunities, including project work, organising events and publications, giving presentations, and developing reflective writing.
Delivery
The aim of our teaching is to help you to become a better writer. We do this by helping you to understand how literary texts work, which means reading and analysing texts as well as practising writing your own original creative work. We use a combination of different methods of delivery to help achieve this: you'll find that you are supported to share your work-in-progress in regular workshop settings, so that you get used to developing and re-working your writing with feedback. You'll also benefit from lectures, seminars, masterclasses, and other opportunities for group learning. There will be a host of additional events and projects that you can get involved in each year to supplement your learning.
Creative Writing is a highly interactive discipline: discussions, debates, peer-feedback, and writing activities are a crucial part of the learning process. We do not want students to be passive learners, but instead expect you to be actively engaged and involved with your degree subject.
Contact hours and self-study time
In your first year, you will typically study three modules each semester. Each module will normally have three hours of contact time each week, so you'll have a minimum of 9 hours each week in University. This is just the starting point for your learning, as we also expect that you'll be engaging each week in independent study: you'll be undertaking reading and writing activities outside the classroom as directed by your module tutor. Creative Writing is an interactive subject, but also requires you to develop the skills of self-directed writing and time-management that are crucial to being a professional writer. There'll be additional guest events and individual tutorials with your academic tutor to attend throughout the year.
Entry Requirements
Qualifications
The minimum entry requirements for this course are:
96 UCAS Tariff points
3 GCSEs at grade C/4 or above (or equivalent) including English Language
Personal statement
Essential criteria
As well as a strong standard of written English, we look for a demonstration of knowledge and commitment to the subject. This can be shown in a variety of ways – for example, through previous study (including English language, theatre, film studies, media, history), wider reading and creative writing. Tell us why you want to study Creative Writing, and how you think you would benefit from the course.
Valued criteria
Candidates can demonstrate a real enthusiasm for the subject that goes beyond achieving good grades in exams. You might mention any of the following:
Your writing experience in a range of different genres and forms.
The impact of reading on your writing.
Transferrable skills (e.g. research and planning skills, collaboration, having an open mind, being pro-active).
Lectures, readings, or performances you've attended.
Societies you belong to (e.g. writers groups, book clubs).
Literary journals and magazines you read.
Further study you've taken (e.g. in modern languages).
Future career plans and ambitions for your writing.
Terms and conditions
Our terms and conditions, policies and procedures contain important information about studying at York St John University. These can be accessed through our Admissions webpages.
Fees and funding
To study for an undergraduate degree with us, you will need to pay tuition fees for your course. How much you pay will depend on whether you're a UK & EU student or an international (non-EU) student. Tuition fees are charged for each year of your course.
Find out more about funding for Foundation Year and/or Placement Year by visiting the Funding Advice pages of our website. York St John offer special reductions to students graduating from York St John University Undergraduate degrees in 2019 and continuing directly onto Postgraduate study. Find out more about discounts and scholarships. There may also be some additional costs to take into account throughout your studies, including the cost of accommodation
Tuition fees
Home / EU students
The York St John University tuition fee for the 2019 entry to Foundation Degree, BA and BSc, PGCE Primary and Secondary and UG Health Programme degrees is £9,250 per year for UK/EU, Jersey, Guernsey and Isle of Man students.
Tuition fees may be subject to inflation in future years.
Overseas students
The York St John University tuition fee for the 2019 entry to Foundation Degree, BA and BSc, PGCE degrees is £12,750 per year for international students.
Tuition fees may be subject to inflation in future years.
Additional costs and financial support
COURSE-RELATED COSTS
Whilst studying for your degree, there may be additional costs related to your course. This may include purchasing personal equipment and stationery, books and optional field trips.
STUDY ABROAD
For more information on tuition fee reductions and additional costs for studying abroad, please visit our study abroad webpages.
ACCOMMODATION AND LIVING COSTS
View our accommodation webpages for detailed information on accommodation and living costs.
FINANCIAL HELP AND SUPPORT
Help and advice on funding your studies at York St John is available through our Money Advice service.
More to explore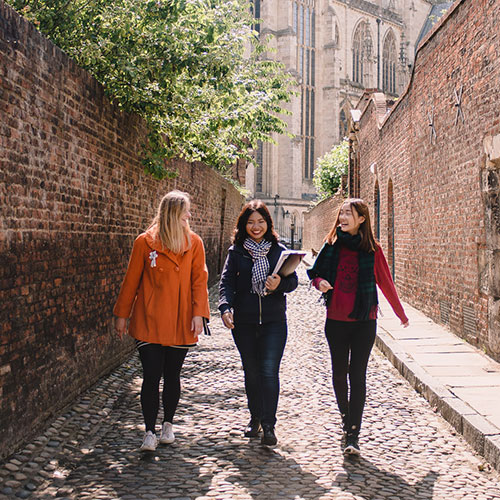 Your next steps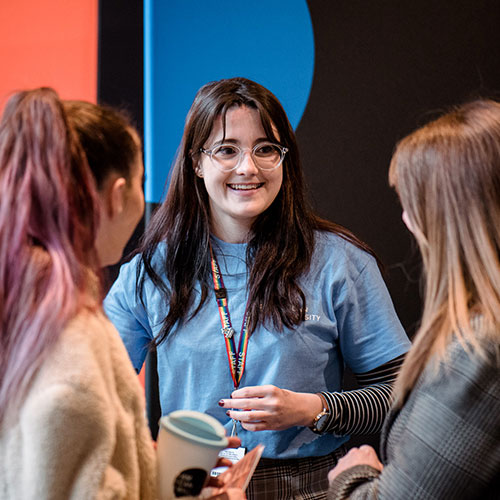 Visit us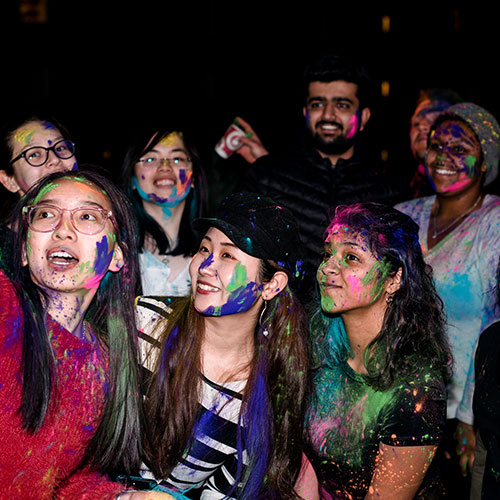 Student life