Understand how life as we know it came to be in one of the UK's most historically rich cities.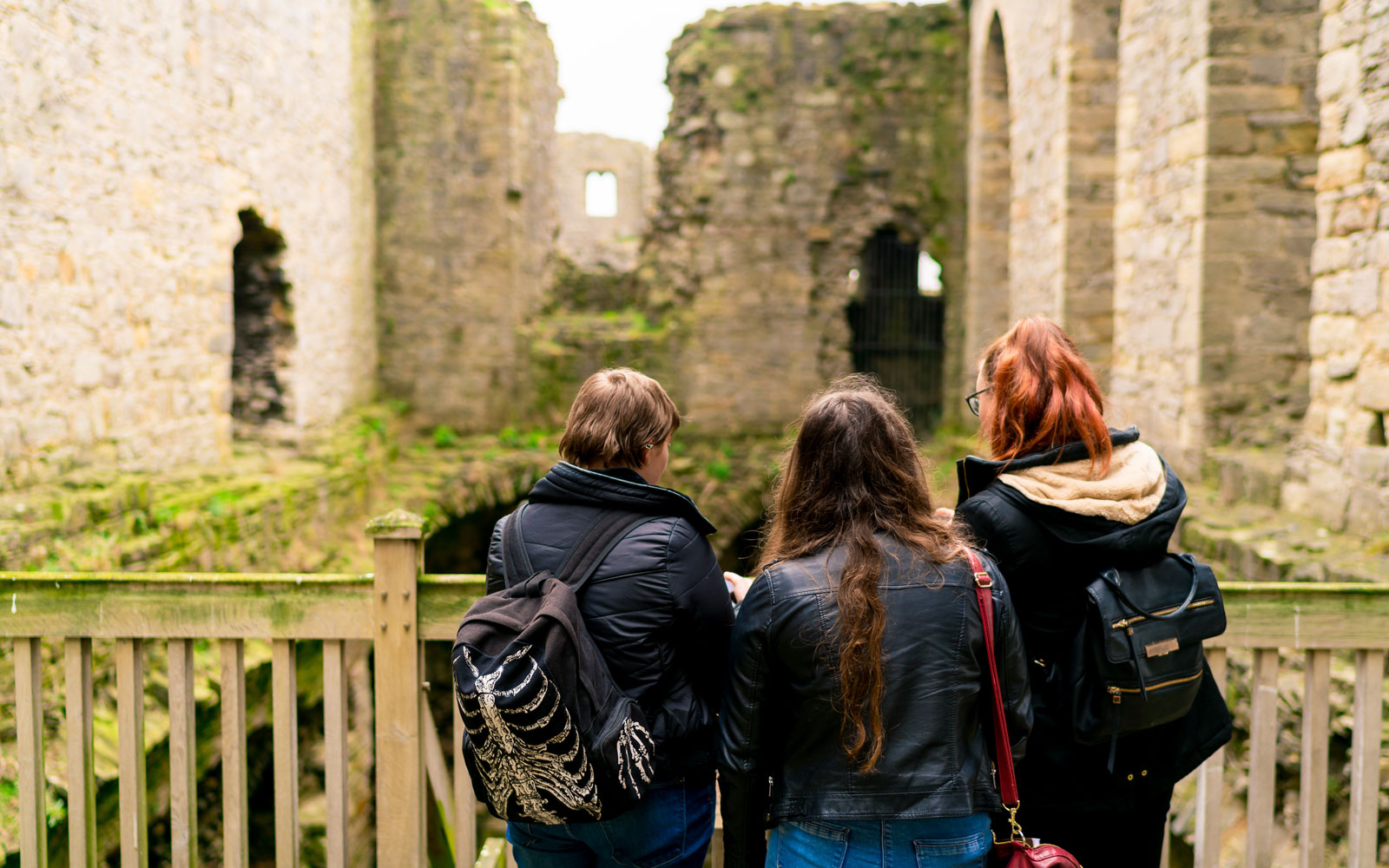 Are you curious about the past and how our world has developed? If you want to know how ideas spread, how states rise and fall and how ordinary people have influenced those with power, then our History degree is for you.
100% of History students say they have been able to contact staff when they need to - NSS 2017
UCAS Code – V100
Location – York campus
Duration – 3 years full-time | 6 years part-time
Start date – September 2019, September 2020
School – Humanities, Religion & Philosophy
Minimum Entry Requirements
96 UCAS Tariff points

3 GCSEs at grade C/4 or above (or equivalent) including English Language
Tuition Fees
UK and EU 2019-20 £9,250 per year

International 2019-20 £12,750 per year
The York St John Experience
Course overview
Explore the answers to historical questions great and small in the heart of one of the UK's most historic cities. York has played a central part in many of our country's stories: as a seat of royal power and a site of rebellion, home to the magnificent York Minster and to industrial slums, an administrative centre and a strategic target. With a rich selection of original sources including museums, libraries and historical sites available on your doorstep, York offers an abundance of inspiration and sources to support your studies.
You will study a broad range of periods, places and peoples, from antiquity to the twenty-first century, whilst developing your own individual specialisation and research by key periods, themes or geographical regions. The flexible structure of the programme offers you the unique opportunity to construct your own degree, choosing your own modules and undertaking independent research in the areas of history which excite you most.
We want to help you be clear about your career, which is why we integrate a short placement or work-related project alongside our employability module, History, Community and Culture, within the programme. We have an impressive range of partnerships with heritage sites, archives and businesses across the city to provide you with the sought after skills and networks desired by employers. Our connections include York Museums Trust, York Explore and Yorkshire Film Archive, where students have explored the treasures of the archives to create exhibitions about York's historic past and produced online resources that depict the filmed history of the city.
Course structure
Level 1
Modules
Modules include:
The Making of Britain offers an introduction to British history from pre-Roman times to the present and examines the importance of national identities in the history of the British Isles.
War & Society examines war and its impact on society through case studies drawn from early modern Europe and the 20th century.
America's Century traces the rise of the United States as a global superpower and its role in international relations since the late 19th century.
The Visible Past studies architectural evidence and what buildings can tell us about the past through class-based work and study visits.
Popular Protest examines the causes, dynamics and impact of popular protest in a variety of historical contexts, using examples of 'history from below' as an introduction to the analytical and methodological approaches involved in the study of social history.
Level 2
Modules
Modules include:
The Flowering of the Middle Ages studies the main social, cultural and political developments which shaped Europe in the period c1000-1300.
Plague, Piety & Power introduces students to the history of late medieval and early modern Europe, focusing on the themes of social, political, cultural and economic development during the period.
The Age of Nationalism, 1848-1914 analyses the rise of nationalism in 19th century Europe and its impact on politics, society and international relations in the years before the First World War.
The Age of Anxiety the USA 1929-1960 is a social, cultural and political history of the United States from the Depression to the Cold War.
China 1911-97 studies the processes of revolution and change in 20th century China.
History, Film & Television examines the use and representation of history in the media, including news, documentaries and fictional features.
Level 3
Modules
Modules include:
The Origins of World War II analyses the reasons for the outbreak of the Second World War by examining the international and diplomatic history of the 1930s in Europe, America and the Far East.
Late Victorian & Edwardian Britain examines the main themes in British history between the early 1880s and the First World War, including the so-called 'Edwardian crisis' of the years immediately prior to 1914.
The Great Society: America in the 1960s deals with the history of the United States in the era of Kennedy, Nixon and Vietnam.
Conflict on the East Asian Mainland examines the wars in Korea and Indochina from both western and Asian perspectives and the historical debates to which they have given rise.
The Wars of the Roses explores one of the most politically volatile periods of English history, encompassing deposition, regicide, civil war and enduring controversy.
Teaching & Assessment
Delivery
On the History programme you will experience a wide range of teaching methods and techniques. From lectures and interactive workshops to seminars with other students, we encourage both independent and collaborative learning. As well as working with others, you will have opportunities for one-to-one meetings with tutors to provide additional support during your degree. In class contact time, you will examine arguments made by historians and the key debates between them. You will interrogate primary sources in print and in other media. You will learn how to advance your own argument and think critically about the past. There are also opportunities to go on field trips within the historic city of York and beyond, to uncover the past in our fantastic archives and the built environment all around us.
Contact hours
History modules provide 36 hours class contact time per 20 credit module, together with tutorial support. Class contact time is supported by open learning strategies, ranging from interaction with the Virtual Learning Environment (VLE) to independent and group study. We understand and value the number of ways in which students learn and develop a flexible teaching approach accordingly.
Assessment methods
A wide range of assessment methods are used throughout the History degree. Some modules are assessed by writing essays and taking exams; others have one single point of assessment, such as a coursework portfolio completed throughout a module.
Work-related learning
In the second year of the History degree you will complete a short placement or work-related project on our employability module, History, Community and Culture. We have an impressive range of partnerships with heritage sites, archives and businesses across the city that provide exciting and unique placement opportunities for many of our students. A history degree remains highly valued by employers because history graduates develop exceptional analytical skills and critical thinking. This module will encourage you to explore future career opportunities and reflect upon the transferable skills gained from studying history at university level.
Dissertation
During the final year of your degree, you will complete a research dissertation on a subject of your choice. This is the culminating point of the degree, where you will deploy the key historical skills acquired over the previous two years.
Entry Requirements
Qualifications
The minimum entry requirements for this course are:
96 UCAS Tariff points
3 GCSEs at grade C/4 or above (or equivalent) including English Language
Terms and conditions
Our terms and conditions, policies and procedures contain important information about studying at York St John University. These can be accessed through our Admissions webpages.
Fees and funding
To study for an undergraduate degree with us, you will need to pay tuition fees for your course. How much you pay will depend on whether you're a UK & EU student or an international (non-EU) student. Tuition fees are charged for each year of your course.
Find out more about funding for Foundation Year and/or Placement Year by visiting the Funding Advice pages of our website. York St John offer special reductions to students graduating from York St John University Undergraduate degrees in 2019 and continuing directly onto Postgraduate study. Find out more about discounts and scholarships. There may also be some additional costs to take into account throughout your studies, including the cost of accommodation
Tuition fees
Home / EU students
The York St John University tuition fee for the 2019 entry to Foundation Degree, BA and BSc, PGCE Primary and Secondary and UG Health Programme degrees is £9,250 per year for UK/EU, Jersey, Guernsey and Isle of Man students.
Tuition fees may be subject to inflation in future years.
Overseas students
The York St John University tuition fee for the 2019 entry to Foundation Degree, BA and BSc, PGCE degrees is £12,750 per year for international students.
Tuition fees may be subject to inflation in future years.
Additional costs and financial support
COURSE-RELATED COSTS
Whilst studying for your degree, there may be additional costs related to your course. This may include purchasing personal equipment and stationery, books and optional field trips.
STUDY ABROAD
For more information on tuition fee reductions and additional costs for studying abroad, please visit our study abroad webpages.
ACCOMMODATION AND LIVING COSTS
View our accommodation webpages for detailed information on accommodation and living costs.
FINANCIAL HELP AND SUPPORT
Help and advice on funding your studies at York St John is available through our Money Advice service.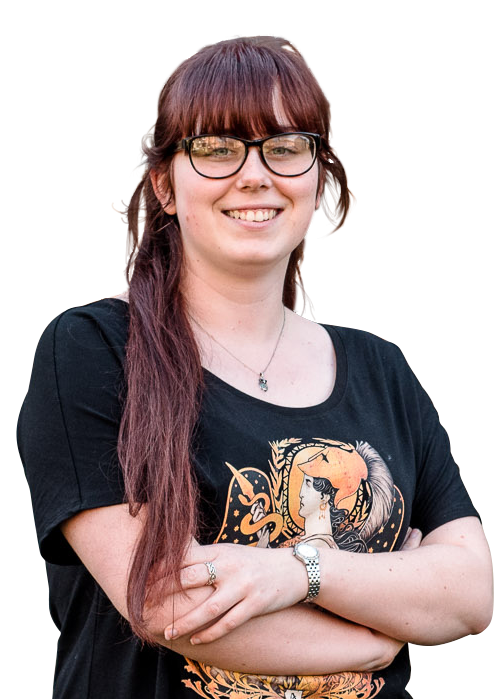 Penny Hodgson
History BA (Hons)
The History Department at York St John University is a close and supportive community, the lecturers are all approachable and understanding. They do everything they can to offer advice and encouragement to their students. I love living in York too, everything is very accessible and you're surrounded by history at every turn, from Roman to Medieval and Modern.
More to explore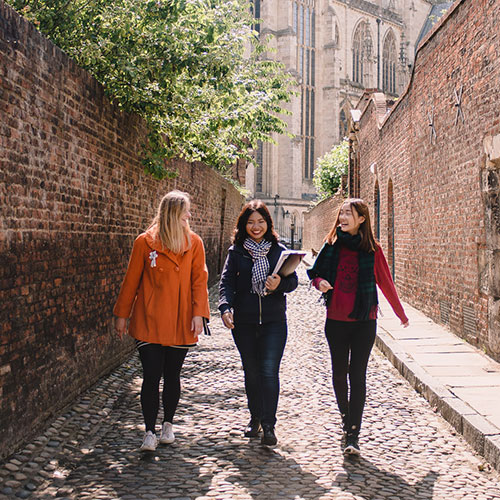 Join us this September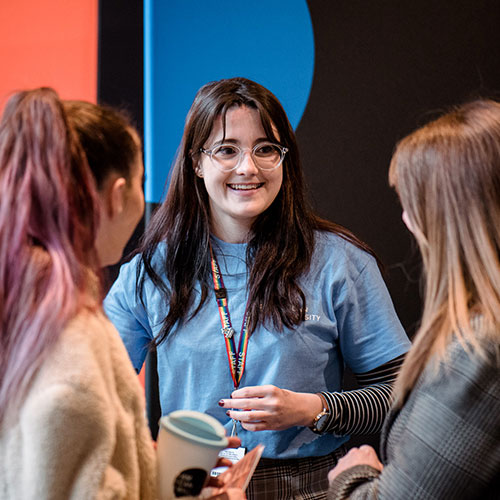 Visit us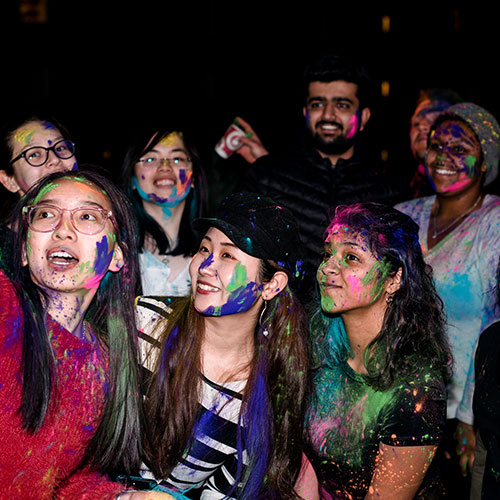 Student life