Undergraduate course
Education Studies and English Language BA (Hons)
Explore the way we use language in our daily lives and consider the role of education.
Study language from a broad range of perspectives, including the way speech is articulated, how language is structured and related to meaning, and how it relates to speakers' intentions and purposes in social interaction.
96% of Graduates from our School of Languages and Linguistics were in employment or further study within six months.
UCAS Code – XQ33
Location – York campus
Duration – 3 years full-time | 6 years part-time
Start date – September 2020
School – Languages & Linguistics
Minimum Entry Requirements
96 UCAS Tariff points

3 GCSEs at grade C/4 (or equivalent) including English Language
Tuition Fees
UK and EU 2020-21 £9,250 per year

International 2020-21 £12,750 per year
The York St John Experience
Course overview
As well as studying how speakers and writers use language, you will also study social attitudes to language, and the way language functions to express identities and cultural values. New forms of communication, such as email, texting and instant messaging, have opened up new and interesting fields for the study of Language as a form of social behaviour.
This programme combines with Education Studies, which is concerned with understanding how people develop and learn throughout their lives, the nature of knowledge and critical engagement along with ways of knowing and understanding. You will have the opportunity to engage in intellectually rigorous analysis of educational processes, systems and approaches, and their cultural, societal, political, historical, and economic contexts.
Focus on the real-world applications for language and study and explore how it offers you ways to apply theoretical knowledge to real data. You will also examine how linguistic concepts and issues have vocational relevance in the working world.
In addition, by studying education you will be able to participate in and contest changing discourses exemplified by reference to debate about values, personal and social engagement, and how these relate to communities and societies. You will have opportunities to develop your critical capabilities through the selection, analysis and synthesis of relevant perspectives, and be able to justify different positions on educational matters. You will engage in a critique of current policies and practice and challenge assumptions. An education studies course will provide you with the knowledge, understanding and critical analysis to inform current and future careers.
Course Structure
Level 1
Modules may include:
Key Changes in Modern Schooling
Learning as a Student
Semantics and Pragmatics
Language and Society
English Language and Linguistics
Questioning the Purpose of Education: Philosophical Perspectives
Global Development and Education
What is Inclusive Learning?
Multilingualism
BSL Beginners
Phonetics
Descriptive Grammar of English
Level 2
Modules may include:
Learning as a Researcher
Education and Social Justice
Life Chances and Education
Media and Disability
Linguistic Diversity in the Classroom
The Globalisation of Education Policy
Language and Literacy
World Englishes
Analysing Media Texts
Language, Gender and Sexuality
Sociolinguistics of British Sign Language
Knowledge and the Curriculum
Reflecting on Learning
Language at Work
Psycholinguistics
Sociolinguistics
Applied Phonetics and Phonology
Language and Literacy
Level 3
Modules may include:
Researching in an Educational Context
Dissertation (40 credits)
Investigating Learning
Education and Contemporary Ethical Issues
Digital Learning - The Future of Education
Critical Perspectives in SEN and Inclusion
Child Lanuage Acquisition
English Accents and Dialects
Attitudes to Language
Speech and Language Pathology
Theories and Methodologies in TESOL
Language, Identities and Cultures
Education, Health and Well-being
Autobiography and Narrative – Writing Educational Journeys
Education and the Environment
Teaching and the Role of the Teacher
Reflections in Linguistics
Teaching & Assessment
The BA (Hons) English Language and Education Studies programme will use a diverse range of teaching and learning strategies which will focus on equipping you with the skills and knowledge required to be effective and successful students.
Delivery
English Language and Education Studies is designed so that there is a progressive shift in the overall balance of time you spend in independent compared to tutor-supported learning. Level 1 has increased contact time to ensure that you have a sound grounding in the subject area, which is then gradually reduced through Levels 2 and 3 in order to develop student autonomy, whilst still providing a supportive environment.
Teaching Methods
The teaching and learning strategy includes lectures, seminars, case studies, group work, report writing and aims to be accessible to a mixture of learning styles and interactive activities. A series of key lectures for each module will provide you with an introduction to the main themes, theoretical concepts and debates. Seminars aim to provide you with the opportunity to debate and discuss the themes raised by lectures and self-directed study. This will provide you with opportunities to have a deeper understanding of the issues covered in the modules and encourages an environment in which you can communicate and discuss the subject matter with other students.
Learning
The programme will focus on:
The process of transition to ensure that you are able to benefit from a full and rewarding undergraduate experience.
The development of lifelong learning skills, particularly in relation to developing your ability to be able to reflect upon your own learning.
The development of skills that will help to effectively involve you in critical reflection and analysis of research, policy and practice.
Prioritising teaching that will support learning experiences that are stimulating, appropriate and effective.
Fostering partnerships which will help to ensure a range of inclusive and appropriate assessment, learning & teaching practices.
Entry Requirements
Qualifications
The minimum entry requirements for this course are:
96 UCAS Tariff points
3 GCSEs at grade C/4 or above (or equivalent) including English Language
Personal Statement
Essential criteria
As well as a strong standard of written English, we also look for the ability to demonstrate commitment to the subject and partake in group work. This can be done in a variety of ways, for example, through volunteering in schools both in the UK and overseas, or other social settings where learning occurs, such as sports teams or Cadets. Candidates should also demonstrate an intellectual engagement with the core disciplines of the programme, such as philosophy, psychology, sociology, history or politics and show the ability to think critically around the subject. Examples of this can be through previous study, a wider in interest in worldwide education and a knowledge of current issues affecting education at home and internationally.
Valued criteria
Candidates can demonstrate a real enthusiasm for the subject that goes beyond achieving good grades in exams. Examples of this include further study, career plans and transferrable skills such as time management. Other extra-curricular activities could include conference/lecture attendance, member of appropriate clubs/groups and subscribing to relevant journals.
Terms and conditions
Our terms and conditions, policies and procedures contain important information about studying at York St John University. These can be accessed through our Admissions webpages.
Fees and funding
To study for an undergraduate degree with us, you will need to pay tuition fees for your course. How much you pay will depend on whether you're a UK and EU student or an international (non-EU) student. Tuition fees are charged for each year of your course.
UK and EU 2020 entry
The tuition fee for 2020 entry to our Foundation, BA and BSc, PGCE Primary and Secondary and undergraduate Health degrees is £9,250 per year for full time UK, EU, Jersey, Guernsey and Isle of Man students.
For UK, EU, Jersey, Guernsey and Isle of Man students studying part time, the tuition fee for 2020 entry to the above courses is £4,265 per year.
Tuition fees may be subject to inflation in future years.
Find out more about funding for Foundation or Placement Year by visiting the Funding Advice pages of our website.
International (non-EU) 2020 entry
The tuition fee for 2020 entry to our Foundation, BA and BSc, PGCE Primary and Secondary and undergraduate Health degrees is £12,750 per year for international (non-EU) students.
Due to immigration laws, international students on a Tier 4 visa must be studying full time. For more information about visa requirements and short-term study visas, please visit the International Visa and Immigration pages.
More information about funding your studies is available on our International Fees and Funding page.
Tuition fees may be subject to inflation in future years.
Additional costs and financial support
There may also be some additional costs to take into account throughout your studies, including the cost of accommodation.
COURSE-RELATED COSTS
Whilst studying for your degree, there may be additional costs related to your course. This may include purchasing personal equipment and stationery, books and optional field trips.
STUDY ABROAD
For more information on tuition fee reductions and additional costs for studying abroad, please visit our study abroad pages.
ACCOMMODATION AND LIVING COSTS
View our accommodation pages for detailed information on accommodation and living costs.
FINANCIAL HELP AND SUPPORT
Help and advice on funding your studies at York St John is available through our Money Advice service.
More to explore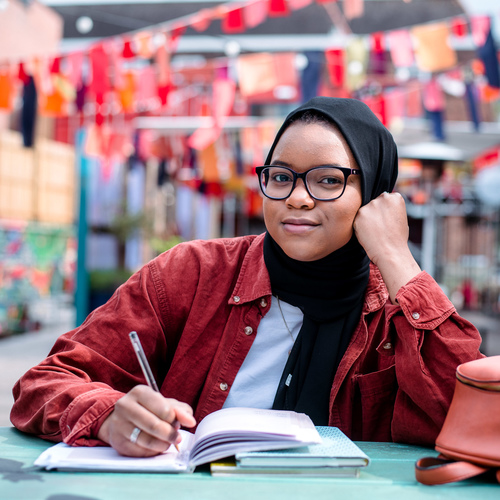 Join us in 2020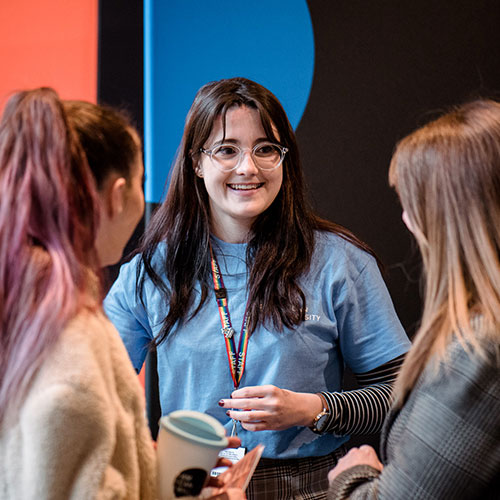 Visit us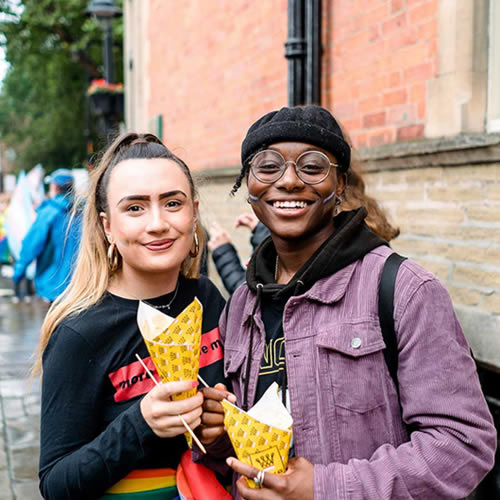 What makes us different