Undergraduate course
Music Production & Creative Business BA (Hons)
Gain the practical and theoretical skills required to be a creative music producer.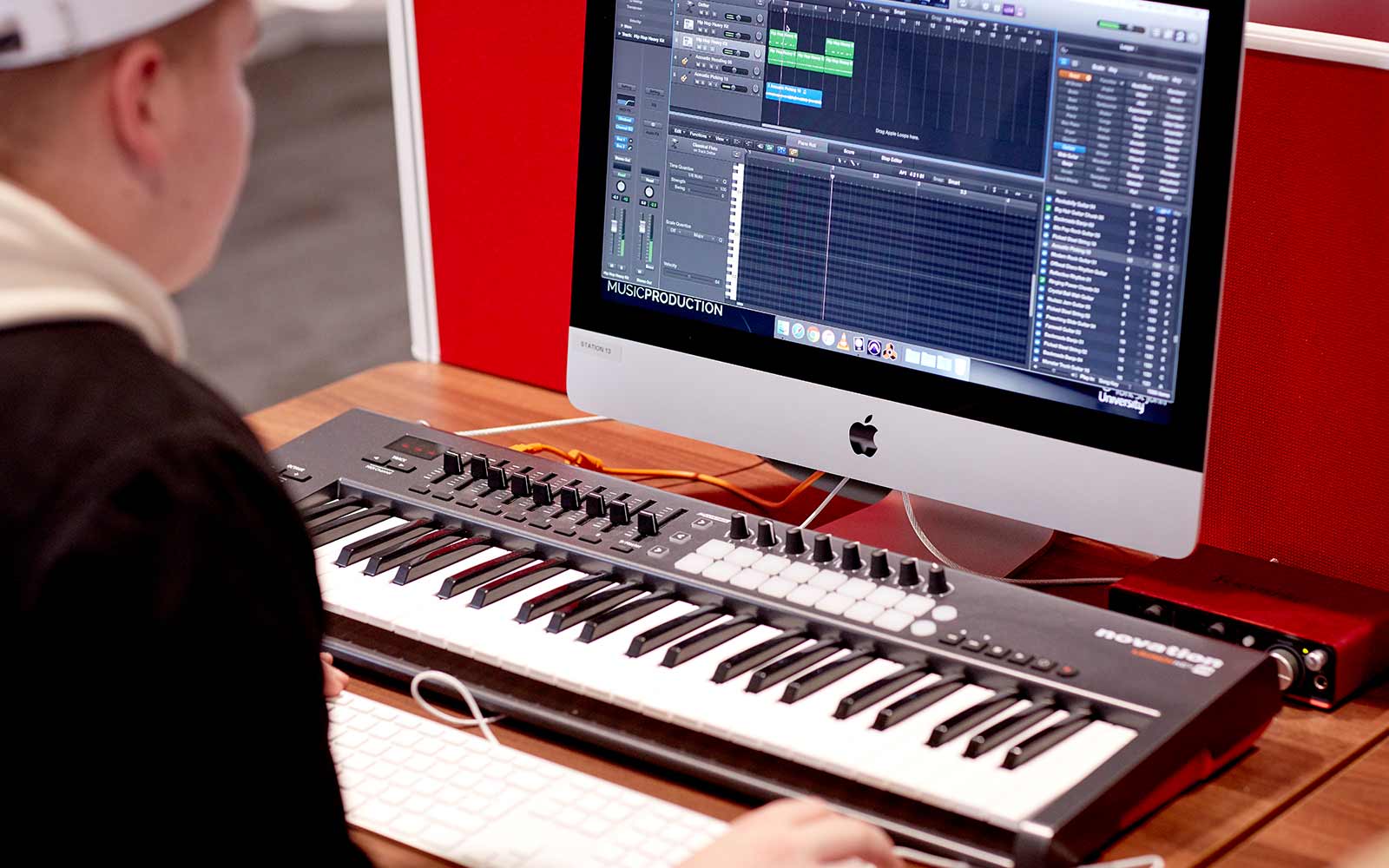 The ever-evolving nature of the music industry has opened up new possibilities and innovations, enabling people to work together in different ways and with new business models. This programme is for those who want to build their own business through the emerging opportunities in contemporary music production. It is for those who want to work as a producer, musician and entrepreneur, to enable them to start-up and manage a successful creative business in music production.
96% of our Music Production students were satisfied with their course. National Student Survey 2018
UCAS Code – J931
Location – York campus
Duration – 3 years full-time | 6 years part-time
Start date – September 2019, September 2020
School – Performance & Media Production
Minimum Entry Requirements
88 UCAS points

3 GCSEs Graded at C/4 or above (or equivalent) including English Language
Tuition Fees
UK and EU 2019-20 £9,250 per year

International 2019-20 £12,750 per year
The York St John Experience
Course overview
This degree is one of a suite of Music Production programmes which share the same core ideals and each offer a different focus in the field. This programme is for those who want to become innovative producers and proficient business people able to exploit new opportunities in music production as they arise. You will acquire the knowledge and skills to enable you to produce music professionally, whilst gaining real-world business experience to develop your media enterprise or music production company.
In your first two years, modules cover the core technical, creative and managerial aspects of production and business with increasing complexity. At the same time you will learn to bring all these aspects together in your portfolio. It is in these portfolio modules that you demonstrate your development and achievement as an entrepreneurial producer. In your final year, you draw on all your previous learning to develop and establish your own creative business venture.
We lean towards 'doing' production rather than just 'studying' it. We believe it is important for our students to understand how to record, mix and produce in a practical sense, not solely on a theoretical level. Our students also learn their craft through constant professional work experience. Some projects will be for your tutors, others will be for the students themselves but most will be for external clients.
Course structure
Level 1
Modules
Compulsory modules include:
Music Production Enterprise Portfolio (30 credits)
This module is delivered in small group tutorials where the focus is on your creative output and the formation of your professional identity as an entrepreneurial music producer. You will draw together specific skills learned in other modules and deploy them holistically in the creation of commercially-considered music products.
Introduction to Production Musicology (20 credits)
This practical module provides you with essential knowledge of the techniques and technology for music production, using both analogue recording studio hardware and Digital Audio Workstations such as Pro Tools and Logic Pro. Key tasks covered include recording, editing, comping, sequencing, signal processing, sampling and synthesis.
Sound Engineering and Music Technology (20 credits)
This module is about the academic field of music production. By studying key historical and theoretical sources in reference to seminal recordings you will gain the tools for analytical and critical thinking that will ultimately inform your creative and practical work.
Making Music (10 credits)
The aim of this module is to develop your understanding of music as the raw material of production. You will learn the rudiments of melody, harmony, rhythm and structure and how to apply them creatively in a variety of composition tasks.
Critical Listening Skills (10 credits)
This introduces one of the fundamental skills required of any worker in the music industry – the ability to listen critically to a sound source and accurately determine its component material. You will learn to identify sounds and treatments applied in existing productions, enabling you to effectively apply them within your own productions.
21st Century Music Business (10 credits)
This module provides you with a contextual understanding of the contemporary music business. By considering how key music industry institutions, legal frameworks and record labels have developed, you will gain a solid foundation for working in the 21st Century music industry and media industries.
Project Management and Productivity (10 credits)
A key transferable skill of the music producer is the effective management of time, resources and talent in the organisation of large scale recording projects, album releases, studio installs and live events. Therefore you will study project and time management, evaluating a range of methods and techniques so that you can develop your own personal productivity systems best suited to you needs
Sound and Acoustics (10 credits)
You will gain a fundamental understanding of sound and acoustic theory and apply the knowledge in various recording and listening environments. You will be able to illustrate how a music studio, such as your own facilities, should be designed or arranged for the best acoustic response.
Level 2
Modules
Compulsory modules include:
Creative Business Portfolio (40 credits)
This module provides you with the opportunity to further develop your business ideas to generate a creative business plan which will be carried through during the course of the module. You will be able to pitch or bounce ideas and plans off relevant industry professionals as you develop and trial your media enterprise, record label or music production company.
Studio recording and Computer-Based Production (20 credits)
Following from the technical skills gained at Level 1 this practical module develops a more advanced knowledge and understanding of recording skills, building confidence in using the mixing console and key Digital Audio Workstations. Areas covered include creative mic techniques; mixing in a variety of situations; handling a large scale recording session; and mastering.
Critical Studies in Music Production (20 credits)
This module builds upon the academic foundations established in Introduction to Production Musicology. At this level you will engage in contemporary debates and discussions regarding the art and practice of record production, and demonstrate an increasing level of sophistication when making an argument and articulating your research findings in academic writing.
Developing a Producer's Ear (10 credits)
This module continues to develop your appreciation of the core skill of the professional music producer – their ability to listen and accurately identify and communicate what they hear. You will develop an understanding of the importance of audio reproduction and media consideration (e.g. vinyl, CD, high definition, etc.), along with an understanding of the importance of monitor design, amplifier design, listening environments, and listener placement.
Creative Business and Entrepreneurship (10 credits)
This module will introduce the concept of innovation in creative business. You will explore the creative business sector, its functions, funding mechanisms, business strategies and management, and in doing so develop your understanding of UK business law, cash flow preparation, accounting principles and management.
Marketing and PR for the Independent Musician (10 credits)
You will investigate the marketing and publicity processes and techniques used for selling music products. You will gain a thorough overview of press relations, online strategies and general promotion practices before developing an effective marketing and PR strategy for yourself or an artist you are working with.
Choose one optional module to achieve 120 credits at Level 2.
Optional modules include:
Music Production for the Moving Image (10 credits)
You will examine the ways in which music combines with the moving image to create meaning in film and television production. You will study the functions of music in narrative film, learning film music composition and production techniques and using them to create music to be synced with specific moving image productions.
Sound Design for the Moving Image (10 credits)
This module requires you to apply your production skills in the creation and manipulation of non-musical sound in film and television production. Through practical work and the analysis of case studies you will develop an understanding of key sound design elements, such as production sound; foley; dialogue editing; spot effects; sound effects and atmospheres.
DIY Musician (10 credits)
You will be introduced to the processes of taking a track that you have produced yourself through to commercial release. The module will cover the key aspects of the process in terms of licensing, registration, neighbouring rights, distribution, PR and marketing of the product, enabling you to manage the process of getting your music out into world and working for you.
Electronic Music (10 credits)
This module will introduce creative and technological practices fundamental to the production of electronic music. You will learn about specific genres of electronic production and study the work of influential artists, as well as producing music in a specific electronic genre in response to a client's brief or label requirements.
Interactive Music Production (10 credits)
This module give you the opportunity to engage in research and practice in the field of interactive music production. You will explore alternative controllers, breaking away from the traditional interfaces of the MIDI based piano keyboard by exploring alternative means to generate sound, ultimately creating an interactive music production instrument or installation.
Level 3
Modules
Compulsory modules include:
Your Music Business Project (60 credits)
This module represents the culmination of the development of your practical business potential. In this module you will draw together your entrepreneurial understanding and your music production practice, and apply them holistically to the creation of your own business venture, managing the financial, physical and human resources appropriately and successfully to establish your creative business.
Advanced Mixing and Mastering (20 credits)
This module considers the role of mixing audio as an artform, with unique artistic elements and processes. You will build up your mixing skills to an advanced specialist level using modern and classic techniques. You will also cover the specific skills of mastering and use your techniques and strategies to create professional audio productions.
Progressing Your Music Production Career (20 credits)
This module supports your Professional Development Planning for your future after University. You will develop a grounded career plan based on your personal aspirations and careful research of your chosen area, so that you can go confidently into the world with a solidly researched and realistic action plan for the years after graduation.
Creative Business Research Project (20 credits)
This module enables you to research a topic of your choice within the field of Creative Business. You will utilise research methodologies and deploy analytical skills to sustain a coherent intellectual critique of an aspect of the contemporary music industry and its business practices.
Teaching & Assessment
From the day you start with us we consider you to be a working Music Producer and this approach informs our relationship with you. We deliberately keep our group sizes small so that staff can get to know you and your creative personality in detail, and therefore better support your individual needs and aspirations. You will be taught your art through small group seminars such as production meetings, studio skills workshops, recording sessions, composition workshops, discussion groups, practical tutorials, producer feedback supervisions, business seminars, music focus groups, and one-to-one mentoring.
Entry Requirements
Qualifications
The minimum entry requirements for this course are:
88 UCAS Tariff points
3 GCSEs at grade C/4 or above (or equivalent) including English Language
Terms and conditions
Our terms and conditions, policies and procedures contain important information about studying at York St John University. These can be accessed through our Admissions webpages.
Fees and funding
To study for an undergraduate degree with us, you will need to pay tuition fees for your course. How much you pay will depend on whether you're a UK & EU student or an international (non-EU) student. Tuition fees are charged for each year of your course.
Find out more about funding for Foundation Year and/or Placement Year by visiting the Funding Advice pages of our website. York St John offer special reductions to students graduating from York St John University Undergraduate degrees in 2019 and continuing directly onto Postgraduate study. Find out more about discounts and scholarships. There may also be some additional costs to take into account throughout your studies, including the cost of accommodation
Tuition fees
Home / EU students
The York St John University tuition fee for the 2019 entry to Foundation Degree, BA and BSc, PGCE Primary and Secondary and UG Health Programme degrees is £9,250 per year for UK/EU, Jersey, Guernsey and Isle of Man students.
Tuition fees may be subject to inflation in future years.
Overseas students
The York St John University tuition fee for the 2019 entry to Foundation Degree, BA and BSc, PGCE degrees is £12,750 per year for international students.
Tuition fees may be subject to inflation in future years.
Additional costs and financial support
COURSE-RELATED COSTS
Whilst studying for your degree, there may be additional costs related to your course. This may include purchasing personal equipment and stationery, books and optional field trips.
STUDY ABROAD
For more information on tuition fee reductions and additional costs for studying abroad, please visit our study abroad webpages.
ACCOMMODATION AND LIVING COSTS
View our accommodation webpages for detailed information on accommodation and living costs.
FINANCIAL HELP AND SUPPORT
Help and advice on funding your studies at York St John is available through our Money Advice service.
More to explore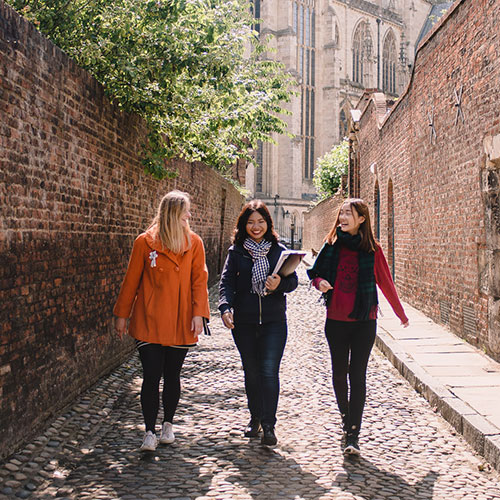 Join us this September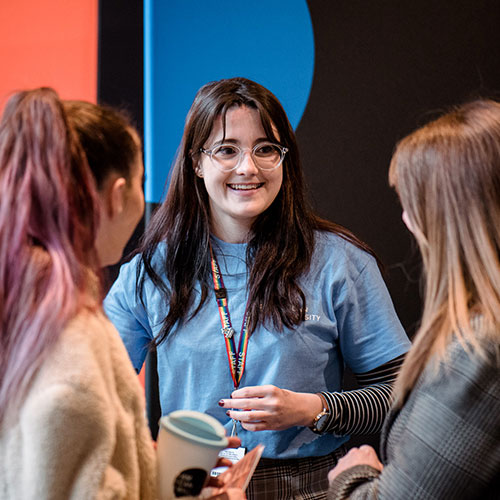 Visit us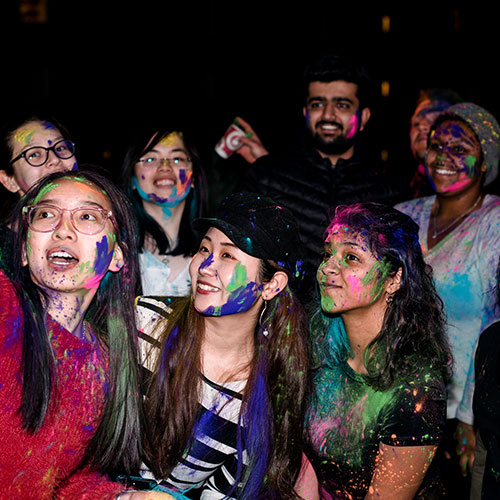 Student life