Explore your social identities and how they relate to the diverse and rapidly changing world that we operate in.
The programme employs an eclectic approach to our understanding of how individuals interact with society. You will learn how previous social divisions based on class, gender and ethnicity are being replaced by new ones such as age, geography, disability and sexuality and how these factors shape society.
100% of students state that staff have made the subject interesting. (National Student Survey, 2019)
York campus
UCAS Code – 8K9S
Duration – 3 years full-time | 6 years part-time
Start date – September 2020, September 2021
School – Psychological & Social Sciences
Minimum Entry Requirements
96 UCAS Tariff points

3 GCSEs at grade C/4 or above (or equivalent) including English Language
Tuition Fees
UK and EU 2020-21 £9,250 per year

International 2020-21 £12,750 per year
The York St John Experience
Course overview
Students will explore their own social identity and consider their experience the social world through topics that may include Youth and Resistance, Sociology of Murder, Families and the State and The Sociology of Work. There are ample opportunities for students to pursue their own interests, contribute to sociological debates and develop knowledge in a way that is relevant to their goals. Students develop a sound understanding of various theoretical perspectives and are trained in the qualitative and quantitative research methods used by sociologists and others working in social science occupations.
We will work with you to develop a critical knowledge of the relationship between theory and empiricism and help you to initiate, design, plan and execute research that supports your personal interests. There is an emphasis on the development of reasoned thought and action as well as transferable critical thinking skills.
Graduates find employment in professional areas related to working with people including teaching, social work, training, youth work, work with vulnerable
groups and research. The degree also prepares graduates to pursue Postgraduate study.
Course Structure
Level 1
Modules
Researching and Presenting
20 credits | Optional
This module will introduce you to the core skills for Undergraduate study such as referencing, evaluating sources and how to present your work in a range of ways
Introduction to Sociological Theory
20 credits | Compulsory
This gives you the opportunity to revisit key sociological theories and apply them to the social world.
Sociology of Everyday Life
20 credits | Compulsory
Develop theoretical and methodological understanding based on practical experience. You will look at objects and artifacts and apply sociological theories to gave a new perspective on their influence.
Childhood
20 credits | Compulsory
On this module you will consider the way children's experiences are shaped.
Social Inequalities: Key Themes
20 credits | Compulsory
This module allows you to make sense of basic social divisions such as gender, ethnicity and class and what they mean now.
Deviance
20 credits | Compulsory
This module introduces a sociological view to a range of behaviours and considers how some become seen as deviant.
Level 2
Modules
Social Research Methods 1
20 credits | Compulsory
This module will give you the skills to carry out qualitative research.
Gender, Sexuality and Media
20 credits | Optional
In the modern world we are surrounded by the media. On this module you will question how it influences gender and sexuality.
Sociology of Work
20 credits | Compulsory
This module provides an opportunity to consider how the world of work has changed.
Children, Families and the State
20 credits | Optional
We see the family as a basic social form but in this module you'll consider how the State shapes family life through support and sanctions.
Political Sociology
20 credits | Optional
Explore topics ranging from the state, democracy, capitalism, the environment, and the major political ideologies, to more contentious politics and social movements.
Sociology of the Very Worst
20 credits | Optional
On this module, you will build on the social theoretical skills gained on earlier modules. Apply these theories to extreme events and come to understand how society shapes the causes and responses to harm. We will introduce you to some of the biggest social, cultural and political questions of our time. This will allow you to critically engage with interrelated world events from war and genocide to climate change and economic crises.
Social Research Methods 2
20 credits | Compulsory
Many jobs involve making sense of data, this module gives you the skills to use software packages to provide an analysis of data.
Social Change, Technology and Risk
20 credits | Optional
This module is focused on the concept of Modernity and considers the development of ideas from the promise of the Enlightenment to the rapid changes in the modern world and the concept of risk society.
Social Inequalities: Contemporary Debates
20 credits | Optional
This module considers forms of social divisions that have come to be more important in recent years such as disability, and sexuality.
Level 3
Modules
Sociological Investigation
40 credits | Compulsory
This is your opportunity to plan, carry out and write up your own research as a journal article which reflects those that are published.
Sex Work
20 credits | Optional
This module examines sex work and Criminal Justice Systems' responses to it in a variety of societies at different points in history.
Critical Criminology
20 credits | Optional
This module studies the complex relationships between crime, control and power within the context of globalisation and with a consideration of how the local and the global are linked.
Gender, Body, Power
20 credits | Optional
Bring the body to the centre of sociological analysis on our Gender, Body and Power module. We will teach you to understand how the body, and embodied experience, is shaped by history and society. You will think about how social ideas, power and powerlessness shape the body. On the module, you will also reflect on the body, and in particular the gendered body, through the lens of western science and philosophy.
Murder
20 credits | Optional
Murder is not just an individual act or tragedy. In this module we apply sociology to make sense of what we call murder.
Spatial Sociology
20 credits | Optional
This module allows you to explore the ways the spaces we inhabit are increasingly managed and regulated and how we respond to this.
Technology and Society
20 credits | Optional
Develop a critical understanding of the role social media, data and networked devices have in our everyday life.
Solving Social Problems
20 credits | Optional
Consider what becomes a social problem, and how we might address problems such as migration, employment, housing, health, and criminal justice in the context of Yorkshire and the North East.
Crime and Media
20 credits | Optional
Crime is not always represented in an accurate or realistic way in popular culture. This module considers crime within the media in a broad sense.
Prisons and Penology
20 credits | Optional
This module introduces debates about the value of prison, ranging from prison as punishment and deterrent to the need for rehabilitation.
Urban Criminology
20 credits | Optional
Studies how forms of social control are unequally distributed, particularly in cities.
Youth and Resistance
20 credits | Optional
Young people inhabit a social world shaped by others. How can they, how do they, resist and how is resistance dealt with?
State, Nation and Migration
20 credits | Optional
Gain a strong understanding of how migration has shaped and challenged the formation and development of modern states and conceptions of nationhood.
Health, Illness and Society
20 credits | Optional
Consider a social understanding of health and illness and assess how health and illness is not just a matter of biology and disease.
Digital Entrepreneurship and Social Transformation
20 credits | Optional
Study case studies from services and enterprises which have changed the way we live and interact in the 21st century. From health and digital self-tracking to forming romantic relationships via apps like Tinder, and cryptomarkets using Bitcoins to the free sharing of cultural products.
Death
20 credits | Optional
Death is inevitable but how and why we die, and how we deal with death is not. This module considers a sociology of practices around death.
Entry Requirements
Qualifications
The minimum entry requirements for this course are:
96 UCAS Tariff points
3 GCSEs at grade C/4 or above (or equivalent) including English Language
Foundation Year
This course is available with a foundation year. This option is ideal if you do not yet meet the minimum requirements for entry straight onto a degree course, or feel you are not quite ready for the transition to Higher Education. A foundation year prepares you for degree level study, giving you the confidence and skills needed to make the most of your course. Passing it guarantees you a place on this degree course the following academic year.
Terms and conditions
Our terms and conditions, policies and procedures contain important information about studying at York St John University. These can be accessed through our Admissions webpages.
Teaching & Assessment
You will experience a range of teaching approaches as a student on this course. Some modules will have lectures followed by seminars. Other modules adopt a workshop style approach. You will have options with respect to the modules that you take but these are always subject to sufficient numbers. Lectures are used to provide an introduction to particular issues relevant to the module and often incorporate opportunities for asking questions via software which uses mobile phone technology. This means that you can ask questions anonymously. Seminars are smaller classes and require students to contribute. This is the opportunity to make sense of issues and concepts, to clarify how you understand things. They allow you to challenge and provide opportunities where you can be challenged.
To make the most of seminars and workshops you will be provided with guided reading and required to complete work before the class. This might be in the form of readings that are provided or it may be that you are expected to find a suitable reading that reflects that week's class.
In year 1 a full-time student should expect to have 10 -12 hours of timetabled classes but you should always expect to spend double this amount of time doing other work. If you are full-time expect to have 35 – 40 hours study in any week. We will support you in this. All academic staff schedule "office hours". These are times during each week when they are available for you to call in with any queries. You will also have an Academic Tutor. Your academic tutor will arrange to see you twice a year as a minimum. During this meeting he or she will ask you about the things that are holding your grades back and provide advice and guidance to improve in the future. One way of improving may be to take advantage of the range of ways that the University can help. The York St John University Academic Support Team provides help in areas such as: study skills, written English, research skills etc. We all benefit from help at some stage and York St John has an excellent structure to make sure that you can always improve.
You can't get a degree without taking part in assessment. You will encounter a range of assessment methods, though not exams. You may have to produce reports or essays, or be required to undertake presentations. Essays are very good for assessing understanding of theoretical issues and developing your writing skills. Reports and presentations are very good for developing the sort of skills that you need for work. Most graduate jobs will see you producing some written reports so practicing this skill here will be very helpful. Similarly, it is typical for applicants to have to make a presentation when going for a job, at all levels. We will provide you with opportunities to practice this so that you are in a better position to secure the job that you want.
You will always get feedback on your work, often in ways that will help you polish up your work before submission. Some classes will focus on how to make your work more effective to help you do your best. You will also receive feedback on assignments after submission. We aim to return marked work in three working weeks. Feedback will be aimed at showing you what is weak and how to improve so as to put you in a stronger position for the future. Your academic tutor will talk to you about how.
More to explore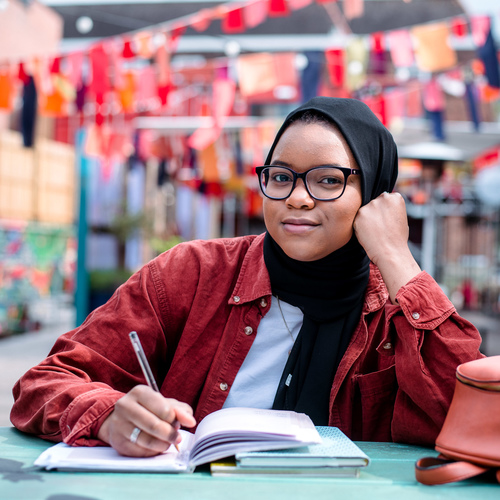 Join us in 2020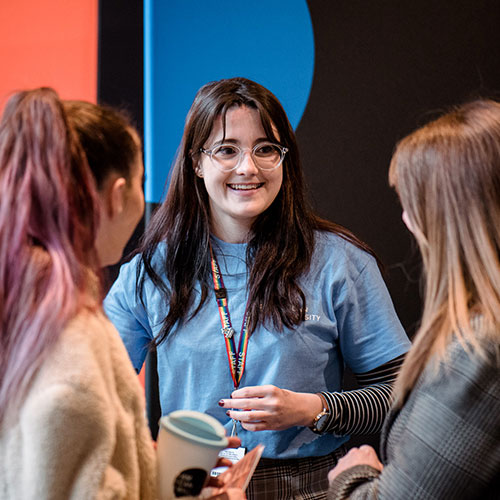 Visit us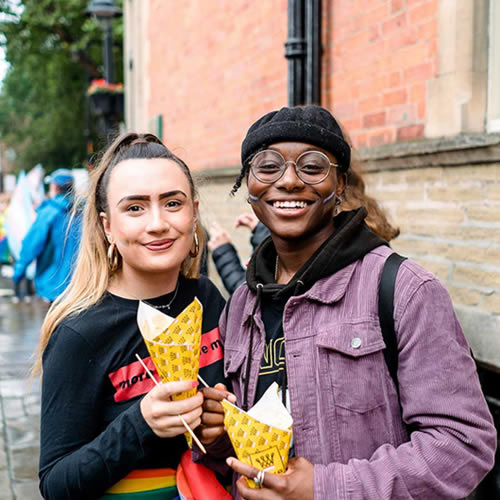 What makes us different