Undergraduate course
Business Information Management BA (Hons) Top Up
Business Information Management will help you to acquire the management skills necessary to help you manage information within organisations and solve business problems.
Acquire the management skills necessary to help you manage information within organisations and solve business problems, with a particular focus on a software approach to business information systems. This degree programme is aimed at students who wish to work in a management role within the technology-based sector.
York campus
UCAS Code – P1N2
Duration – 1 year full-time
Start date – September 2019
School – York Business School
Course overview
Our aim is to provide you with management skills to help you manage information within organisations and solve business problems. This degree will give you an opportunity to develop the management skills with a particular focus upon a software approach to business information systems.
Our graduates leave us equipped to go into a wide range of careers, including business process analysis and engineering, technical consultancy and general information technology-related business positions.
Develop the skills to interact between the technical facet of an organisation and its leadership function. This degree has a strong focus on the management of information and the use of technology within business, including modules such as eBusiness and developing eCommerce applications, whilst also developing project management skills. Alongside modules developing your technical skills you will also have the opportunity to build the managerial skills and knowledge to be an effective manager and will have the opportunity to study Microsoft Office Specialist qualifications to complement your studies.
Course structure
Level 1
Modules
Modules include:
Operations and Project Management
eBusiness
Leadership, Innovation and Change
Independent research project
You will also undertake an Independent Research activity which may take one of the following forms:
Dissertation
Business Research Project
Organisation-Based Project
Optional modules include:
Managing Organisational Development
Contemporary Issues in the Technological Era
Developing E-Commerce
Entry requirements
Qualifications
Equivalence to two years study at a UK HEI equating to 240 credits (e.g. HND, Foundation Degree) in an Accounting and Finance related qualification.
All applicants will be expected to have a minimum level qualification comparable to students at York St John University who have completed level 2.
Entrants to the programme will therefore have the equivalent of 240 credits with a minimum of 120 at level 2. Accepted example qualifications are:
HND Business (Finance) - (2003 specification version)
HND Business (Accounting) - (2010 specification version)
HND Business (but must have achieved units 2, 9 & 10)
ACCA Advanced Diploma in Accounting
AIA Level 5 Certificate in Accounting
FdA in Accounting or equivalent from a UK HEI
International qualifications (equivalent UK Diploma in HE) approved via the NARIC database and in line with common competitor practice, for example:
- Diploma in Accounting at Central University of Finance and Economics, China
- Diploma In Business Administration at Nilai University College, China
Non UK applicants whose home language is not English must be able to demonstrate a proficiency in English equivalent to IELTS band score of 6 overall, with not less than 5.5 in any section in line with university policy.
Personal statement
Essential criteria
As well as a strong standard of written English, we also look for an interest and enthusiasm for the subject. This can be done in a variety of ways, either from an academic viewpoint, for example prior study, or through relevant experience.
Valued criteria
Candidates can demonstrate a real enthusiasm for the subject that goes beyond achieving good grades in exams. Examples of this include:
Career plans
Attending workshops or seminars related to the chosen subject area
Showing leadership and teamwork skills through project work or awards such as the Duke of Edinburgh
Candidates may also look to undertake professional qualifications such as accounting qualifications or CIPD
Terms and conditions
Our terms and conditions, policies and procedures contain important information about studying at York St John University. These can be accessed through our Admissions webpages.
More to explore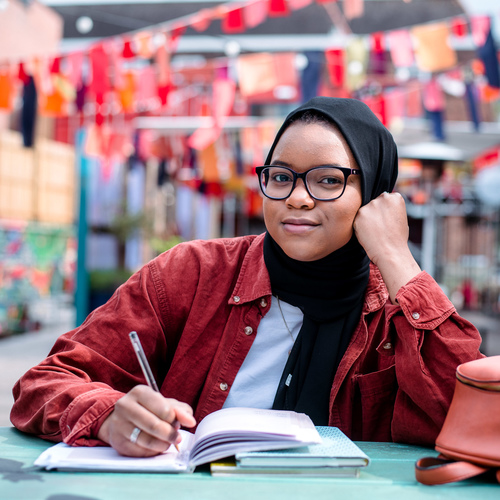 Join us in 2020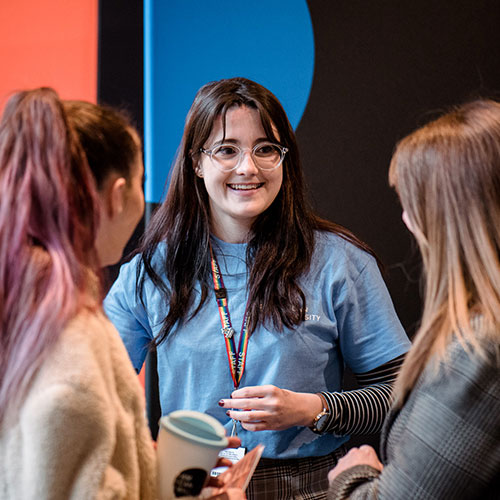 Visit us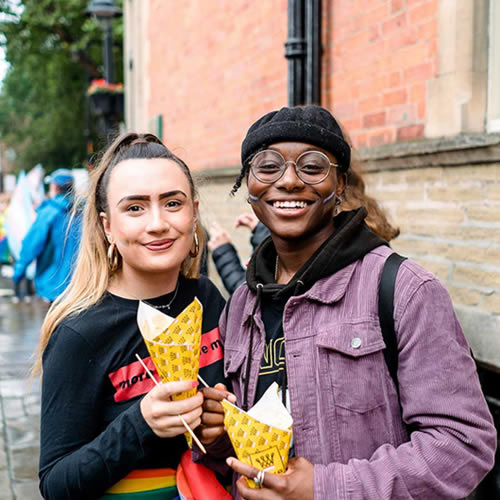 What makes us different