ICCM Conversations: Singing Side by Side for Mental Health: Developing Evidence-based Practice and Resources for Group Singing Leaders
Venue

ONLINE
Event Time

Tuesday 24 November 2020, 2:00pm - 3:30pm (GMT)
Book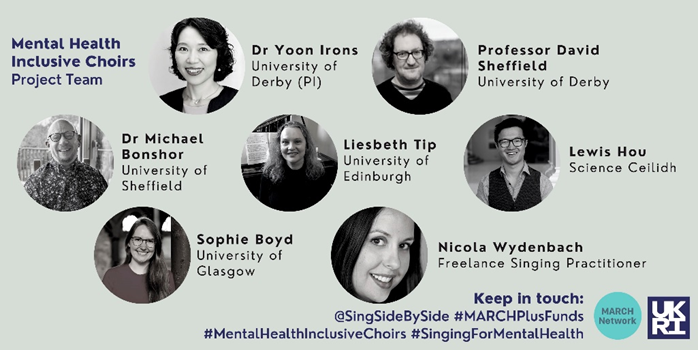 Category Arts
This interactive webinar launches a new research project, focusing on singing and mental wellbeing. People with personal experience of mental health conditions, as well as choir leaders, singers, singing organisations and researchers are very welcome to join, and will be invited to contribute to our discussions. The project will explore the experiences, needs and practices of singers and group singing leaders in the context of mental health. The aims are to use research-based evidence to develop a toolkit of information and resources for group singing leaders who are working with people living with diverse mental health conditions; to promote inclusivity in group singing activities; and to help everyone involved to make the most of the wellbeing benefits of singing together. Please join us to find out more about further opportunities to participate in the project, and to share your ideas with the team.
The webinar will be facilitated by representatives from an interdisciplinary team of researchers with expertise in music therapy, health psychology, clinical psychology, music psychology, choir leadership and community engagement. The research project has been set up by Dr Yoon Irons and Professor David Sheffield (University of Derby), who are working alongside Dr Michael Bonshor (University of Sheffield), Liesbeth Tipp (University of Edinburgh), Lewis Hou (Director of Science Ceilidh), Sophie Boyd (University of Glasgow University) and Nicola Wydenbach (Royal College of Music).
Date: Tuesday 24 November 2020 - 2:00pm - 3:30pm (GMT)
Location: ONLINE
The event will run from 2:00pm - 3:30pm. We will open the room from 1:50pm to allow 10 minutes for set-up time, to say hello and to ensure a prompt start.
Free to all
Please book on to this event via the BOOK HERE button at the top pf this page
Funding for the research project has been provided by the March Network: https://www.marchnetwork.org/
#MarchPlusFunds #MentalHealthInclusiveChoirs #SingingForMentalHealth
Twitter @SingSideBySide
https://singsidebyside.squarespace.com/
Please also visit the ICCM Upcoming Events Page for more information about our upcoming events!
Share this