Lecturer: Fine Art
School of Art, Design & Computer Science
T: 87 6268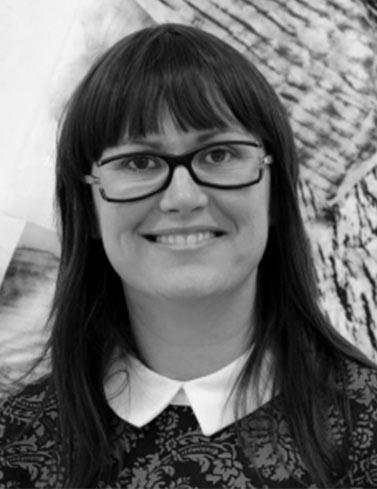 I position myself as researcher/artist and am currently writing my PhD 'Drawing Vignettes: Perpetual Becoming's'. This research asks: can an interwoven encounter between drawing and writing be enacted that utilizes both yet privileges neither? Three further sub questions expand the enquiry, asking:
What roles do wonder and poesis play, as both embodied affective states and methods of enquiry, in the experiences of this encounter?
Could such a hybrid drawing/writing practice be understood as a methodology of becoming, uniting pensive and participatory acts?
And can a hybrid drawing/writing practice redraft boundaries between theory and practice through hermeneutics and dialogue?
This practice-led research identifies parallels between drawing and writing as tools that wonder, articulate and remark experiences. The research devises a drawing/writing hybrid Drawing Vignettes that interweaves wonder and its articulation through various methods of remarking by bringing together four methods; drawing/writing, the use of sound, phenomenological bracketing and ekphrasis. In both theory and practice Drawing Vignettes unites drawn and written conventions, and appears in the thesis text as a hybrid character (see image). Through practice-led explorations the research questions the relationship between theory and practice, the nature of understanding and interpretation by fusing reading and looking activities through the Drawing Vignettes outputs. The research challenges writing and drawing conventions as distinct forms of theory and practice, and asks if by redrafting the boundaries of drawing and writing an original vocative poetic practice can emerge. The research aims to make explicit the relationships between the knower and the known by examining what is readable, understandable and how. Drawing Vignettes is presented as a practice-led methodology that fosters the acquisition of knowledge through the participants experience(s) and interpretation(s) allowing understanding to emerge via these exchanges.
I graduated from Chelsea School of Art with BA Hons, and went on to a drawing focused Studio Practice MA at Loughborough School of The Arts, Loughborough University. This is where my PhD research is undertaken, supervised by Professor Marsha Meskimmon and Phil Sawdon. She is a TRACEY School member and has a current project Ballycastle Vignettes in TRACEY's online Project Space. I have exhibited both nationally and internationally including Drawbridge: Nanyang Academy of Fine Art Singapore. Drawology: The Bonnington Gallery Nottingham, as both independent entry and collaborative project Humhyphenhumha and Drawology One Year On: The Lanchester Gallery. Drawing Vignettes: The Tyrone Guthrie Centre, Annaghmakerrig, County Monaghan, Ireland. On Your Marks: Parfitt Gallery Croydon. Drawings in Conversation: The Chapter House Lincoln Cathedral. Performed Drawings: (Fellowship of The Ballinglen Arts Foundation) The Court House Gallery: Co-Mayo Ireland. Magma Crust at The Royal Mint London. Mercurial Spaces: The Horniman Museum London, Modern Life and Art: Casa Mia Gallery Tokyo and Osoka Japan. And Artic Light at Ricklundsgorden Museum Sweden. Selected publications include Found poetry, traced from Andy Black, Crescent Arts Scarborough, 2014. Drawing silly Omens and rock in heads: Stimulus Respond Omen Issue. The Written Drawing Tz'iib Practice: Stimulus Respond Ritual Issue. The Written Drawing Tz'iib - Transpose: Rewriting Drawing: artvehicle. Drawing in the Middle Distance, collaborative project with Artist/Researcher Joe Graham Published by TRACEY in conference proceedings Drawing Research Network Loughborough University.