Senior Lecturer in Biomedical Science
Biomedical Science, School of Health Sciences
T: 876 188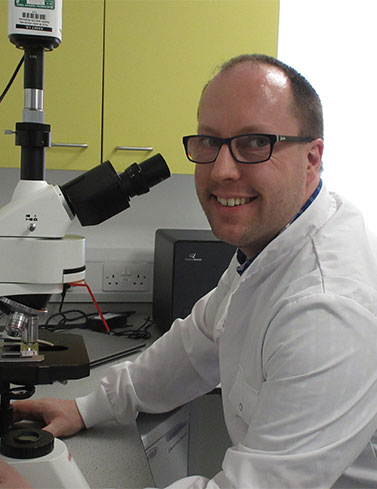 After completing my degree in Biomedical Science with haematology and cellular pathology at the University of Bradford, I continued working with my dissertation supervisor and completed a PhD in reproductive toxicology. During my PhD, I became involved in teaching and soon loved imparting knowledge as much as conducting research.
In 2005 I began teaching in the FE sector, delivering FE and HE in FE. By 2013, I had achieved several accolades for the high quality of my teaching and the innovative nature of some of the courses I have designed, including a number of courses that lead to professional registration and the award of legally protected titles. I have also worked with the Department of Health, the NHS and several qualification-awarding bodies to design, validate and implement a wide range of science-based courses.
I joined the department of Biomedical Science at York St John in August 2017 and I am excited to be involved in the development of the course with such a dynamic team. I am keen to re-establish my research and am looking forward to when the final year students start their research projects, so that they can investigate some of my ideas. I also hope that I will be able to integrate emerging digital teaching and learning technologies into the course and extend the reach of Biomedical Science by forming closer links with schools and colleges to help inspire and engage more young people to choose a career in science.
Further Information
Teaching
I teach all levels of the Biomedical Science course and am module leader for first year cell biology/genetics, second year haematology and final year clinical genetics. In addition, I deliver practical classes, supervise final year research projects and am really keen to embed digital technologies in teaching, learning and assessment.

Research
I describe myself as a genetic toxicologist, but my main area of interest covers the fields of mutagenesis and gerontology (ageing). During my PhD, I investigated the relationship between paternal ageing, genotoxin-induced genetic damage and the loss of male germ-cells (sperm) through apoptosis. I conducted part of my research at the Helmholtz Zentrum München, Germany (formerly the GSF – Forschungszentrum für Umwelt und Gesundheit) and learned newly developed techniques at the Lawrence Livermore National Laboratory (LLNL) just outside San Francisco, California.

I added to my field by discovering that the sperm from aged individuals respond to induced genetic damage in different ways than the sperm of younger individuals. Seemingly, the sperm from older individuals are somewhat more resistant to induced genetic damage than younger individuals. I was also able to corroborate the work of others which suggests that the degree of cell-loss through apoptosis is lower in older individuals than younger individuals. Given that so many age-related disorders are associated with a loss of function due to acquired mutations and cell death, initially these findings were somewhat surprising. We believe that there are a number of sensible hypotheses that would explain these findings and also support the body of literature that shows men's fertility does not decline with advancing age (in the absence of other pathologies).
My research interests have diversified and I am currently interested in the role of epigenetics in illnesses associated with male-mediated genetic damage. Some of my other ideas focus on the potential benefits which may arise from examining evolutionarily historic populations, to compare baseline mutation rates with modern individuals. Such comparisons will enable us to better understand how the currently observed mutation rates in the male germ-line are linked to the environmental mutagen exposure acquired from living in modern society.
Given my extensive teaching experience, it is unsurprising that I am also interested in the pedagogy of science education. I am currently supporting post-graduate students in my previous institution who are investigating the barriers and motivators to resource-sharing amongst education professionals in the FE sector. I will also be involved in setting up research links and collaborations with the other Biomedical Science academic staff at York St John University and academic colleagues externally, local NHS colleagues and industrial laboratories where possible.
Professional Activities
Member of the Royal Society of Biology
CSciTeach - Chartered Science Teacher
Fellow of Institute of Biomedical Sciences (IBMS)
Member of the Institute for Learning (closed in 2014)
Curriculum development advisor, City & Guilds
Content creation advisor National Science and Media Museum
SFHEA - Senior fellow of the Higher Education Academy