Director of Biomedical Sciences
School of Health Sciences
T: 87 6918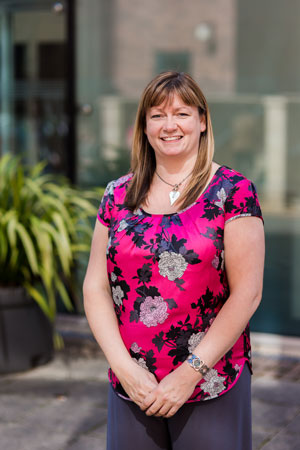 After completing a Biochemistry degree at the University of Wales, Aberystwyth, I completed a PhD at the University of Birmingham on the subject of protein folding and molecular chaperones. I then joined the University of Leeds in 1997 in Professor Sheena Radford's laboratory as a post-doctoral associate, laboratory manager and teaching assistant until 2005.
In 2005, I began a teaching only position at the University of Bradford and in 2008 I was appointed as Course Tutor for the Biomedical Science programme. In response to the Modernising Scientific Careers agenda from the Department of Health, I led the development of the Healthcare Science (Life Sciences) BSc programmes. I have worked closely with both the IBMS (Institute of Biomedical Science) and HCPC (Health and Care Professions Council) for many years and have a detailed understanding of how to work with professional regulatory bodies to support programme delivery. I have been an external advisor for several validation and accreditation events of other Biomedical Science programmes and is also an external examiner for two other IBMS accredited programmes in the UK.
I joined York St John in September 2014 to design the brand new Biomedical Science degree programme, curriculum and assessment strategies and lead the IBMS accreditation event / University validation events in January 2015. The Biomedical Science programme continues to grow and thrive, with the academic staff team expanding and our first series of Year 1 to Year 3 cohorts of students in 2017/18. I am also working with a network of local employers to expand our placement provision and have secured NHS placements in three local trusts for 2017/18 in addition to shorter placements with local employers. I am the Placement Tutor, overseeing both the NHS placements and industry placement provision.
I am very proud of our Biomedical Science course and hope to inspire and support more people to choose and succeed in a career in science, whether as a biomedical scientist in the NHS, in academia or in industry.
Further Information
Teaching
I teach aspects of Biochemistry to students in all years of the course, lead practical classes, supervise research projects and develop learning and assessment strategies. I also lead the academic team as Subject Director and oversee the development of the curriculum in conjunction with colleagues, our local employers and student feedback. I have an extensive external network from attending Learning and Teaching conferences, plus HEA and HUBS scientific pedagogical meeting to network and share best practice in learning, teaching and assessment. I was an invited speaker at the IBMS Congress on "Academic Research and Careers" in September 2015 and led a discussion on assessment strategies at the IBMS Accreditation Training Event in March 2016. I also presented a poster on our pedagogical approach at the HUBS Spring Meeting (2016).
In addition, I have acted as an advisor for two Universities in relation to development of programme material and an advisor for two level 3 qualifications (AQA Level 3 Applied Science and Access to HE Diploma). I have mentored a post-doctoral researcher and 5 new lecturers (3 at the University of Bradford and 2 at York St John University). I have also mentored several FHEA and 2 SFHEA applicants.
Research
My area of scientific research is protein folding and protein mis-folding disorders. During my PhD, I investigated the role of the structure of the bacterial molecular chaperone GroEL on its function. Several key residues within the large complex molecule were identified, by mutagenesis that were vital to its folding mechanism. During my post-doctoral work, I analysed the folding of the protein beta-2-microglobulin (β2m) that forms part of the major histocompatability complex 1 in the immune system of humans. In patients undergoing renal dialysis, the β2m protein levels are elevated as it is not efficiently filtered by the kidneys. This large increase in protein concentration leads to self-association and the formation of mis-folded, but highly ordered, aggregates known as amyloid. These amyloid deposits cause disease symptoms and eventually death in patients suffering from dialysis related amyloidosis. In addition, there are several other human diseases including Parkinson's Disease, Huntington's Disease and Alzheimer's Disease that involve the deposition of amyloid material of proteins or peptides in the body. I continue to teach research findings on these disorders in the Biomedical Science programme.
I have extensive research experience including management of laboratories and mentoring postgraduate students and continue to look after undergraduate and M-level research project students. I supervise Year 3 undergraduate students during their research projects and have also supervised 7 MSc students in the laboratory and supervised an MSc by Research student at York St John, who completed in June 2017. This project investigated cortisol levels and sports performance and the Biomedical Science team will continue to work with colleagues in Sport on exercise and perfectionism by measuring physiological markers of stress in our laboratories.
I have a great interest in learning and teaching and have attended learning and teaching conferences in Leeds, Bradford and York. I have participated in every Talking about Teaching conference at York St John since 2014 and has presented sessions at each meeting. I will work with colleagues to analyse the pedagogical approaches used in the programme to inform further publications.
Publications
Kavanagh, Owen and Jones, Sue (2017) The Pros and Cons of Using Personal Response Systems in an Interactive Scientific Debate. British Journal of Education, Society & Behavioural Science , 19 (2). pp. 1-11.
Shepherd S.J., Beggs C.B. and Jones S. (2007) The fundamental driving forces of protein folding and relation to 3D structure. European Biophysical Journal, ISSN 0175-7571 (Print) 37(1):105-9. DOI: 10.1007/s00249-007-0182-y
Myers S.L., Jones S., Jahn T.R., Morten I.J., Tennent G.A., Hewitt E.W., and Radford S.E. (2006) A Systematic Study of the Effect of Physiological Factors on b2-Microglobulin Amyloid Formation at Neutral pH. Biochemistry, 45, 2311-2321. DOI: 10.1021/bi052434i
Jones, S., Smith, D.P., and Radford, S.E. (2003). Role of the N and C-terminal Strands of b2-Microglobulin in Amyloid Formation at Neutral pH. J. Mol. Biol. 330, 935–941. DOI: 10.1016/S0022-2836(03)00688-0
Smith D.P., Jones, S., Serpell, L.C., Sunde, M. and Radford, S.E. (2003). A Systematic Investigation into the Effect of Protein Destabilisation on Beta 2-Microglobulin Amyloid Formation. J. Mol. Biol. 330, 943–954. DOI: 10.1016/S0022-2836(03)00687-9
Jones, S., Manning, J., Kad, N.M. Radford, S.E. (2003). Amyloid forming peptides of b2-microglobulin - Insights into the mechanism of fibrillogenesis. J. Mol. Biol, 325, 249-257. DOI: 10.1016/S0022-2836(02)01227-5
Jones, S., Reader, J.S., Healy, M., Capaldi, A.P., Ashcroft, A.E., Kalverda, A.P., Smith D.A. and Radford, S.E. (2000). "Partially Unfolded Species Populated during Equilibrium Denaturation of the b-sheet protein Y74W Apo-pseudoazurin". Biochem., 39, 5672-5682. DOI: 10.1021/bi9923959
Erbse, A., Yifrach, O., Jones S. and Lund, P.A. (1999). "Chaperone Activity of a Chimeric GroEL Protein That Can Exist in a Single or Double Ring Form". J. Biol. Chem., 274, 20351-20357. DOI: 10.1074/jbc.274.29.20351
Jones S, Wallington EJ, George R and Lund PA "An arginine residue at position 101 is critical for ring-ring interactions in bacterial chaperonin proteins". (1998) J. Mol Biol., 282, 789-800. DOI: 10.1006/jmbi.1998.2039
Professional Activities
I am also a module leader for the IBMS Certificate of Expert Practice in Training distance learning course for Biomedical Science practitioners in full time employment, a member of the Biochemical Society: Database of Expertise and member of the HEA Bioscience PEDR discussion group. I am also a member of:
The Biochemical Society
Fellow of Institute of Biomedical Sciences (IBMS) (since September 2014)
Senior Fellow of the HEA (from September 2014)
York St John University Teaching Fellow
Member of Heads of University Centres for Biomedical Science (HUCBMS) executive committee. (HUCBMS represents the interests of its University member institutions at a national and international level and feeds into Government consultation events. As a member of the executive committee, I feed into these responses and also help to plan and organise the annual meetings).