Senior Lecturer in Occupational Therapy
School of Health Sciences
T: 876 790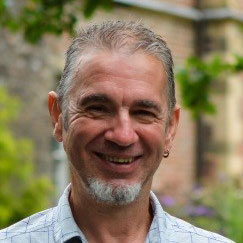 Biography
Profile
Stephen is known nationally and internationally for his knowledge and expertise in dementia care and the use of technology to support independent living.
As a member of the Centre for Enabling Environments and Assistive Technology (CEEAT) Stephen runs CPD courses on assistive technology and telecare, dementia rehabilitation and enablement and falls and has contributed to Masters modules on rehabilitation of older adults, groupwork and housing. He also offers consultancy to other organisations that wish to promote best practice in using technology within dementia care services.
Stephen has contributed to a number of projects related to enablement including York St John's ongoing Knowledge Transfer Partnership (KTP) with the City of York Council Re-ablement service offering workforce development training and support and a project in collaboration with Trent Dementia Services Development Centre and Innovations in Dementia to develop the ATGuide for people with dementia.
As well as CPD activity Stephen contributes as a senior lecturer on the OT programme to teaching at all undergraduate levels and is committed to applying concepts based on Vygotskian psychology and Cultural Historical activity Theory (CHAT) to learning and teaching activities.
Academic qualifications
BSc (Hons) Behavioural Sciences, Huddersfield University
BHSc (Hons) Occupational Therapy (health sciences), York St John University
Post Graduate Certificate in Academic Practice, York St John University
Teaching
Stephen contributes to teaching across the undergraduate programme including the following modules:
External influences on practice
Psychosocial Skills
Analysing movement
Health, well-being and occupation (module leader)
Applied skills for practice – in-service (module leader)
Evidence based practice – psychosocial
Stephen is also year 3 coordinator.
Professional Activities
Research/Knowledge Transfer Activities
Knowledge transfer activity through the Centre for Enabling Environments and Assistive Technology (CEEAT).
ATGuide project – this is collaborative project between CEEAT and York St John University, Trent dementia development centre, Innovations in dementia and the Disabled living foundation, to create an online self-assessment support tool for people with dementia to identify their needs related to assistive technology and telecare. The aim of the tool is to facilitate discussion, reflection and informed choice for people with dementia.
For more on this project visit http://www.atdementia.org.uk/
City of York Reablement project: Stephen was seconded one day a week with service for a year developing training packages and training needs analysis which directly laid the foundations for York St John's successful KTP bid and development of that post. Stephen continues to be involved in the steering group and in an advisory capacity with this project.
Journal Reviewer British Journal of Occupational Therapy from 2010 to date.
Specialist Advisor for Alzheimer's Society from 2010 to date.
Research
My research interests are largely related to enabling practice with people who have dementia. I am particularly influenced by Vygotskian and post Vygotskian theory and its application to understanding humans as cultural and historical beings and what this means for practice with people who have dementia.
In particular I am interested in:
Harnessing situated, distributed and embodied factors in cognition and occupation – including through the use of technology
A practical ethical framework for the use of technology based on the impact of technology on participation, enablement, personhood and well-being
Recognising and harnessing the role of narrative in the socio-cultural and historical construction of personhood and well-being such as through collective story telling, making and sharing using a variety of media
Maintaining the flow and meaning of occupations through scaffolding and other forms of mediated interaction (including the synergistic role of occupation and language as mediators)
Transactional forms of assessment that focus on identifying potential and response to mediation rather than a reified concept of "independent functioning" – in particular dynamic assessment (incorporating the concept of zone of proximal development as the main focus of occupational therapy assessment) and assessment of well-being
Reframing concepts of risk and challenging behaviour in terms of striving to make sense, construct and maintain a meaningful life-world
Developing the concept of "orphaned skill" as an extension of Vygotsky's concept of "fossilised skill" taking into account the dual effect of Socio- cultural restriction in participation and cognitive disability.
Research Interests:
Rehabilitation and enablement with people who have dementia, dynamic assessment in Occupational therapy, phenomenological research into dementia and occupations as meeting places, enabling approaches to assistive technology and telecare/telehealth, Cultural historical activity theory (CHAT) and dementia.
Publications
Savitch, N, Brooks, D, Wey, S (2012) AT Guide: developing a new way to help people with dementia and their carers find information about assistive technology, Journal of Assistive Technologies, Vol. 6 Iss: 1, pp.76 - 80.
Wey, S 2010. Identifying and re-engaging orphaned skills to maximise the function and well-being of people who have dementia: expanding the scope of dementia rehabilitation. OT News, April.
Presentations
Laver-Fawcett AJ, Wey S, Golledge J, Zhurauskaya, D (2013) Implementation of mobile tablet technology and apps to enhance student learning on an undergraduate occupational therapy curriculum (1 hour workshop). Higher Education Academy (HEA) Health and Social Care Annual Conference. June 5-6th 2013. Leeds, UK