Lecturer in Literature and Liberal Arts
School of Humanities, Religion and Philosophy
T: +44 (0)1904876258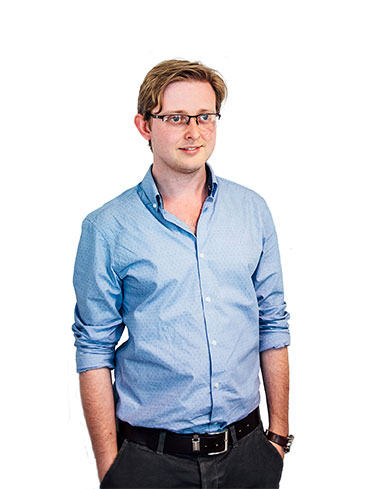 Adam James Smith first joined the Literature team at York St John University in 2013. He received his BA (Hons) in English Literature from the University of Sheffield, where he also later completed an interdisciplinary MA in Eighteenth-Century studies in 2010. He remained at Sheffield for his PhD, '"A certain design: The partisan strategy of Joseph Addison's "The Freeholder"', which he completed in the summer of 2014.
From 2014-2016, Adam was an Honorary research fellow for the University of Sheffield's Centre for Archival Practices and a Cultural Engagement Fellow on an AHRC-funded post-doctoral project titled 'Sheffield: Print, Protest and Poetry, 1790-1810.' During the same period Adam contributed to the first Massive Open Online Course to be launched by the School of English at the University of Sheffield, 'Literature of the English Country House', serving as Co-Lead Educator for the 2015 and 2016 iterations of the course.
Though Adam is a committed researcher he has built up a substantial range of teaching experience, having taught continuously in Universities since 2011. Adam is also passionate about public engagement and ever keen to find new ways to disseminate information and engage in knowledge exchange. For instance, in 2016 he secured funding to work with playwright Javaad Alipoor and the Eclipse Theatre company to produce and perform a live show based on his archival research at Sheffield's Festival of the Mind.
At York St John University, Adam is lecturing on the Literature programme and taking an instrumental role in developing and delivering our Foundation Year in the Liberal Arts.
Profile
Teaching
Adam is a robust and dynamic teacher, offering a wide-range of teaching across both the Literature programme and the Foundation Year in Liberal Arts. Adam typically teaches on first-year modules, such as 1EN600: Introduction to Literary Studies 1 and 2 and 1EN601 Writing, Research and Literature. He also regularly teaches on 1EN230 Forms of Narrative, 2EN601 Science Fiction for Survival, 2EN510 Literature at Work and 3EN290 Gender and Sexualities, and he contributes sessions to MA in Contemporary Literature.
Previous to his time at York St John University, Adam has also taught modules on Renaissance Literature, Restoration and Eighteenth-Century Literature, Romantic and Victorian Literature, Genre Studies, Critical and Literary Theory and the Works of John Donne.
Adam also supervisors undergraduate dissertations on a range of subjects. In recent years he has supervised work on Restoration poetry, eighteenth-century literature, graphic novels, representations of mental health, young adult dystopian fantasy and the works of Neil Gaiman, Stephen King and Jacqueline Wilson.
Research
Adam works on eighteenth-century political literature and print culture. His doctoral research examined a selection of early eighteenth-century periodicals which were funded by political parties but did not signal their partisan allegiance. The PhD looked particularly at the partisan writing of Joseph Addison and Richard Steele. Subsequently, Adam has developed an interest in political print culture outside of eighteenth-century London. He has worked extensively of radical newspaper networks across Sheffield and York, with a specific interest in the life and writing of the editor, poet, hymn-writer and activist, James Montgomery.
Generally, Adam is interested in the relationships between politics, news and literature and the ways in which partisan identity is cultivated and articulated.
Professional Activities
Adam is an enthusiastic and collegiate participant in various research communities across his field. He is a member of the British Society for Eighteenth-Century Studies, where he serves as a Co-Editor for the Media pages of their online review hub: Criticks. He has contributed reviews and articles to the Society's Journal for Eighteenth-Century Studies and he has been called upon to peer review for other publications within his research area. He also regularly contributes eighteenth-century biographical entries to the trans-historical Literary Encyclopaedia. Adam is a member of the Sheffield Centre for Archival Practices (where he was also an Honorary Research Fellow until Spring 2017) and the Sheffield Institute for Interdisciplinary Study of the Bible.
Publications
Books
Poetry, Conspiracy and Radicalism in Sheffield, ed. by Hamish Mathison and Adam James Smith (Sheffield: Spirit Duplicator, 2016).
Journal Articles/Book Chapters
Smith, Adam James (Forthcoming 2018), 'Nightmares and cityscapes: Contradictory visions of the city in James Montgomery's York Prison Poetry, 1795-97), The City in Time: Essay Collection, ed. by Anne-Marie Evans and Kaley Kramer.
Smith, Adam James (Forthcoming 2018), 'Deceive, Inveigle, Obfuscate: Post-structuralism and the staggered retirement of Fox Mulder' in At The Mercy of Monsters: Essays on the Rise of Supernatural Procedural Dramas, ed. by Ashley Szanter and Jessica K. Richards (Jefferson: McFarland).
Smith, Adam James, 'Property, Politics and Patriotism: The Figure of the "Freeholder" in Eighteenth-Century Partisan Print', Journal for Eighteenth-Century Studies, 40.3, Sept 2017. pp. 345-362.
Smith, Adam James, 'Research as Resistance', in No Picnic: Explorations in Art and Research, ed. by Matthew Cheeseman (London: NATCECT, 2014).
Smith, Adam James, 'The legacy of Joseph Addison's Free-Holder: The textual transmission of citizenship', Track Changes, 1.5 (2013).
Conferences
'The Stories of James Montgomery: Accessing obscure eighteenth-century literature through creative practices', at English: Shared Futures Conference, Newcastle. July 2017.
'"The price of tickets and of souls": James Montgomery's political poetry of 1816' at Creativity and Turmoil: The Summer of 1816 Conference, University of Sheffield. June 2016.
'"A Smooth Mephistopheles": The many 'lives' of Joseph Addison' at the British Society for Eighteenth-Century Studies Annual Conference, Oxford University. January 2016.
'"The dead themselves were not spared": A vision of Swift's Examiner in Addison's Free-holder' at Text and Book in the Age of Swift, Oxford University. November 2013.
'"The Style of the News": A vision of polemic print culture in the Hanoverian periodical writing of Joseph Addison', at The Business of Newspapers: Commercial information versus civil instruction, Liverpool University. June 2013.
'News as news: Addison's periodical reports its own inception', at The Eighteenth-Century World Research Centre Annual Conference, Liverpool University. March 2012.
Public Engagement
Talks
'Poetry, protest and imprisonment in 18th-century York: James Montgomery in York Castle Prison', Mint Yard Lecture, York Explore Library. April 2017.
'Inglorious prey: The incarceration of James Montgomery', at the York Literary Festival. March 2017.
'James Montgomery: Poetry and protest', co-presented with Dr Hamish Mathison, Off the Shelf Festival, Sheffield. November 2016.
'The Trial of James Montgomery', Mobile University, Sheffield. September 2015.
'Paradise Lost in time: A text in transmission', In The City Festival, Sheffield. June 2014.
Events
'Terra Two: Writing for off-world survival', co-presented with Drs Leisl King and Rob Edgar, York Festival of Ideas. June 2017.
'Marvel comics of the Civil Rights era', Black History Month, York St John University. November 2016.
'James Montgomery: A life of activism', Festival of the Mind, Sheffield. September 2016.
'Print-houses of eighteenth-century York: A walking tour', co-presented with Dr Kaley Kramer, York Festival of Ideas. June 2015.
Public Engagement: Resources
'Words with wagtails: York prison poetry.' An expanding archive of poetry written in York Castle prison during the late eighteenth century, accompanied by responses from a wide range of twenty-first-century readers.
'Sheffield: Print, Protest and Poetry, 1790-1810.' An online archive of radical poetry from Sheffield's late eighteenth-century press, accompanied by blog posts, videos and a three-part podcast.
'The view from the coffee house.' Adam's own blog, offering commentary on contemporary events from an eighteenth-century perspective.
'Welcome to the coffee house: The literature of the eighteenth-century', Online course, iTunesU.
'The Coffee House.' In 2014, Adam secured funding to work with film-maker and Gemma Thorpe to develop this short film, based on my doctoral research.
Public Engagement: Media (Publications)
Smith, Adam James, 'Sheffield Editors who stood up for the city', Sheffield Star, 9 April 2016.
Smith, Adam James, 'Don't scoff at the hipster coffee shops, they've been around for 300 years', The Guardian, 30 June 2015.
Smith, Adam James, 'The Dream of the Coffee House', Now Then Magazine, August 2014.
Media (Radio)
Smith, Adam James, (Contributor), The Ant-Hill Podcast Episode 6: Into Darkness, October 2016.
Smith, Adam James, (Guest), Rony Robinson, BBC Radio Sheffield, September 2016 and March 2017.