Lecturer: History
School of Humanities, Religion & Philosophy
T: 87 6758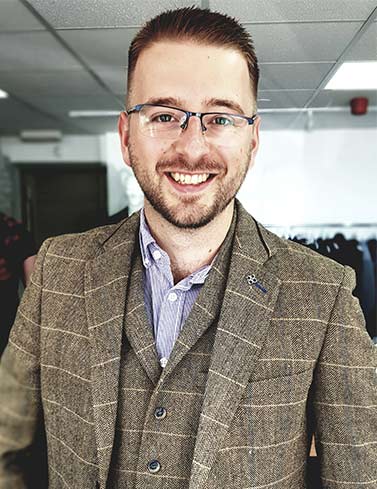 I am Lecturer in Ancient and Medieval History at York St John University. I was a Visiting Lecturer in the academic year 2012-2013, and joined the team as a full member of academic staff in September 2013. I have published on Greek, Roman and Anglo-Saxon history, and am particularly interested in political and legal structures and the ideas shaping them.
I am currently looking at ideas of empire in the ancient world (Periclean Athens and the late Roman republic), thinking about both the intellectual understanding of empire, and the structural realities that maintain imperial rule. This allows me to expose the complex narratives that can be articulated against or in defence of empire, and the social and political experiences of those who live within imperial systems of government. I am also interested in fatherhood, and how it has been understood and defined in the past.
I have been nominated for several teaching awards at York St John University, most recently the YSJSU Feedback Teaching Award (2019) and YSJSU Inspirational Teaching Award (2019).
Modules: The Making of Britain, Empires, The Visible Past, The World After Rome, Late Anglo-Saxon England, The Roman Empire: Tiberius to Domitian, Special Subject in Ancient History: Fall of the Roman Republic
Further Information
Publications and Papers
'Pericles of Athens: Democracy and Empire', in M. Gutmann (ed.), Historians on Leadership and Strategy: Case Studies From Antiquity to Modernity (Cham, Springer: 2020), pp. 255-267
The Antonine Constitution, An Edict for the Caracallan Empire', The Classical Journal (Online), (December 2019)
'Making Manslaughter: Process, Punishment and Restitution in Württemberg and Zurich, 1376-1700', Cambridge Law Journal, Vol. 78, Iss. 3, (November, 2019), pp. 668-671
'Julius Caesar. The war for Gaul: a new translation', Bryn Mawr Classical Review, (November, 2019)
'Performing the Sacra: Priestly roles and their organisation in Roman Britain', Antiquity, Vol. 93. Iss. 2, (December, 2019), pp. 1686-1687
'How the Anglo-Saxons Read Their Poems', Review of English Studies
'Mental Illness in Ancient Medicine: From Celsus to Paul of Aegina', Medical History, 63 (4). (Summer 2019), pp. 515-517

'The Emperor of Law: The Emergence of Roman Imperial Adjudication', Edinburgh Law Review, 23 (3), (Summer 2019) pp. 459-461

'Troy: Myth, City, Icon', The Classical Journal (Online), (August 2019)
'Warfare in the Middle Ages: 400-1453', The Journal of Military History, Vol. 83, No. 3 (July 2019), pp. 873-874;
'Pericles, Thucydides and the Peloponnesian War', History Teachers' Network Day, York St John University (29th June 2019)
'From Anti-Judaism to Anti-Semitism: Ancient and Medieval Christian Constructions of Jewish History', Studies in Late Antiquity, Vol. 3, No. 1 (Spring, 2019), pp. 116-119;
'Pax Romana: War, Peace and Conquest in the Roman World', Classical World, Vol. 112, No. 3 (Spring, 2019), 241-243
'Sulla: The Fractured Republic', York College (3rd May 2019)
'The Transformation of Queenship in the Post-Roman World', Royal Studies Journal, 5.2, pp.147–149
'Conceiving a Nation, Scotland to AD 900', Comparative Legal History, Vol. 6 Iss. 2, (2018), 264-267
'Sparta and Athens: 446-431 BC', York College, (30th November 2018)
'Pericles and the Defence of Athenian Imperialism', York College, (26th October 2018)
War as Spectacle, Ancient and Modern Perspectives on the Display of Armed Conflict, Classics Ireland, Vol. 23-24, (2016-2017), pp. 146-150
The Barbarians: Lost Civilisations, The Classical Journal (Online), (March 2018)
Ancient Law, Ancient Society, The Classical Journal (Online), (April 2018)
Destroyer of the gods, Early Christian Distinctiveness in the Roman World, Vigiliae Christianae, Volume 72, Issue 3, (June 2018), pp. 341-344
The Wisdom of the Middle Ages, Mouseion: Journal of the Classical Association of Canada, Volume 15, Issue 2, (August 2018), pp. 334-337
Bishops and their Books in Late Anglo-Saxon England, History Graduate Conference, University of York, (12th October 2012)
Sanctuary and Crime in the Middle Ages, The Journal of Legal History, 34. 1, (March 2013), 463–466
The PIP Crisis and the Protection of the Consumer in English Law, King's Law Journal, 24.1, (April 2013), 119-129
Bede, Wearmouth-Jarrow and Sacred Space, International Journal for the Study of the Christian Church, 14.1, (2014), 22-40
Bloodfeud: A Comparative History, Guest Speaker for the York St John History Society, (19th March 2015)
York: City of An Empire, Tour through York's Roman History, Find the Magic Week, (23rd June 2015)
Relics, in P. J. Hayes (ed.), Miracles, An Encyclopedia of People, Places and Supernatural Events from Antiquity to the Present, (Santa Barbara: ABC-CLIO, 2016), 339-341
Archbishop Wulfstan and the importance of paying God his dues, International Journal for the Study of the Christian Church, (2016), 16:1, 24-41
Church Payments in Late Anglo-Saxon England, Guest Speaker for the York St John History Society, (28th April 2016)
'Pericles of Athens: Democracy and Empire', in M. Gutmann (ed.), Historians on Leadership and Strategy: Case Studies From Antiquity to Modernity (Cham, Springer: 2020), pp. 255-267

'How the Anglo-Saxons Read Their Poems', Review of English Studies

'Making Manslaughter: Process, Punishment and Restitution in Württemberg and Zurich, 1376-1700', Cambridge Law Journal, Vol. 78, Iss. 3, (November, 2019), pp. 668-671

'Julius Caesar. The war for Gaul: a new translation', Bryn Mawr Classical Review, (November, 2019)

'Performing the Sacra: Priestly roles and their organisation in Roman Britain', Antiquity, Vol. 93. Iss. 2, (December, 2019), pp. 1686-1687