Subject Director: Music
School of Performance & Media Production
T: 87 6554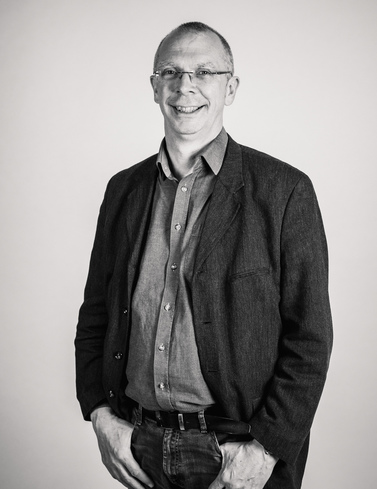 I am responsible for the management of Music, Performance and Media programmes within the Faculty of Arts. I also co-ordinate the franchising of the York St John's BA Music Studies to SEGi College, Kuala Lumpur. I am a composer whose music has been performed in major venues and festivals in the UK and abroad by such ensembles as the Kronos String Quartet, Brno Philharmonic Orchestra and the Black Dyke Band. My music has been used for theatre, dance and television but in recent years I have written most extensively for voices and instrumental ensembles. I draw upon many sources for my work, including popular styles from around the world, but I count Harrison Birtwistle and Stravinsky amongst my strongest influences.
I have won many awards for his work, including the Michael Tippett Prize and the LCM Centenary Award for 'Insula Dulcamara'. I am currently completing PhD composition studies with Roger Marsh at the University of York.
In 2013 my orchestral piece 'Strata' was performed by the orchestra of Opera North and subsequently recorded for CD release. In 2014 'Swan' was included on a national tour by the Delta Saxophone Quartet and the string quartet 'Vertigo' was performed in Hong Kong and the USA. My major choral piece 'Apocalypse' received its world premiere as part of York's Festival of Ideas in 2013 and was later programmed by the Danish National Vocal Ensemble.
Further Information
Publications and Papers
Vanitas
For mezzo-soprano, clarinet and cello to texts by Ausonius and Georg Trakl (1984)
First performed by Katrina Makepiece-Lott and ensemble, Selwyn College, Cambridge, 1984
Echoes from a Phantom City
For flute, viola and harp (1985)
First performed by the Parke Ensemble, St James, Piccadilly
Steps Out of Time
For string orchestra and harp (1986)
First performed by the Parke Ensemble (Stuart Dunlop), St Martin in the Fields, London
Still Life with Angels
For soprano, mezzo soprano and string quartet (winner of the Michael Tippett award 1986)
First performed by Judith Rees, Linda Hirst and the Kronos Quartet, Dartington Hall, August 1986
Tower of Babel
For orchestra (1987)
First performed by the Salamon Orchestra (Nicholas Braithwaite), Sheldonian Theatre, Oxford
Angel Still Silent
For mezzo soprano and chamber orchestra, setting poems by Trakl (1987)
First performed by the Parke Ensemble (Stuart Dunlop) in the October Gallery, London
Between 1988 and 1994 David Lancaster composed incidental music for professional repertory productions at the Redgrave Theatre, Farnham. Performances included scores for Glass Menagerie, Macbeth, Richard II and adaptations of Jamaica Inn and Lady Chatterley's Lover; all Graham Watkins productions.
Lulu
Chamber opera for voices and electronics (1994)
First performed Edinburgh Fringe Festival, (Michelle Johnson, soprano) August 1994
On the Rocks
Music for dance, for live voices and electronic tape, choreography by Stuart Martin, design by Derek Hyatt (1997)
First performed Ripon Dance Studio (1997)
Bliss
For SATB chorus, based on the medieval English poem 'Grant us the bliss to see thy face' (1999)
First performed by massed choirs of the Church Colleges (Marilynne Davies) York Minster
Cuba!
For brass band (Winner of the Leeds University/Black Dyke award for composition) (2002)
First performed by the Black Dyke Band (Nicholas Childs), Leeds University
The Field
For SSA chorus, based on a text by Rumi (2007)
First performed by Laudamus (Deborah Catterall), Holy Trinity Church, Ripon
In Darkness…
Three songs for soprano and piano on texts from Dowland lute songs (2008)
First performed by Sarah Bowe and Keiran White, YSJU, May 2009
Mosquito
For recorded brass ensemble, in collaboration with artist Rory Macbeth (2009)
First performed at Leeds Art Gallery, February 2009
Hammer and Tongues
For small Concert Band (2008)
First performed by YSJU Concert Band (David Lancaster), YSJU, June 2009
Northern Line
For brass band (2009)
First performed by York Railway Institute Band (Derek Warley), York Theatre Royal, October 2009
Memories of Place
For baritone voice and piano, on poems by Daniela Nunnari (2009)
First performed by Paul Carey Jones, York Late Music Festival, December 2009