Senior Lecturer in Psychology
School of Psychological & Social Sciences
T: 01904 876119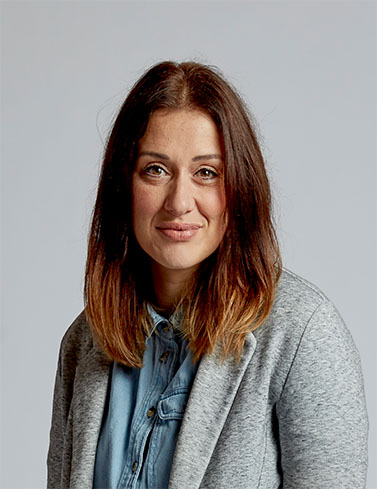 My primary research and teaching interests are in developmental and social psychology. I joined York St. John University in 2013 as a Lecturer and became a Senior Lecturer in 2015. Prior to this, I worked as a researcher and teacher in several UK institutions, including University of Sussex, Bangor University and Northumbria University, working in the field of psychology, public health and human-computer interaction (HCI).
Qualifications
DPhil Psychology, University of Sussex (2012)
BSc (Hons) Psychology, University (2006)
Further Information
Teaching
I am course leader for psychology postgraduate programmes at York St John University, including Psychology of Child and Adolescent Development MSc and Psychology MRes. My areas of teaching expertise are developmental psychology, social psychology and research methods. I supervise undergraduate and postgraduate research dissertations aligned with my research interests and expertise.
Research
My research examines the role of digital media and technology in the lives of adolescents and young adults. Using a range of qualitative and quantitative approaches my research focuses on risks and opportunities afforded by the digital age, particularly in relation to adolescent physical and mental health outcomes (including body image, self-harm, and disordered eating and exercise behaviours). I have recently completed two NIHR-ESPRC "New Minds" funded projects that adopted an interdisciplinary approach to understanding the role of digital technologies in young people's mental health.
A second strand of my research focuses on the design, development and evaluation of psychological interventions. Currently, I lead Body Image in the Digital Age, a positive body image and digital literacy education initiative. For more information see here.
I supervise postgraduate students (MRes and PhD) in areas consistent with my research interests. Prospective students are encouraged to contact me by email to discuss your ideas.
Professional Activities
I am a Chartered Member of the British Psychological Society (since 2011) and a Senior Fellow of the Higher Education Academy (since 2019; formerly Fellow 2010-2018). I have acted as a peer reviewer for multiple interdisciplinary publications, including Body Image, Journal of Health Psychology and International Journal of Child-Computer Interaction. I have examined masters and doctoral level research theses, both nationally and internationally.
I am passionate about public engagement. As part of this activity, I have provided expert testimony for NICE public health guidelines, contributed to all-party- parliamentary-groups, given on- and off- screen consultation for various TV and radio programmes (e.g. The Truth About, BBC One), delivered invited talks for a range of audiences (e.g., Department for Digital, Culture, Media & Sport) and written translational research articles for lay audiences (e.g., The Conversation).
Publications
Bates, A., Hobman, T., & Bell, B. T. (in press). 'Let me do what I please with it […] don't decide my identity for me': LGBTQ+ youth experiences of social media in narrative identity development'. Journal of Adolescent Research.
Bell, B. T., Deighton-Smith, N. L., & Hurst, M. (2019). in "When you think of exercising, you don't really want to think of puking, tears, and pain": Young adolescents' understanding of fitness and #fitspiration. Journal of Health Psychology. Advanced online publication.
Honary, M., Bell, B. T., Wild, S., Clinch, S., & McNaney, R. (2019). Understanding the Role of Healthy Eating and Fitness Applications in the Formation of Maladaptive Eating and Exercise Behaviors in Young People. JMIR mHealth and UHealth, 7 (6), e14239.
Bell, B. T. (2019). "You take fifty photos, delete forty-nine and use one": A qualitative study of adolescent image-sharing practices on social media. International Journal of Child-Computer Interaction, 20, 64-71.
Bell, B. T., Cassarly, J. A., & Dunbar, L. (2018). Selfie-objectification: Self-objectification and positive feedback ("likes") are associated with frequency of posting sexually objectifying self-images on social media. Body Image, 26, 83-89.
Deighton-Smith, N., & Bell, B. T. (2017). Objectifying Fitness: A Content and Thematic Analysis of #Fitspiration Images on Social Media. Psychology of Popular Media Culture. doi:10.1037/ppm0000143
See RAY for the complete list of publications