Subject Director
School of Psychological & Social Sciences
T: 01904 876248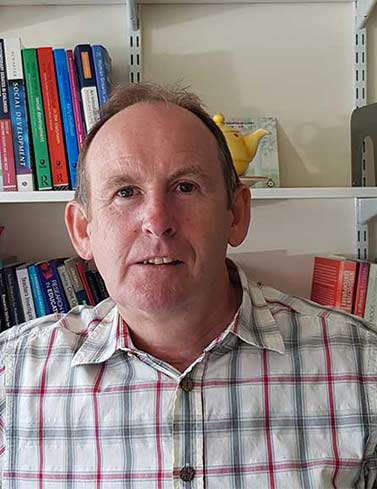 My first teaching post was as a part-time lecturer in Sociology (1988) and since then I have taught an eclectic mix of Social Science courses and modules. Academically I am a mix of sociologist and educationalist. Although I have previously been involved in teaching applied and work-based courses I now focus on modules concerning education, and childhood. This reflects my current writing. My interests in education and childhood arose through taking on responsibilities for some of the first Foundation Degrees, in Early Years and Supporting Learning. I also wrote a Foundation Degree for North Lincolnshire Council to fit with their staff development programme for the children's workforce. I also have significant experience with non-traditional students including developing and running an Access to HE course.

I was a mature student and my first degree followed a DipHE at what was Doncaster Institute of HE. That is in Applied Social Studies from Sheffield City Polytechnic. This was followed with a PGCE(FE) from Huddersfield Polytechnic. I followed this with an MA in Social and Public Policy from the University of Leeds and an M.Ed from the Open University. My doctorate is in Education from the University of Hull. I am also a Senior Fellow of the HEA.
Qualifications
Doctorate in Education; Masters in Education; Masters in Social & Public Policy
BA Applied Social Studies; Diploma in Higher Education
Post-graduate Certificate in HE Practice
PGCF(FE)
1 "O" level!
Further Information
Teaching
Module convenor for:
1SC007 Childhood
2SC008 Families & the State
3SC007 The Taming of Education
Supervision responsibilities on Ed.D.
Research
My current research is a development of Rittel and Webber's concept of wicked problems which U use as a lens through which to consider the extent to which we can talk about taming. This idea is explored in Creasy, R. (2018) The taming of Education, Palgrave Macmillan. The concept of taming will be explored further through applying it to childhood in Creasy, R. and Corby, F. (Forthcoming) Taming childhood, Palgrave Macmillan.
Professional Activities
Conferences
Creasy, R. (2013) What does it mean to be a playtime monitor? 12th European Affective Education Conference on Promoting the Social Emotional Aspects of Education; York, 2 – 4 July 2013.
Professional Memberships
Senior Fellow of the HEA
Publications
Creasy, R. and Corby, F. (2019) Taming Childhood? A Critical Perspective on Policy, Practice and Parenting Palgrave Macmillan

Creasy, R. (2018) The taming of Education, Palgrave Macmillan.

Sharma-Stray, L. & Creasy, R. (2013) Children as playtime monitors: what it means for the monitor inPastoral Care in Education


Creasy, R. (2013) HE lite: exploring the problematic position of HE in FECs in Journal of Further & Higher Education 37: 1 pp38-53


Creasy, R. (2011) "Establishing a "safe" framework for the development of self and peer assessment." In Action Researcher in Education no. 1 (2):12.


Creasy, R. (2004) "Grief: When a pupil dies" in Children Now 13 April 2004