Lecturer in Sociology and Criminology
School of Psychological & Social Sciences
T: 01904 876184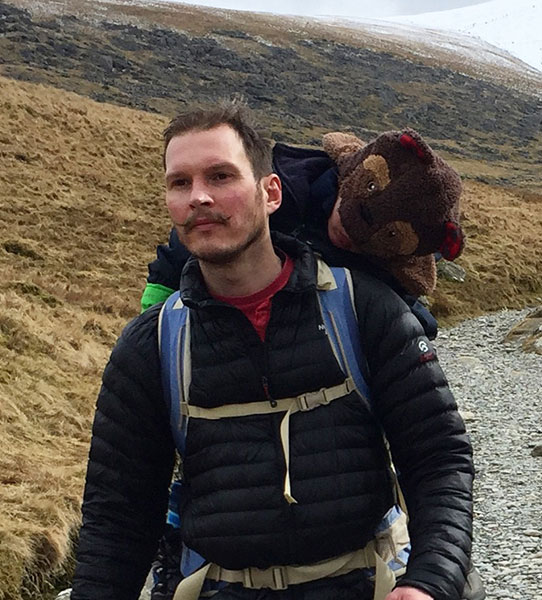 I am a lecturer in sociology and criminology at York St John University.
I study public aesthetics, and graffiti culture. Specifically, how individuals who produce public art construct their identity within their subculture, how their interaction with public space produces a type of political discourse, and how it affects spaces and those who use those spaces.
I am interested in how graffiti's presence affects the way spaces are ideologically constructed, and how producing graffiti affects the individual from a subjective and cultural perspective.
My other research interests include subjectivity, subculture studies, visual culture, deviance, politics of resistance, issues of public space, inequality, theories of democracy, access to political voice and agency, terrorism studies, and morality.
Further Information
Publications
Book:
Mitman, T. (2018). The Art of Defiance: Graffiti Culture in Philadelphia. Intellect Books
Peer Reviewed Journals:
Farkas, A., Mitman, T. & Porpora, D. (2014). Terrorism as Failed Political Communication. International Journal of Communication 9 (2015) 1120-1139
Mitman, T., Nikoleav, A., Porpora, D. (2012). The Critical Moral Voice on American Newspaper Opinion Pages, Communication, Culture and Critique 5(3) 392-408
D'Ovidio,R., Mitman, T., El-Burki, I. & Shumar, W. (2009). Adult-Child Sex Advocacy Websites as Social Learning Environments: A Content Analysis, International Journal of Cyber Criminology, 3(1) 421-440
Mitman,T. (2015). Advertised Defiance: How New York City Graffiti went from "Getting Up" to "Getting Over". In Lovata T. and Olton E. Understanding Graffiti. Left Coast Press.
Mitman, T. (2018). Kick the Hive, Get the Bees: Graffiti writers as assemblage and direct action political actors in their battle against H&M. Palgrave Communications. 4(1).
Book Chapters:
D'Ovidio, R., Mitman, T., El-Burki, I. and Shumar, W. (2011). Adult-Child Sex Advocacy Websites as Learning Environments for Crime. In K. Jaishankar (Ed.), Cyber Criminology: Exploring Internet Crimes and Criminal Behavior. Boca Raton, FL: CRC Press, Taylor & Francis Group.
Book Reviews:
Mitman, T. Book Review, Virtually Criminal: Crime, Deviance, and Regulation Online. Security Journal (2009) 22, 170–171
Popular Press Publications:
Editor and contributing author, The Infamous Magazine, Issues 1-9.
Mitman, T. (2013). Tagging Over Banksy, Why NYC 'Writers' Do It. New York Post, Oct. 25 2013. p. 31.
Grants
Research Assistant (Primary Investigator, Robert D'Ovidio, Ph.D.)
Drexel University, Philadelphia, Pa.
Collected and coded security material from Internet websites specializing in pedophilia advocacy using Usenet database system. Was instrumental in organizing a small conference on online security.
Presentations
September 2017 Kick it Wicked: Graffiti as Cultural History and Terrior in Philadelphia (Tyson Mitman) World Congress of Psychogeography, Huddersfield, UK
April 2015 Producing, Distributing, and Consuming the Craft Beer Movement (Tyson Mitman, Wes Shumar, Nora Madison) Popular Culture Association, New Orleans, Louisiana
April 2014 You Suck Until Further Notice: The Rules and Politics of Graffiti (Tyson Mitman) Popular Culture Association, Chicago, Illinois
April 2014 Mediated Worlds: Navigating the hybrid spaces of craft beer (Tyson Mitman, Wes Shumar, Nora Madison) Theorizing the Web, Brooklyn, New York.
November 2013 Navigating Capitalist Production: The Craft Beer Movement (Tyson Mitman, Wes Shumar, Nora Madison) American Anthropological Association, Chicago, Illinois
August 2012 The Critical Moral Voice in the Public Sphere (Tyson Mitman, Alexander Nikolaev, Douglas Porpora) International Communication Association, Phoenix, Arizona
April 2012 Terrorism as a Communicative Act (Ashley Farkas, Tyson Mitman, Douglas Porpora) Eastern Communication Association, Boston, Massachusetts
November 2011 The Writing on the Wall: Constructing the "Graffiti Problem" (Tyson Mitman), American Anthropological Association, Montreal, Canada
October 2011 The Writing on the Wall: Constructing the "Graffiti Problem" (Tyson Mitman), Culture of Remix Conference, Lisbon, Portugal
March 2011 The Writing on the Wall: Constructing the "Graffiti Problem" (Tyson Mitman), Drexel Research Colloquium Speaker Series, Philadelphia, PA
April 2010 "Look Who's Talking?: Who Authors Opinion Pieces in Newspapers?" (Alexander Nikolaev, Tyson Mitman, Douglas Porpora.), Eastern Communication Association Conference, Baltimore, MD
March 2007 "Deviant Communities Online: An Examination of Adult-Child Sex Advocacy Website" (presented with Tyson Mitman, Robert D'Ovidio, and Wesley Shumar) poster presentation Drexel University Research Day, Philadelphia, PA