Senior Lecturer in Psychology
School of Psychological & Social Sciences
T: 87 6311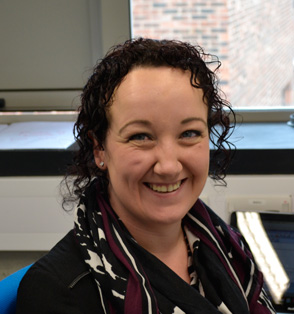 I started lecturing at York St John University in September 2005 and currently teach across the statistics and developmental psychology modules on the BSc Psychology degree and on the MSc Psychology of Child and Adolescent Development. My research interests span a range of topics, exploring peer relationships in childhood and adolescence, in particular the nature and prevalence of bullying in schools and cyberbullying.
Further Information
Teaching
My teaching activities centre around developmental psychology and research methods and statistics. I currently teach on the following modules:
1PY407: Survey Research Methods & Statistics
2PY406: Advanced Research Methods
3PY340: Dissertation
MPY103: Adolescent Development
I also supervise undergraduate and postgraduate dissertations.
Research
My research interests focus primarily on peer relationships in children and adolescents. I have a particular interest in exploring the nature and prevalence of bullying in schools and have been involved in a number of projects examining bullying behaviour in the UK, in individual schools and across Local Authorities. I was included in the 2008 RAE exercise and more recently in REF 2014, where I also included an Impact Case Study on Cyberbullying and E-Safety for the York St John Psychology submission. My current research activities focus on the following:
Factors that mediate or moderate the relationship between bullying and adjustment
The aim of this project work is to explore factors that affect the relationship between bullying and adjustment in children and young people. Data collection for our new longitudinal project 'Thoughts and feelings about bullying' is taking place over the 2017-18 academic year.
The experience of bullying in sport
Working with children, adolescents and young adults, the aim of this project work is to explore experiences of bullying in sport and how they may relate to poor engagement in health enhancing physical activity.
Bullying on school buses
Working with Paul Vodden, the aim of this project is to explore experiences of bullying on the journey to and from school on the school bus.

Selected grants
City of York Council (2011-2014) "Stand Up for Us Survey"
The Ben Cohen Stand Up Foundation (2014) "The Cohen Project: Tackling the bullying of children and young people in School Sport" (With A.Smith, P. Velija & M.Mierzwinski)
Army Families Foundation (2013) "The Educational Attainment of Service Children"
Psychology Network, Higher Education Academy (2011) "Peer Tutoring in Statistics Project"
The British Psychological Society (2010) "E-safety in Adolescence" (With A. Macklin)
Professional Activities
Alongside my research and teaching activities, I have an interest in working with organisations committed to tackling bullying in children and young people. In the past I have been a member of the City of York Council's Anti-Bullying Steering Group, a member of the Yorkshire and Humber Regional Anti Bullying Alliance. I have also delivered training with the Anti-Bullying Alliance, the Yorkshire and Humber Grid for Learning and the Bullying Intervention Group. I am currently a trustee of the Ben Cohen Stand Up Foundation.
Peer reviewing
I have also reviewed books for Sage and Palgrave and have reviewed articles for Educational Research, the Journal of Psychology and Educational Research journal and Children and Society Journals. I have reviewed bid submissions for the ESRC and the European Science Foundation (ESF) and I am currently a member to the ESF College of Expert Reviewers.
Professional Affiliations
I am a member of the following organisations:
British Psychological Society (Graduate Member)
International Society for Research on Aggression (Fellow)
Higher Education Academy (Fellow)
Research ethics
Given the nature of my research interests and professional activities, I have a strong interest in research ethics, particularly research ethics associated with work involving children and young people. I am currently Chair of the Psychology Research Ethics Committee and a member of the York St John University Research Ethics Committee.
Policy Development
Following the 2006 presentation of our research findings on the prevalence of cyberbullying, I was invited to sit on and contribute to the Department for Children, Families and Schools (DCFS) Cyberbullying Taskforce. This taskforce developed, wrote and disseminated guidance on how to tackle cyberbullying in schools and other child and youth based organisations. Our research was cited in the final guidance document and in the Commons Parliamentary Select Committee report on bullying.
Media Engagements
Details of research projects I have been involved in have been covered in both national and regional media and as a result I have taken part in interviews for national newspapers including; the Guardian, The Independent and the Telegraph as well as for regional papers including the York Press. I have also taken part in radio interviews for Radio York and Real Radio.
Publications
You can access some of my publications in our institutional repository https://ray.yorksj.ac.uk/profile/681.
Book Chapters
Brockett, A.A., Noret, N., Harenwall, S., Baird, P.D., Rivers I, (2007). Adolescent attitudes in York towards Muslims and Islam. In Kim, S., Kollontai, P., (eds), Community Identity. London, T & T Clark International.
Journal Articles
Gibson, S. & Noret, N. (2010). Historical experiences, collective memory and willingness to fight for one's country: Comments on Paez et al. (2008). Journal of Cross-Cultural Psychology. 41, 445-450.
McGivern, P. & Noret, N. (2011). Online Social Networking and E-Safety: Analysis of Risk-taking Behaviours and Negative Online Experiences among Adolescents. Reinvention: A journal of Undergraduate Research, British Conference of Undergraduate Research 2011 Special Issue.
Rivers, I. & Noret, N. (2013). Potential Suicide Ideation and Its Association With Observing Bullying at School. Journal of Adolescent Health, 53, S32- S36.
Rivers, I. & Noret, N. (2010). Participant roles in bullying behaviour and their association with suicide risk. Crisis: Journal of Crisis Intervention and Suicide Prevention, 31,(3),143-148.
Rivers, I. & Noret, N. (2009). 'I h 8 u': Findings from a five-year study of text and e-mail bullying. British Educational Research Journal , 36(4), 643-671
Rivers, I. and Noret, N. (2008). Well-being among same-sex- and opposite-sex-attracted youth at school. School Psychology Review, 32(2), 174-187.
Rivers, I., Poteat, V.P., & Noret, N. (2008). Victimization, social support, and psychosocial functioning among children of same-sex and opposite-sex couples. Developmental Psychology, 44(1), 127-134.
Rivers, I., Poteat, V.P., Noret, N., & Ashurst, N. (2009). Observing bullying at school: The mental health implications of witness status. School Psychology Quarterly, 24(4), 211-223.
Waite, O., Smith, A., Madge, L., Spring, H. & Noret, N. (2016). Sudden cardiac death in marathons: a systematic review. The Physician & Sportsmedicine, 44(1), 79-84.