Working with Business
Our programmes have been designed to ensure that our students get an appropriate balance of theory and practical experience. Experiential learning is a major part of our educational approach and we achieve this through a variety of ways – including live business projects. Live projects are a great way for businesses to connect with York Business School and, in the process, an opportunity for free consultancy on business issues your company may have – from brand management to financial planning.
If you would like to discuss the possibility of working with us then please contact Dr Rebecca Biggins (Director of Marketing and External Engagement) r.biggins@yorksj.ac.uk.
Examples of recent projects
MINI
MINI
York Business School has a very good relationship with the iconic brand – MINI and engages with the company in a variety of ways for the benefit of our students, from guest lectures, to live projects. Recently, a group of postgraduate students completed a live project examining the strategic brand decisions surrounding the launch of the new MINI Clubman. Students worked with representatives from MINI UK, the Cooper Group (part of Inchcape Retail) and visited the home of MINI – Plant Oxford. The students thoroughly enjoyed this project and produced work of a very high standard that was commended by MINI UK and Inchcape.
"I loved working on the MINI brief. It was wonderful to have the opportunity to learn more about the intricate workings of such an iconic brand and to have the opportunity to put theory into practice. The trip to Plant Oxford was a real highlight for me". Alannah Gaisford, MSc International Marketing
"I started working with York Business School back in May 2015 when I was asked to do a Masterclass on MINI marketing. This was the start of a partnership that has forged a positive relationship between the University and MINI. We have worked closely together on a number of projects including discussions on student outcomes
and how best to prepare students for business life after they graduate. In addition, we have collaborated over engagement in the local community including competitions and sponsorship of a local school's new sports kit. Our partnership – which has grown thanks to the innovative and forward-thinking philosophy of the University – is one which I hope will continue!" Catherine Wilcox – Regional Brand Manager - MINI
Further student projects and guest lectures are planned with MINI in the future, along with field trips to Plant Oxford.
Yorkshire Bank
Yorkshire Bank
In April 2015, we were approached by Yorkshire Bank to identify ways in which mutual collaboration could take place. Yorkshire Bank were attracted by our values – particularly our commitment to the Principles for Responsible Management Education. As part of Yorkshire Bank's commitment to corporate social responsibility, the Business School benefits from the expertise of the Bank's Director of Acquisition and Specialist Finance – Pete Sumners, regularly gives his time to work with students on their business ideas and acts in an advisory capacity to the Business School senior team.
Recently, Pete facilitated a masterclass to an audience of students and business leaders on how to formulate the perfect business plan. This masterclass was part of Yorkshire Bank's Business Week, which was themed 'Growth through innovation' and was delivered in partnership with York St John Business School.
"There is a firm commitment to developing graduates that not only understand the theoretical aspects of business, but the role business can play in shaping a better society. Having had an input into the development of York Business School's undergraduate and postgraduate curriculum design, I see a good balance of theory and practical application in a business context. York Business School's work in this regard is - in my view - sector leading." Pete Sumners – Director, Specialist and Acquisition Finance – Yorkshire Bank
Ainsty Ales
Ainsty Ales
In 2016 craft brewers, Ainsty Ales, based in York worked with MBA students from York St John on a series of projects. The projects gave the students an insight into the working of a small manufacturing business and aided Ainsty Ales to progress some projects that were of benefit to the company. The projects included; the development of a small beer festival; organisation of brewery tours; an investment feasibility study and an investigation into the craft beer export market.
One project that involved an investigation into the export of craft ales has proven to be particularly useful. The owner of Ainsty Ales, Andy Herrington, worked closely with three students, Will Clement, Raquel Traba and Temitope Farinola. After in depth investigations the students produced a guide to exporting both within the EU and into some markets in South East Asia.
One of the students, Will Clement, has continued to work on a voluntary basis with Ainsty Ales after his completion of the course and is determined to finish what he started. Will has said he "won't rest until at least one consignment of beer is actually exported."
"Working with York Business School has been a very valuable experience for Ainsty Ales Brewery and a great local collaboration. At a time when a lot of energy was being focused on physically building the new brewery the YSJ students provided some great assistance with research projects .... particularly pleasing has been lecturing to the students and discussions have taken place already to work together in 2017". Andy Herrington - Ainsty Ales.
I2I International Soccer Academy and Wold Top Brewery
I2I International Soccer Academy and Wold Top Brewery
Students studying Marketing in their 2nd year have been working with two local businesses to support their Marketing and Business development activity.
I2I International Soccer Academy and Wold Top Brewery have been engaging with students studying marketing to help guide and structure their marketing and business growth activities. The students engage with the businesses through the module Marketing Practice, through practice based learning. They are given briefs by both companies, select a business on which to focus and then are briefed in person by senior staff from the respective organisation. In addition this year students have enjoyed visits to I2I's headquarters in Nether Poppleton, York where they examined the company's current marketing activities in detail and learnt more about the business and its growth ambitions. Students also visited Wold Top Brewery in Wold Newton, Driffield, East Yorkshire where they were given a brewery tour to further enhance their understanding of the business, its products and the process of brewing. In addition students were also given time by the business to ask questions of the businesses leaders to gain a greater understanding of current marketing activity and future plans.
Dr. Nadine Waehning, Lecturer in Marketing and Module tutor said that 'the students benefit through seeing how marketing is utilised within real businesses and are then given the chance to apply the knowledge they have been taught through their studies to add real value to businesses as they move forward.'
Students this year will produce their marketing reports prior to Christmas and both I2I International Soccer Academy and Wold Top brewery will receive consolidated marketing reports in early 2017.
Hiscox
Students shape future business with Hiscox
Students from York Business School have been given a unique insight into the innovation of new insurance products from global specialist insurer Hiscox.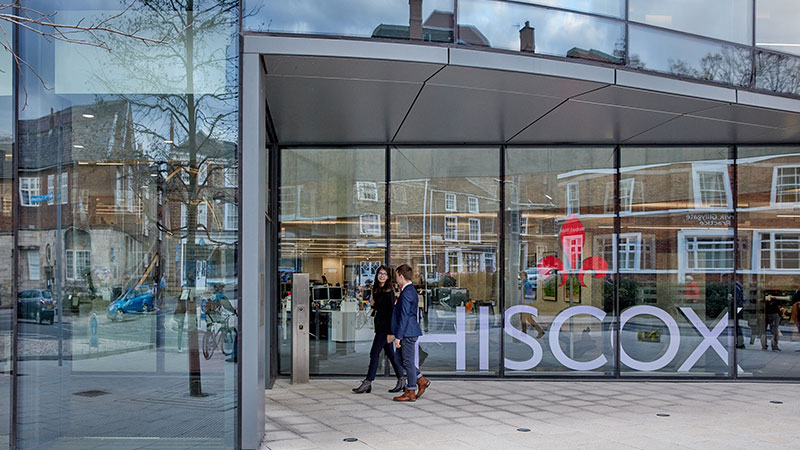 As part of an established collaboration between York St John University and Hiscox, students and staff from York Business School attended a research event led by Scott Murphy, Propositions Manager at Hiscox Futures. The workshop provided an opportunity to discuss the process of developing new products and bringing them to market in order to meet customer needs and demands.
Kirsty Stokes, head York St John Business Society, said those who attended the event found it enjoyable and informative:
"We learnt a lot about insurance and how it works from a business perspective. The evening focused around what people of a young professional age range would expect from insurance and as business students, we were able to contribute to an interesting discussion with many different opinions on the subject".
Sessions like these are just one of the ways that York Business School enables students to go beyond classroom based management theory and gain deeper understanding of processes in the business world. For Hiscox, the relationship with York Business School is also of value.
Scott Murphy commented on the success of the event, saying:
"It was a pleasure to welcome both staff and students from York St John's Business School to Hiscox for our research evening. The benefit to the work of Hiscox Futures is significant – providing alternative perspectives on our pilots of new products and services and a fresh approach to improving the customer experience. After all, they may well become our customers of the future – their experiences today will shape their needs and expectations of tomorrow."