Dr Katy Marsh-Davies SFHEA BA (hons) MA PhD
Senior Lecturer
York Business School
E: K.Marsh-Davies@yorksj.ac.uk
T: +44 (0)1904 876091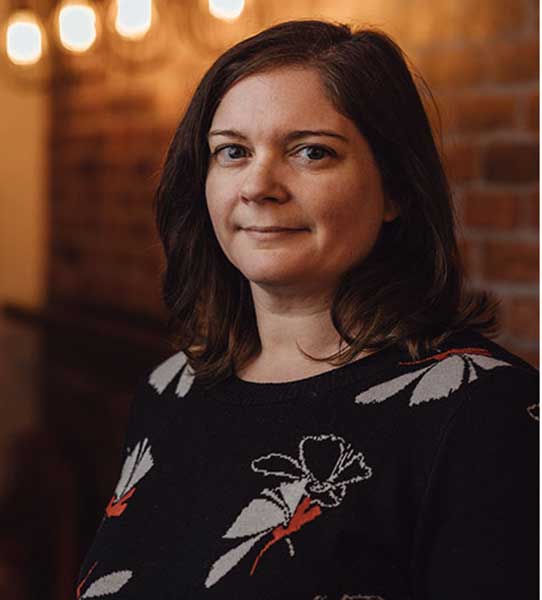 Qualifications: BA (hons) Human Resource Management | MA Gender Studies | PhD Management (Sheffield) | City & Guilds Teaching Certificate | Postgraduate Certificate in Academic Practice | Senior Fellow of the Higher Education Academy
I worked as a Human Resources Professional for Royal Mail before returning to education to complete my degrees and doctorate. During my career in higher education I have held posts in University of Sheffield, University of Newcastle, Coventry University, and University of Hull.
At University of Hull I was the Associate Principal for Scarborough Campus, as well as the Employability Champion for Hull University Business School. I was the faculty lead on Research Ethics whilst employed by Coventry University.
Further Information
Teaching
I specialise in people management i.e. Human Resource Management and Organisational Behaviour modules, I also teach research methods and supervise dissertations. I am the UG and PG dissertation co-ordinator.
My previous teaching has included modules in employability, ethics, leadership and innovation. I have taught students from foundation to executive MBA level, in the UK and on assignments overseas.
Research
My main research interest is identity in organisations, in particular gender identities. My PhD explored how men and women construct themselves as parents and as professionals when they work from home. Recent publications include a study of performance management in trade unions and a critical view of graduate employability. I am an experienced PhD supervisor, covering topics such as female entrepreneurship, work life balance, and organisational change.
Professional Activities
Member of British Academy of Management and its Special Interest Groups in Gender, Identity, HRM and Research Methods (former committee member of the latter)
Member of British Sociological Association
Regular attendee of the Gender, Work and Organisation conference
Senior Fellow of the Higher Education Academy
Has been Chair of various PhD vivas and an external examiner for a doctoral candidate in Teeside
Awarded funding by the British Council for a pedagogic research trip to India
Publications
Publications
(as Graley, K.)
Thursfield, D. & Graley, K. (2016) Exploring performance management in four UK trade unions, Employee Relations, vol 28, no 5, p789-804
Burke, C.; Scurry, T.; Blenkinsopp, J.; & Graley, K. (2017) Critical perspectives of graduate employability, in Tomlinson, M. and Holmes, L. (eds) Graduate Employability in Context: theory, research and debate. London: Palgrave
(as Marsh, K.)
Marsh, K. and Musson, G. (2008) Men at Work and at Home: Managing Emotion in Telework, Gender, Work and Organization, vol 15, no 1, p31-48
Musson, G. & Marsh, K. (2008) Managing the Emotional Boundaries of Telework, in: Fineman, S. (ed.) The Emotional Organisation: Passions and Power, Oxford, Blackwell
Selected Papers & Presentations Delivered
Sept 2012: British Academy of Management Conference, Cardiff, University, A case study of an Indian HE provider: politics and passions
June 2012: Gender, Work & Organisation Annual Conference, Keele University, Fatherhood, Work and Organisation: Setting a research agenda
Mar 2012: BAM Special Interest Group on Research Methods, Sheffield Hallam University, Teaching Research Ethics workshop
April 2011: BAM Special Interest Groups on Gender & Identity joint seminar, Stirling, Parent or Professional: Exploring the impact of home-based telework on role prioritisation
Jan 2011: CIPD Senior Practitioner Meeting, Coventry University, Dialogue on flexible work
June 2010: Gender, Work & Organisation Annual Conference, Keele University, Flexible Work: Who is it good for?
Sept 2009: British Academy of Management Conference, The Brighton Centre, Brighton, The development and use of 'a priori discourse analysis'
November 2008: Association for Global Business Conference, Newport Beach, California' Legislating Discrimination-free Workplaces: A comparative study between Canada and the United Kingdom (Co-authored with Sudhir Saha, Memorial University, Newfoundland)
August 2006: International Telework Academy Annual Conference, University of New Brunswick, Canada, Home-based Teleworkers' Constructions of Professional and Parental Identity: Traversing Gendered Roles or Maintaining Gendered Boundaries?
June 2005: Gender, Work & Organisation Annual Conference, Keele University, Men at work and at home: Managing emotional labour in telework (Co-authored with Gill Musson, University of Sheffield)
May 2005: ESRC Seminar Series: Critical Perspectives on Career & Family Friendly policy, Management School, University of Sheffield, Managing Emotional Labour in Telework: The Case of Super Dad