Matthew Holmes FHEA MA PgCert BA (Hons)
Lecturer - Organisational Change and Leadership
York Business School
T: +44 (0)1904 876130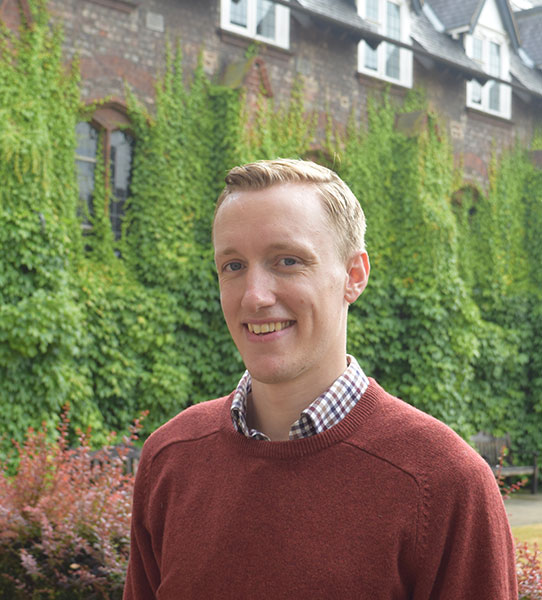 Qualifications: FHEA | MA (University of Brighton) | PgCert | BA (Hons) (York St John University)
I am a Lecturer in Organisational Change and Leadership and teach at undergraduate and postgraduate level. I am doing my PhD at The University of Edinburgh in International Development.
I am a keen road cyclist and living in York, the Howardian Hills, North York Moors, and Yorkshire Dales are perfect to fuel this passion. I also spend time cycling in the Alps. To date, I have climbed Alpe d'Huez, Col du Galibier and Passo della Mendola, and cycled across southern Germany, Austria and northern Italy.
Further Information
Teaching
My teaching interests include Sustainability, Ethics and Management courses at York Business School. I currently teach on undergraduate modules which include Management and Leadership, and Responsible Business. I also teach postgraduate students on the module Business and Sustainability.
Research
My research is on indigenous NGOs in sub-Saharan Africa which provide children and adolescents living in poverty with education. My current research focus is on conceptions of power and how these help explain the nature of social relations and interactions indigenous NGOs in Lusaka, Zambia have with their international donors.
Professional Activities
I have a history of work with small not-for-profit organisations in the international development sector. I continue to support such organisations through fundraising activities and projects.
Publications and Conferences
Journals
Darnell, S., Chawansky, M., Marchesseault, D., Holmes, M. & Hayhurst, L. (2018). The State of Play: Critical sociological insights into recent Sport for Development and Peace research. International Review for the Sociology of Sport. 53(2), pp. 133-151.
Banda, D. & Holmes, M. (2017) Sport-for-Development and the struggle for Subaltern Voices to be recognised: a response to Manley, Morgan and Atkinson. International Journal of Sport Policy and Politics, 9(4), pp. 723-738.
Holmes, M., Banda, D. & Chawansky, M. (2015). Towards a sustainable programme design? An examination of CSR initiatives within a Zambian SfD NGO. International Journal of Sport Management and Marketing: Special Issue on "Sport-for-Development and Peace Theory Building and Programme Development", 16(1/2): 36-51.
Conferences
Holmes. M (2017): "Sport serving international development goals: the context of Zambia", BSA Sport Study Group Postgraduate Forum, University of Lincoln.
Holmes. M. (2017): "Sport for development in Zambia", Institute for Sport Physical Education and Health Sciences, University of Edinburgh.
Banda, D. and Holmes. M (2016): "Christianity and sport for development in Zambia", Global Congress on Sports and Christianity, York St John University.