PhD - Exploration of the internal coach experience
York Business School - Research Student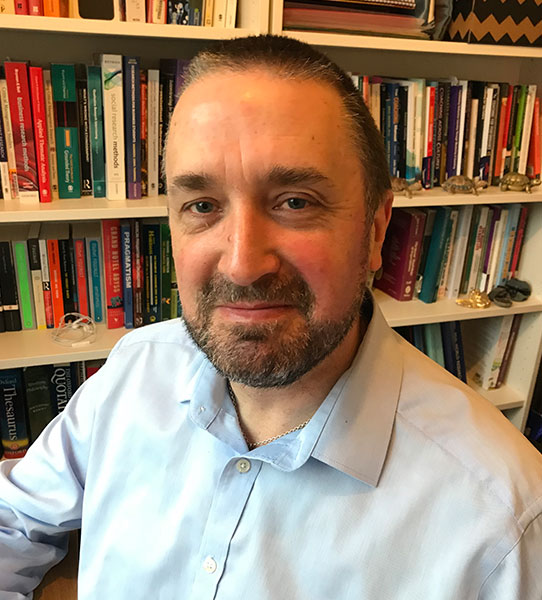 Further Information
Background
I completed my first degree, in Biochemistry, at the University of Sheffield in 1984, and then started a career in industry. I spent time in the food, brewing and detergent industries in operations, supply chain planning, procurement and R&D. In the period up to my retirement at the end of 2017 I was the Purchasing and R&D director of a company that manufactures detergents. In that role I was also an internal coach and mentor. In 2014 I completed my master's degree in Coaching & Mentoring at Sheffield Hallam University. My dissertation for that degree was an ethnographic study of the introduction of internal supervisors to the coaching scheme. In 2015 I started my PhD.
Research
PhD Thesis: ''Exploration of the internal coach experience"
Supervisors: Dr George Boak; Professor Lynne Gabriel (HLS)
My PhD adopts a mixed methods research approach to explore how the internal coach role is experienced by those who take it on. The research has involved the use of an on-line questionnaire survey and semi structured interviews.
Publications
Book Review
Robson, M (2016) Action Research: Principles and Practice (3rd Edition), Jean McNiff; Action Learning: Research and Practice, Published online 16 August 2016; Taylor & Francis Online
Journal Article
Robson, M (2016) An ethnographic study of the introduction of internal supervisors to an internal coaching scheme; International Journal of Evidence based Coaching and Mentoring; 4(2), pp. 106-121
Conference Paper
Robson, M (2017) Preliminary findings of a survey of internal coaches that explored their perceptions of being a coach. Greenwich, London: 7th EMCC Research Conference.
Robson, M (2018) Preliminary Findings of an Exploration of the experience of Being an Internal Coach. Newcastle: UFHRD Conference
Professional Activities
From June 2018 I hold the voluntary position of President of the EMCC UK, a professional body that aims to promote mentoring and coaching.