Director of Research - York Business School
York Business School
T: +44 (0)1904 876178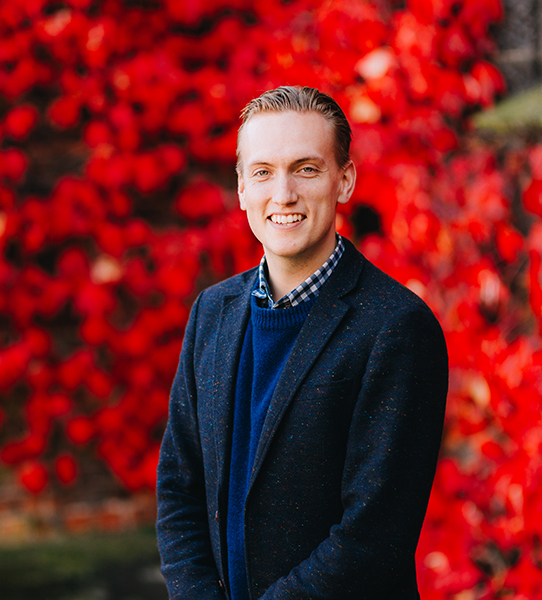 Qualifications: BA (Hons) | MA | PhD | FHEA
I am a Lecturer in Work and Organisation and teach at undergraduate and postgraduate level. I have a PhD in Organisation, Work and Technology from Lancaster University Management School.
Further Information
Teaching
Before joining York St John University, I was a graduate teaching assistant at Lancaster University Management School. During this time I taught on a number of modules including introductory modules to the social, cultural and historical contexts of management and organizations, Human Resource Management, Organizational Psychology and Organizational Behaviour.
At undergraduate level I am currently teaching on Organizational Behaviour, Business Ethics, Designing a Research Project, and Employment Development.
At postgraduate level I teach on an HR module entitled Managing Diversity, Conflict, and Ethics.
Research
My research focuses on the way contemporary managerial practices and processes construct ideal forms of subjectivity, and how these values are then understood and interpreted in wider society and culture. My current research is largely focused on popular portrayals of 'graduates', 'interns' and 'entrepreneurs'.
Collaborative Research and Coaching Projects
Joseph Rowntree Foundation 2016 'Alleviating Poverty in the Leeds City Region: Maximising the local impact of anchor institutions'. This Action Research project was funded by the Joseph Rowntree Foundation, in collaboration with Leeds Beckett University. Through the formation and facilitation of 'action learning sets' the project centred around investigating the impact of sustainable recruitment, employment and procurement practices of large 'anchor' organisations (public and private) on their local communities (in the Leeds City Region) in the attempt to alleviate poverty in this region.
West Yorkshire Police 2016 'Implementing new pre-crime technologies in the West Yorkshire Police'. In partnership with the West Yorkshire Police the purpose of this project to oversee the successful implementation of predictive analytics technologies for preventative crime patrols as part of a programme to create a dynamic culture that embraces evidence-based practice, real-time supportive systems and management processes.
Publications
March 2019
Reappraising Charles Webb's The Graduate (1963): Exploring cultural and historical elements of a character in the contemporary economy
Watt, P., and Costea, B.
Organization
Aug 2016
Procuring a sustainable future: an action learning approach to the development and modelling of ethical and sustainable procurement practices
Boak, G. Watt, P., Gold, J., Devins, D., and Garvey, R.
Action Learning: Research and Practice
Jan 2016
The rise of the 'dropout entrepreneur': Dropping out, 'self-reliance' and the American myth of entrepreneurial success
Watt, P.
Culture and Organization
Volume 22, Issue 1, 2016
Sept 2015
What killed Moritz Erhardt? Internships and the cultural dangers of 'positive' ideas
Costea, B, Watt, P., and Amiridis, K.
TripleC: Communication, Capitalism and Critique 13 (2): 375-389.
Sept 2013
Giving notice to employability (Editorial)
Chertkovskaya, E, Watt, P, Tramer, S, and Spoelstra, S.
Ephemera: Theory & Politics in Organization 13 (4): 701–16.
Peer-reviewed book chapters

2019
Introducing Predictive Policing Technologies (PPT): An Action Research Oriented Approach for EBOCD Initiatives
Watt, P., Boak, G., Krlic, M., Wilkinson, D., and Gold, J.
In Evidence-Based Organizational Change and Development (EBOCD) edited by Bob Hamlin, Andrea Ellinger and Jenni Jones.
2019
Leaders and Leadership Development
Watt, P., Boak, G., and Gold, J.
In Organizational Leadership edited by John Bratton.
2017
Against idle complicity: Challenging the employability agenda in teaching and daily academic life
Watt, P and Chertkovskaya, E.
In The Corporatization of the Business School: Minerva meets the Market, edited by Mats Benner, Tony Huzzard and Dan Kärreman (Routledge)
Book Reviews, Review Essays and Journalistic Contributions

March 2019
Elizabeth Holmes: Theranos scandal has more to it than just toxic Silicon Valley culture
The Conversation (March 27th)
November 2017
Ethical Capitalism: Shibusawa Eiichi and Business Leadership in Global Perspective (2017)
Edited by Patrick Fridenson and Kikkawa Takeo
Journal of Management Learning
October 2016
Higher Education- Consumed!
Consuming Higher Education: Why education can't be bought (2013)
By Joanna Williams
Ephemera: Journal of theory and politics in organization
May 2016
The Unmanageable Consumer (2015)
By Yiannis Gabirel and Tim Lang
Journal of Management Learning,
Volume 47, Issue 4, pp. 479-484.
(Sept 2016)
Awards and Recognition
2019
Management Learning Best Book Review Prize 2018
For review of "Ethical Capitalism: Shibusawa Eiichi and Business Leadership in Global Perspective." Management Learning 49 (4): 504–7.
2017
The Alan Moon Memorial Prize
The University Forum for Human Resource Development
18th International HRD conference, Universidade Europeia, Lisbon, Portugal.
Paper: The Challenges and Impact of Implementing Predictive Technologies
2017
Editor's Choice – Entrepreneurship
Journal of Culture and Organization