The Executive MBA Degree Apprenticeship
The Executive MBA has been designed to support your career progression, preparing you to carry out senior strategic roles successfully or to build your own business.
You will study with a cohort of experienced professionals drawn from a range of industries and countries, building your network and giving you insights into best practice internationally. As a consequence, you will explore issues that have significant impact within organisations by working with others and building on both personal individual experiences and comparing and contrasting with those of cohort members. In addition you will be able to apply the knowledge and skills you develop during the programme immediately in the workplace. You will carry out projects and assignments and participate in competitions and business simulations, designed to help you apply the theories, tools and techniques you learn.
You will develop a critical understanding of the issues relating to business and management, which will enhance their ability to maximise individual and organisational potential. The York MBA brings together relevant contemporary academic theory and research with practical understanding of activities within organisations. This will be developed by enabling you to share knowledge, relate this to theories developed from relevant research, and learning by practical application.
The Executive MBA has been designed to meet the requirements of the Level 7 Senior Leader Master's Degree Apprenticeship. Subject to eligibility, your organisation may be able to use their apprenticeship levy to cover the costs of you attending this course.
Modules studied include:
Executive Perspectives on Leadership, Culture, Innovation and Change
Organisational Design and Strategic Thinking
Enterprise and Entrepreneurship
Strategic Resource Management
Capstone Project
Individual employers will set the selection criteria for their apprenticeships. This may involve previous management experience, having undertaken an apprenticeship or qualifications. The University would recommend that an Executive MBA apprentice is someone who is working at a level whereby they can influence strategy or are being seen as someone who has been identified as a future leader. There is a need for apprentices to have completed English and Maths at Level 2 either prior to starting or before completion of the the MBA (which York St John University can deliver if required).
The programme delivery is based on principles of adult learning - recognising that participants are likely to bring a large amount of experience and knowledge to the group, and can share this with each other. The style of the programme is participative, and resources for learning explicitly include the knowledge, experience and skills of all participants and staff.
To enquire about this course, email apprenticeships@yorksj.ac.uk.
Further information
Primeast
For our MBA programme, we are partnering with Primeast, a leading Leadership and Organisational Change company, which will bring experience from working with some of the world's largest blue-chip organisations and global brands such as Google, Jaguar Land Rover and Rolls-Royce. Primeast will be working collaboratively with us to develop and deliver the programme.
We are dedicated to creating the next generation of creative, innovative business leaders who will challenge the business landscape and move organisational thinking forwards. Therefore, as a Business School, we recognise that partnering with leading industry organisations is an innovative way to revolutionise traditional University education and create valuable, demand led academic qualifications that are guided by the ever changing industry needs.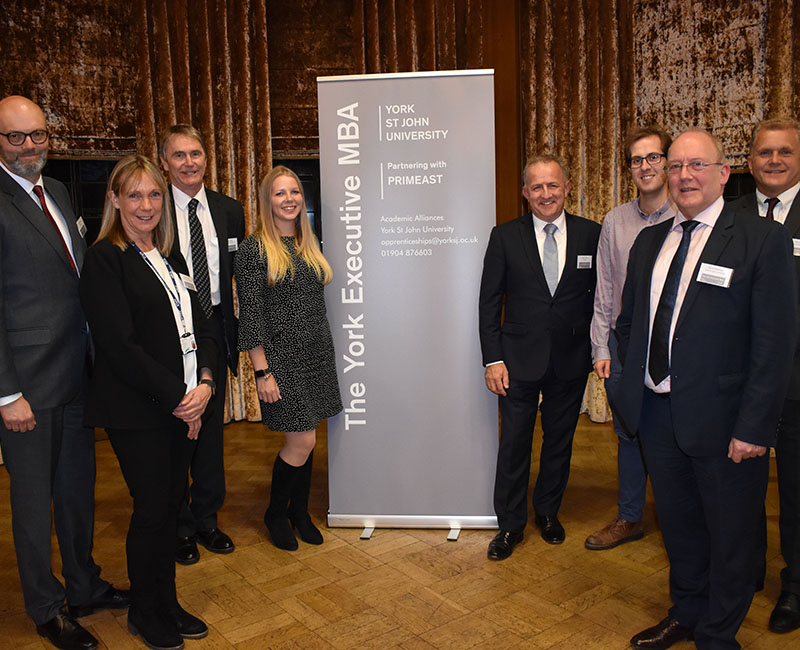 Introducing Primeast Ltd
Primeast partners with organisations to transform their capability and meet the challenges of an unpredictable world. We work with your leaders, organisation and teams to create outstanding places to work which balance the delivery of results with the creation of personal success. Our client portfolio speaks for itself – some of the world's most notable organisations have trusted us to work with them over many years.
We deliver measurable high performance by developing the unique talents of your people and inspiring them to dedicate the best of who they are to the service of your corporate goals.
Most of our clients operate in heavily regulated industries across a broad range of sectors and in more than one country. We often work together over a number of years. They trust us to deliver beyond expectations, as they balance results with personal success in order to facilitate sustainable performance. We also equip people to create great places of work, in organisations that contribute responsibly and sustainably in all that they do.
Primeast – Engaging People, Energising Business
Our Purpose
"Equipping people to create great places of work, in organisations that contribute responsibly and sustainably in all that they do"
Our Values
The Primeast values have been in place almost unchanged since our company was founded, and they influence the way we work with each other, the way we relate to your organisation and people, and the way we deliver performance. We do not, however, impose our values on our clients or our participants. Indeed, our values-driven facilitators will take the time to understand your values and role model them whenever we can during our dealings with your people.
Integrity
Innovation
Partnership
Performance
Sustainability
Freedom
Well-Being