Guidance on research data management with supporting resources.
Research data management (RDM) is the processes involved in managing and organising research data effectively and appropriately throughout the life cycle of a research project.
Good, effective RDM covers a project from conception to delivery. From planning your data collection, to storing your data securely, to sharing and preserving data. RDM underpins research excellence and is an essential aspect of conducting responsible research.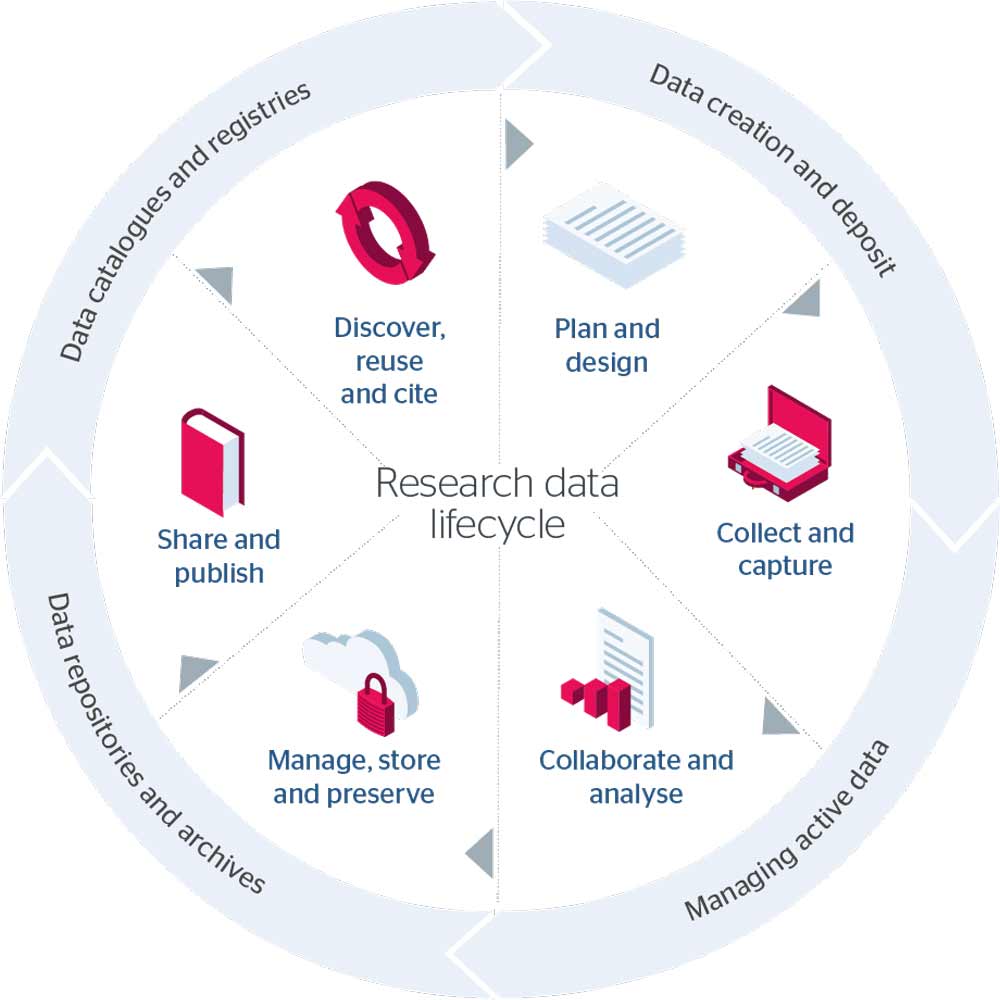 As well as helping to conduct research responsibly, RDM enables staff and students to meet the requirements of the university's Research Data Management Policy, research funder policies and legislation.
Before you start your research project
1. Check the university's Research Data Management policy
YSJ's RDM policy applies to staff and students, anyone conducting research on behalf of the university. The policy aims to ensure that YSJ research data applies the principles set out in the Concordat on Open Research Data, the UKRI Common Principles on Data Policy and, where possible, the FAIR data principles. YSJ requires all researchers to deposit research data that supports research outputs into the University open data repository, RaYDaR, unless specified otherwise in their data management plan. It is recognised that some data may be subject to restriction for legal, ethical, or commercial reasons.
2. Write a data management plan
Prior to starting a research project, researchers should write a data management plan (DMP). A DMP is a formal document which outlines all aspects of RDM throughout a project. Not only is writing a DMP good research practice, but many research funders will also require a DMP as part of any funding application. A DMP may include what data will be created or collected during the project, any data management responsibilities, any policies related to managing data, how data will be organised, stored and secured, any ownership or access rights and any data archiving or sharing arrangements. Writing a DMP is an opportunity for you as a researcher to consider and address any risks or issues related to working with or managing data as part of your research project.
For guidance on what to include in a DMP and examples of DMPs, DMPonline, provided by the Digital Curation Centre (DCC), is an online resource that will help you create, review, and share DMPs that meet institutional and funder requirements. If you have any queries, email RaYDaR (raydar@yorksj.ac.uk).
If, as part of your research project and DMP you need a data sharing agreement, please follow the guidance on the Data Sharing Intranet page.
3. Consider research ethics and integrity
Before conducting any research and collecting any data, researchers must consider research ethics and integrity. YSJ is committed to maintaining the highest ethical and integrity standards in research carried out by its staff and students.

For further information, the Research Office provides guidance on research ethics and integrity on the Research Ethics and Integrity page. On this page, you will find links to the university's Ethics Policy, the Research Misconduct Policy and guidance on acquiring research ethics approval.
During your research project
1. Update your data management plan
DMPs are live documents that are maintained and updated throughout a project. Research projects can take months or years to complete so how you manage research data may change. If data management changes do occur, it's important that any changes and updates are properly recorded in your DMP.
2. Store your data securely
It is essential that you choose an appropriate place to store your research data.

You will need to consider:
Access – how will you (and any research partners) access the data whilst ensuring no unauthorised access.
Back-up systems
Data security - this is essential if you are collecting and working with sensitive or personal data.
At YSJ, we recommend storing your research data on OneDrive for Business. For further information see OneDrive for Business. It is strongly recommended that any research data held on OneDrive for Business is a copy of data held securely elsewhere. Where there is a requirement by a research funder for research data to be physically stored within the university, OneDrive for Business (or any other cloud storage) will not meet that requirement.
Organise your data
When collecting research data, it is important to consider how the data will be organized and documented. Good organisation, such as effective file naming and logical folder hierarchy, will make it easier to find data. Documenting your data, such as adding information on who created the data, notes on the methodology and any definitions, will make it easier for you to understand your data and will help other researchers interpret your results.
At the end of your research project
Deposit, preserve and share your data using RaYDaR
Once you have completed your research, you will need to consider storing and managing your final research data set. The final dataset is the data that will be stored and made publicly available, supporting any research outputs, and is likely to be a subset of the research data. Once complete, the final dataset must be 'cleaned' to ensure it complies with YSJ's Data Protection Policy and then deposited in YSJU's Research Data Repository, RaYDaR.
There are many benefits of sharing research data. It allows you to:
Increase the impact of your research
Comply with funder requirements
Lead to further research project and collaboration
Ensure accountability and transparency of the research project.
For further information about RaYDaR see the Using RaYDaR page.
Any data which has fulfilled its purpose and does not need to be kept for long-term preservation needs to be disposed and destroyed in a safe and secure manner, as outlined in your DMP.
Resources
If you have any queries, email RaYDaR (raydar@yorksj.ac.uk).