From studio apartments to shared flats and houses, we've got your accommodation sorted.
York is a wonderful city to live in, and we understand that students are looking for a place that's right for them. Across our sites you can enjoy the balance of independence and privacy in your own space and also be part of a great community. All of our residential spaces are less than a 20 minute walk from the campus and are equipped with good WiFi access.
St John Central
If you love the buzz of the city then St John Central is for you. Located right in the heart of York and only five minutes' stroll from the historic street the Shambles, the apartments have large kitchens and great communal social spaces too. With the delights of York on your doorstep, St John Central is the perfect city centre option.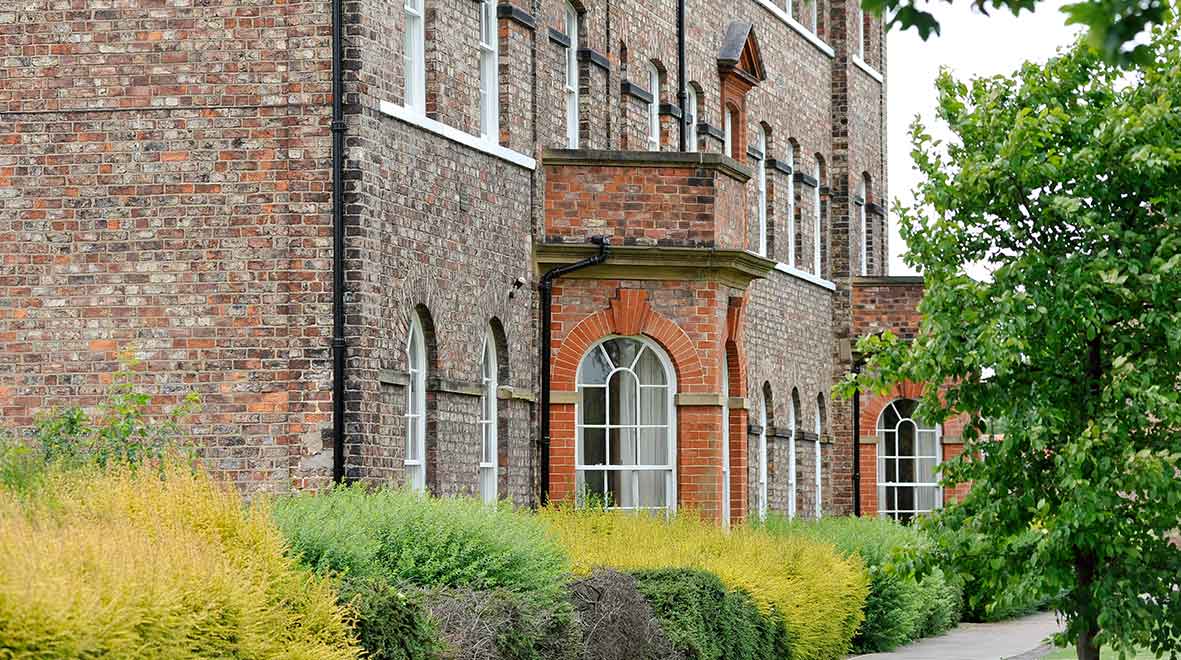 The Grange
The Grange is in the north of the city and provides a perfect base for the social animal. It's one of two student villages with shared houses and cluster flats built around communal green spaces which become very popular meeting places during the summer. Social butterflies love the Grange.
Percy's Lane
In the south of the city you'll find Percy's Lane, one of our largest accommodation sites with ensuite facilities throughout. A short walk to the city centre takes residents alongside some of York's best bars and international restaurants.
As soon as you've received an offer from us you can apply for your preferred accommodation. We guarantee a room for all first-year students who make York St John University their firm choice by the published deadline.
For more information on our accommodation options or to book a tour whilst you're here, visit www.yorksj.ac.uk/accommodation.
Cuisine to remember
York's culinary options are varied, extensive and memorable. You'll find Thai, Polish, Italian, Argentinian, Korean and Spanish dishes – to name but a few. As well as incredible eateries, York famously boasts of having more pubs than there are days of the year. And for your big shop, fear not, you're never too far from the budget or high-end supermarkets - York has it all.
Safe and sound
We're sure you'll love your student experience here in York and we will prioritise the safety and wellbeing of all our students. A recent study carried out by 'The Complete University Guide' found York to be the safest student town or city in England and Wales. You're in safe hands with us.
Best City in the UK
2018 saw the Times Newspaper award York with its coveted 'Best City' status, describing York as a "Mini metropolis with a rich history and grand ambitions to be one of the best-connected hubs in Europe, with cool cafes, destination restaurants and innovative companies."
Transport Links
York is truly connected to the north, south as well as the wonderful east coast. In less than two hours you can reach London by train, and within two and half hours you'll get to the great city of Edinburgh. With UK favourites like Leeds, Scarborough and Whitby less than an hour away, York is perfectly placed for exploration and adventure.
Staying at Home?
For students choosing to stay at home whilst at university, we are committed to ensuring you feel just as much a part of the community as anyone else. Whether you're staying at one of our residences or staying at home, you'll always be a full member of the York St John family.