Library
Search for journal articles
Journal articles which are available in full at York St John are all accessible via the Library Catalogue which gathers all our full text articles into one place for easy access. This guide shows how to search for journal articles via the Catalogue.
Searching for journal articles
Getting started
Start from the Library and Learning Services Homepage, go to the Library Catalogue and select the button to 'Search electronic content including journal articles'. Enter your initial search query to get the first results. From here, you can make your search more specific by selecting the advanced search option just below the search bar.
Advanced search
Using the advanced search function makes it easier to narrow down your search to get more relevant results. You can also create an account on Ebsco to save useful results and keep the details for referencing the items that you find.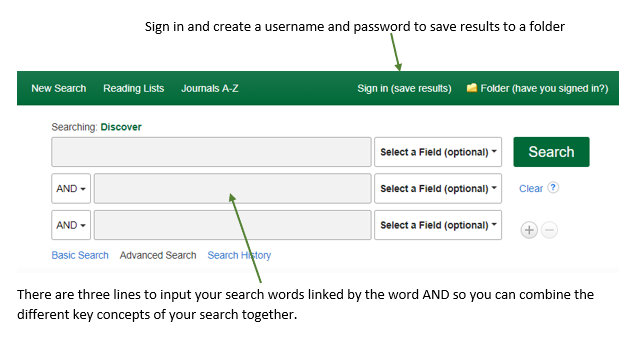 Let's consider a search topic: The impact of ICT on the performance of small business
Key concepts of the search would be: ICT, Performance, Small business
Think of alternative keywords for each concept of the search:
Alternative keywords for your search

| ICT | performance | "small business" |
| --- | --- | --- |
| "information technology" | productivity | SMEs |
| comput* | profit* | "small firms" |
The table shows how you can use techniques to improve your search such as adding an asterisk (*) after the main part of the word to find different word endings, so profit* finds profit/s, profitable, profitability. The quotation marks around two or more words searches for the words as a phrase such as "information technology". Phrase searching is very important in Discover to avoid returning a huge number of results.
The next step is combining your search together using link words as shown in the table below:
| Link words | Example | Effect |
| --- | --- | --- |
| Use AND to link different key concepts of your topic | gender AND leadership | Finds records containing both terms (narrows search) |
| Use OR to link terms with similar meanings (synonyms) | job OR occupation | Finds records containing either or any of the terms (widens search) |
So, in Discover your search for the topic: The impact of ICT on the performance of small business becomes:

Each line of the search contains all the alternatives for each search concept. The Plus sign adds a fourth line if you need to add another term. You can choose to search in the abstract index only, to narrow down your search results.
Limiting your search results: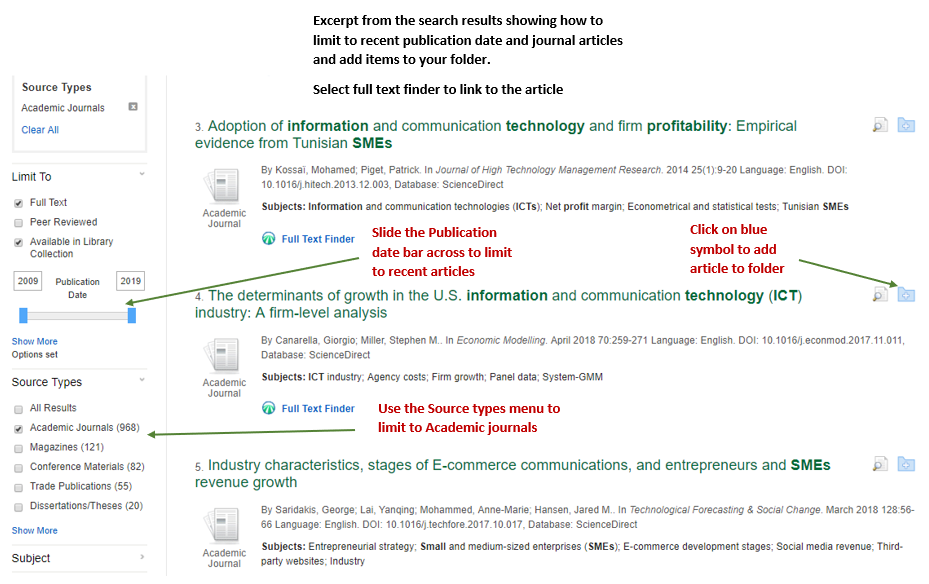 Let's look at one article in more detail: