Professional courses and CPD
These training sessions provide front line staff in council, community, health and social care and other professions with understanding of armed forces composition and highlight good practice and inequality.
Understanding the 'combat' experience of 'veterans' may be very difficult to comprehend for some.
However, understanding military culture, ethos, values, sense of belonging and transition to civilian life, can be successfully explored by following a timeline approach for a new recruit and recognising the intense emotional human journey undertaken when entering such a unique environment.
Our Military Human courses explore different aspects of the experience of veterans. Find out more about these courses below.
You can also find out more in our flyer and flowchart:
Our courses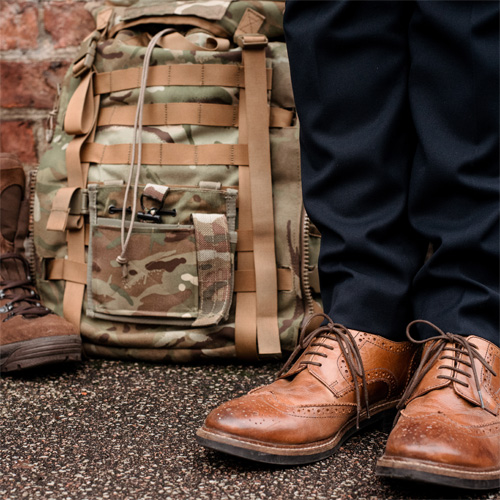 The Military Human: Military Culture and Transition
About The Military Human
About our courses
In our courses, we discuss the commitment required when deploying to a potentially life threatening situation, with those in a team who are perceived as 'family' and the definition of 'family'. This establishes a reference point for how moving from military to civilian life can, for some, create challenges. This is especially relevant when transitioning from a very robust and structured environment, to one of more flexibility, choice, includes the absence of 'orders' and personal identity reference points. Familiar military cultural and lifestyle anchor points are not visible, or different for the service leaver.
Recognised frameworks, theories and evidence based research such as Erikson's (1963) theory of psychosocial development, Adler's (1975) The Transitional Experience: An Alternative View of Culture Shock, Cooper et al (2016) Transition from Military to Civilian Life which cites Bourdieu's (1980) The Logic of Practice and publications by MoD, FIMT and KCMHR, provide an academic foundation. This allows us to explore military culture and compare it to non-military settings. It also provides a reference point for delegates to compare the similarities and differences between military and civilian life, and the effects psychological, physical and emotional transition may have on the service leaver and their families.
A Veteran is defined as 'anyone who has been paid for 1 day's service in HM Armed Forces'. To support attending staff and professionals that identify members of the ex-Armed forces community as part of their community roles (6.2 million of the UK population - Royal British Legion, 2014), our CPD provides an extensive toolkit of resources to take away, access and incorporate into practice and service delivery. Over 1200 staff have received the CPD training and initial report findings suggest an 85% increase in positive service delivery impact (York St John University, Impact Report – 2015) by having an 'understanding of military culture and transition'.
Course leader: Nick Wood
Our courses were developed by Nick Wood, Education and Development Lead (Military Culture and Interventions).
After serving in the Royal Navy (Fleet Air Arm) as an Aircraft Engineer and seeing active service in the Falklands in 1982, Nick transitioned into civilian life in 1986 and joined HM Prison Service. Whilst serving, he retrained as a group facilitator becoming a seconded member of the RAPt (Rehabilitation of Addicted Prisoners Trust) team, delivering the abstinence based, 6 month recovery programme for offenders. 2 years later he moved over into a generic substance misuse team supporting offenders to better manage their substance issues. Moving into offender management in 2009 as an offender supervisor, he helped offenders address their offending behaviour by identifying areas of need to access rehabilitation services, and prepare them for resettlement after serving their custodial sentences.
During this time Nick created and developed the Veterans In Custody Support model to identify and support offenders who were former members of the Armed Forces. The VICS model was adopted as best practice by the MOD and MOJ. Shortly afterwards he was seconded to the NOMS HQ (National Offender Management Services) becoming the VICS national coordinator for 125 HM Prisons in England and Wales. In his role he supported and trained staff to develop their own veteran's resettlement support services across the custodial estate. In 2010 Nick was honoured to be presented with the HRH Princess Royal Butler Trust Award for his veterans support work.
He joined York St John University in 2012 following a request from Health Education Yorkshire and Humber to the University, to deliver a Veterans Awareness CPD study day to Health and Social Care staff across the Yorkshire and Humber region. To date, he has delivered the CPD to over 1200 staff across England and Wales who have proactively responded to the MOD Armed Forces Covenant and NHS Constitution expectations around supporting the nearly 6.2 million strong ex-Armed Forces community.
Impact reports
Our impact
Find out more about the impact of The Military Human courses in the drop-down menu.
Reports
Military Human CPD Impact Report – North East Lincolnshire (PDF, 9.6 MB)
In 2017, a partnership between Sheffield City Council, Rotherham, Doncaster and Barnsley Metropolitan Borough Council's, Sheffield Hallam University and York St John University bid successfully for a Covenant Fund grant.
The South Yorkshire Armed Forces Covenant project was designed to:
Raise the awareness of Covenant initiatives and dedicated services availability.
Produce local authority Covenant Action Plans and a regional Action Plan.
Enhance ownership of the process and improve connections across the region.
Commission military awareness training for front-line staff in South Yorkshire.
Produce the South Yorkshire model for strengthening the regional delivery of Covenant pledges, ensuring a lasting and replicable project legacy.
Raising the regional awareness of dedicated services available
Training attendance resulted in a significant increase in the awareness of dedicated support services, rising from 43% to 89%.
Informing the work of regional front-line staff through military awareness training
Staff reporting feeling extremely to relatively well equipped to work with this community nearly doubled from 48% to 95% after attending training.
The 56% of staff feeling confident about working with members of the Armed Forces community increased to 96% on attending the training.
72% of staff reported having cascaded their learning from the training via a full staff briefing, meeting, training day or memo, thereby increasing the numbers of front line agency staff with an awareness of Armed Forces community related issues.
Key learning impacting on future practice
Staff who had attended the training were asked to identify the most useful or key piece of learning from attending the Military Human training. 50% identified the learning around transitionally-link issues and challenges for the community that would inform their future practice as the being the most useful. 27% acknowledged the identification of dedicated support services availability as having the most impact on their future practice. 17% reported that the significance of ensuring protocols is in place to identify members of the Armed Forces community as the key learning they gained.
The South Yorkshire Armed Forces Covenant Project is led by Sheffield Council in partnership with Rotherham, Doncaster and Barnsley Local Authorities, and in collaboration with Sheffield Hallam and York St John Universities. The York St John University element is to deliver 96 MoD Armed Forces Covenant funded CPD study days across the 4 local authority regions over a 2 year period. Around 1052 staff from a wide range of statutory and community support services from across South Yorkshire have access to the Military Human: Understanding Military Culture and Transition CPD study day. To date around 500 staff have attended the CPD study day since its launch in June 2017.
The report evidences the positive impact that attendance of the CPD study day has on service delivery to members of the Armed Forces Community, and importantly highlights issues around Social Isolation identified and reported by service providers when engaging with the Armed Forces Community.
Military Human CPD Impact Report - South Yorkshire Project (PDF, 2.7MB)
The purpose of this report is to assess the level of service delivery impact from October 2015 to June 2016 following attendance of the previously titled Veterans (Military Culture) Awareness CPD study day provided by York St John University. The CPD has now evolved and become the concept known as 'The Military Human: Understanding Military Culture and Transition'.
Military Human CPD Impact Report 2015-16 (PDF, 2.3MB)
If you have any queries about these impact reports, please contact:
Nick Wood

Education and Development Lead (Military Culture & Interventions)
News