We offer advice and assistance to people and small businesses who cannot afford to pay.
The support we offer
We may be able to help you with:
Civil disputes
Landlord and tenant disputes
Consumer rights issues
Creating lasting powers of attorney
Issues around disputed wills following a bereavement
Legal aspects of setting up or growing your own business
Advice for prisoners
Advice for victims of hate crime
Support for EU nationals seeking to apply for 'settled status'
Support for victims of alleged miscarriages of justice who are seeking to appeal their convictions
We cannot represent you at court or undertake any work which involves handling money on your behalf.
We cannot act for you in litigation but we may be able to help with form-filling and drafting documentation where you are representing yourself.
Family Court Community Legal Companion Scheme (CLOCK)
We may be able to help if you are going through divorce, separation or child arrangement proceedings and have no legal representation. We can help you where there are allegations of domestic abuse.
Our students are trained as Community Legal Companions and can help you with:
Completing court forms and statements
Accompanying you to court hearings, helping you arrange your paperwork and taking notes
Signposting you to other services who can help you, including solicitors if you are eligible for legal aid or can afford a small fixed fee
Our students cannot speak for you in court hearings.
How to access support
For help with divorce, separation or child arrangement proceedings under the CLOCK Family Court Community Legal Companion Scheme please email CLOCK@yorksj.ac.uk.
For all other enquiries please email lawclinic@yorksj.ac.uk.
Our services are provided by students under the supervision of experienced staff.
Working with the CLOCK network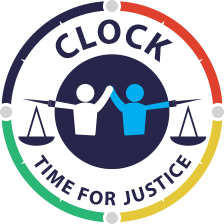 Our Community Legal Companion Scheme is delivered in partnership with York Law School at the University of York.
We are part of the CLOCK (Community Legal Outreach Collaboration Keele) network of similar schemes delivered across the country.
Get in touch
York St John Law Clinic
York St John University, Lord Mayor's Walk, York YO31 7EX.

By appointment only.
Get directions