Social and Solidarity Economy
International Bi-lingual Conference 2015
The Universities Developing Social Entrepreneurship through Cross-Sector Collaboration Conference took place from 1 September to 3 September 2015.
How can higher education foster interactions between the current economic systems (public, private and social) to promote social entrepreneurship cultures for sustainable development in our communities?
Conference participants came from 21 countries across 5 continents. We were delighted to be partners in the British Council Canada's Students for Social Impact programme.
You can explore the conference content using the links below, or read the full conference report, in English and Spanish: Conference final report (PDF 3MB) (Informe de la conferencia)
Jump to a section:
Plenary speakers
Biographies and PowerPoint presentations from the conference's keynote speakers.
Higher education and entrepreneurship
Juliet Edwards is a policy officer in the European Commission's Directorate General for Education and Culture, specifically in the department dealing with innovation in higher education and entrepreneurship. For the last couple of years, her work has focused on developing entrepreneurship in higher education institutions and improving university-business cooperation as part of the EU's innovation and growth objectives for 2020. In 2011-2012, she was closely involved in the development and implementation of DG EAC's pilot Knowledge Alliances project supporting structured partnerships for innovation in education and industry and now part of the Erasmus+ programme.
Juliet was instrumental in the creation of the highly successful guiding framework for entrepreneurial HEIs; HEInnovate; developed in cooperation with the OECD. Her main focus currently, is the continued development of the tool, to make it as relevant and strategically valuable as possible for European HEIs in line with the policies that will help drive innovation and growth in Europe and encourage a more entrepreneurial spirit and skill set in European graduates and the higher education sector as a whole. Before joining the European Commission, Juliet spent several years working in the private sector in London.
How do we maximise the social utility and environmental impact of universities? - Tim Curtis (PPT 0.7MB)
Tim Curtis, an internationally renowned author on social innovation & entrepreneurship, helps people and organisations make decisions in complex and confusing situations. He is also adept at getting decisions made when he is not in charge. He has worked in environmental decision-making, in policy and law. Now, working at the University of Northampton, his focus is on the nitty-gritty theory and practice of community organising and social innovation. He mostly teaches BA Social & Community Development students how to make decisions in and with communities, but also coaches and undertakes paid and pro-bono consulting work for third-sector organisations.
Tim is also Changemaker Campus manager at the University of Northampton, leading on a high profile co-curriculum challenge, a summer school and international conference on social innovation. He is also running an action research project on community based social innovation with Northants Police.
Fuelling social innovation and entrepreneurship in higher education - Chad Lubelsky (PPT 2.5 MB)
Chad Lubelsky is the program lead for RECODE at the J.W. McConnell Family Foundation. RECODE provides social innovation and entrepreneurship opportunities for College and University students to become drivers of progress and change. Prior to joining the Foundation, Chad was the Executive Director of Santropol Roulant; developed leadership and community engagement programs for the Canada Millennium Scholarship Foundation; managed global Internet Rights advocacy for the South African based Association for Progressive Communications; and was a Founding Trustee of the Montreal Awesome Foundation.
Outline of the Erasmus Mundus project and some findings - Social/solidarity economy partners' presentation (3.3MB)
Enhancing the studies and practice of the social and solidarity economy in higher education
Consolidando Estudios y Práctica de Economía Social y Solidaria en la Educación Superior
(Presentation was given in mixture of English and Spanish to reflect the diversity of the project partners).
(Inter) Cooperation: a strategy to survive and grow - Siaoa Arando PowerPoint (1.7MB)
Research Coordinator at Mondragon University/Mondragon Innovation Knowledge (part of the largest cooperative group in the world). PhD from the University of Deusto. Researcher in the field of social economy, entrepreneurship and worker participation. Her work has been published in The International Entrepreneurship Journal and Ekonomiaz. In 2006 she won the Horvat-Vanek Prize for the best young researcher, awarded by the International Association for the Economics of Participation. She also has experience in working in the economic control department of Fagor Electronica.
Experiencing the power of cross-sector - Hiroshi Ishida presentation (PDF 1.9MB)
Hiroshi Ishida is the Executive Director of the Caux Round Table Japan (CRT Japan), the Visiting Professor at Kyushu University Business School and the Fellow at Center for Inclusive Business and CSR Tokyo International University. He taught at the Institute of Business and Accounting, Kwansei Gakuin University between 2005 and March 2014, where he was promoted to Professor on April 2013. He also taught at Aoyama Gakuin University, International Christian University, Soft Bank Investment University, and BBT University. Ishida is the co-author of "CSR Innovation: Creating CSR framework maximizing core-business" in Japanese, and author of numerous academic, newspaper articles and commentaries. Ishida is now working hard to develop the Social Economy framework in CRT Japan, which is called "Nippon CSR Consortium" which began in 2012. This year 38 corporations and 13 NGOs are joining. The aim of this consortium is to explore the possibility of solving the sustainability issues into business practice. He is also advising many Japanese and European companies as CSR Advisory Boards.
Preceding the CRT Japan, he worked at the Industrial Bank of Japan (IBJ) for 10 years (1990 – 2000). Ishida began his career at the Bond Dealing Section and worked there for 4 years. He moved onto work at Takamatsu Branch for the following 3 years. In 1997, he was appointed and worked as a member of the Mizuho Integration Project Team at Information Technology Planning Department, Y2K and System Risk Management. After resigning from IBJ in 2000, Ishida volunteered for CRT Japan bringing a wealth of experience. In 2001, Ishida was appointed as the Coordinator of CRT-Japan. Since 2004, he has been working as the Executive Director of CRT Japan.
El caso de 'TECSOL-UFPEL' - Incubación de emprendimientos solidarios y tecnologías sociales en el sur de Brasil - Antonio Cruz presentation (PDF 0.5MB)
Revealing the social and solidarity economy - Rory Ridley-Duff PowerPoint (0.3MB)
Dr Rory Ridley-Duff is Reader in Co-operative and Social Enterprise at Sheffield Business School, a director of Social Enterprise Europe Ltd, and is a co-founder of the FairShares Association. He is an editorial board member of the Social Enterprise Journal, co-opted board member of the UK Society for Co-operative Studies and individual member of the EMES Research Network. His book, Understanding Social Enterprise: Theory and Practice (co-authored with Mike Bull for Sage Publications) is used by co-operative and social enterprise educators on four continents.
Parallel presentations
Parallel presentations which took place in multiple languages across the conference.
Muna Ismail: How social enterprise could foster sustainable livelihood in post conflict Somalia
David Meir: Leadership and empowerment through sport in Cape Town
Laura Kumpuniemi: Solidarity economy and women's empowerment: case studies from Latin America
Verónica Gómez: El balance del bien común
José Rivera de la Rosa: Redefiniendo la responsabilidad social de la Universidad en el marco de la economía solidaria
Melba Quijano Triana: Acción y reflexión: Una propuesta sobre el rol que la comunicación puede desempeñar en las organizaciones de economía solidaria
Sarah Keith: Start-up Canada. What is the impact of building start-up communities and how can we best support entrepreneurs?
Morgan Zhuo: NOW Group, Belfast, Northern Ireland - How can we encourage people to buy-into buying social? The power of cupcakes, contracts, and community gardens
Carter Vance: Emmaus, London, England - An investigation of promise and challenges in designing a training programme to address youth unemployment within a context of social enterprise collaboration
Anna Martyres, Ashley Dujlovic, Carter Vance, Deng Pan, Laurence Bertrand and Sarah Keith: The students shared research topics, explored research themes that arose and examined their main challenges.
Chris Burnett, Ilda Krekurti, Montana Kimmel, Morgan Zhuo, Ran Sommer and Tyler Bannerman: The students examined what they completed, what they learnt, what worked (or didn't work).
We aim to feature further work by the British Council SSIM participants on the social and solidarity economy in higher education project blog.
Verónica Gómez: Gobernanza, el estado, el mercado y la ciudadanía
Carlos Aristizábal: El papel de las universidades en la colaboración con cooperativas, empresas sociales y acceso a mercados Caso Risaralda
Esteban Cabrera: Condiciones para la implementación de grupos solidarios de emprendedores de la economía social para la gestión de microcréditos en el contexto de la CONAMI (Comisión Nacional de Microcrédito en Argentina)
Ashraf Hamad: Fairtrade sourcing programmes - threats or opportunities?
John Carlisle: Being economical: a new discourse on business systems and values to promote sustainable social enterprise
Rory Ridley-Duff: Fairshares model
Pablo Guerra: The university's extension experience in the "Feria Canaria de Economia Solidaria" (Canelones, Uruguay)
Juan Silvio Cabrera: Desarollo comunitario e innovación social a través de los proyectos socioculturales: evaluación de su impacto en Cuba
Ana Fernandez: Jóvenes en dificultad social y su integración en la sociedad
Ma. Esther Pozo: Miradas de Género: El estado, la economía social y solidaria y su institucionalización en Bolivia (extracto)
Natalia Lindel: Las mujeresy su participación ocupacional en la cooperativa Unión Solidaria de Trabajadores de Avellaneda
Natalia Lindel: Interculturalidad y ocupación humana
Colombia Pérez: INDESCO. Instituto de Economía Social y Cooperativismo
Andrea Schuman: Rural lives and livelihoods: the role of the social and solidarity economy
Sheila Quairney/ Francesca Rolle: Connecting communities: demonstrating the impact of cross-sector collaboration through an innovative social action project.
Video used in Connecting Communities presentation
Peter Glaves: The Skill Mill: can multi-agency environmentally based approaches reduce risk and vulnerability amongst young ex-offenders? Video
Round table discussions
Each round table was led by project partners or collaborators in the Social and Solidarity Economy in Higher Education project. Discussion topics were related to the chapters of the handbook.
Round table 1
Universities, social entrepreneurship, principles, values and social capital (Handbook chapters 1 and 6) - Roundtable 1 - Embedding values and principles PowerPoint (0.1MB)
Mesa redonda 2
Universidades, economía social y solidaria, modus operandi y politíticas públicas (Capítulos 2 y 3 del manual) - Mesa Redonda 2 PG/AMV Powerpoint (96.8kB)
Mesa redonda: Universidades, ESS modus operandi y políticas publicas - contribución Lic. Maria Estela Lauritto (Coordinadora del Programa de Cooperativismo y Economía Social en la Universidad - Maria Elena Lauritto - presentación (PDF 0.3MB)
Round table 3
Social responsibility and transformation (Handbook chapter 7) - Roundtable 3 - Social responsibility and transformation Powerpoint (95kB)
Material was kindly provided by Hiroshi Ishida to inform this round table (Collaboration for human rights due diligence) - Caux Round Table Due Diligence (PDF 0.5MB)
Round table 4
Universities, social entrepreneurship, ecosystems and competences (Handbook chapters 4 and 8) - Roundtable 4 - professional competences and ecosystems PowerPoint (100.3kB)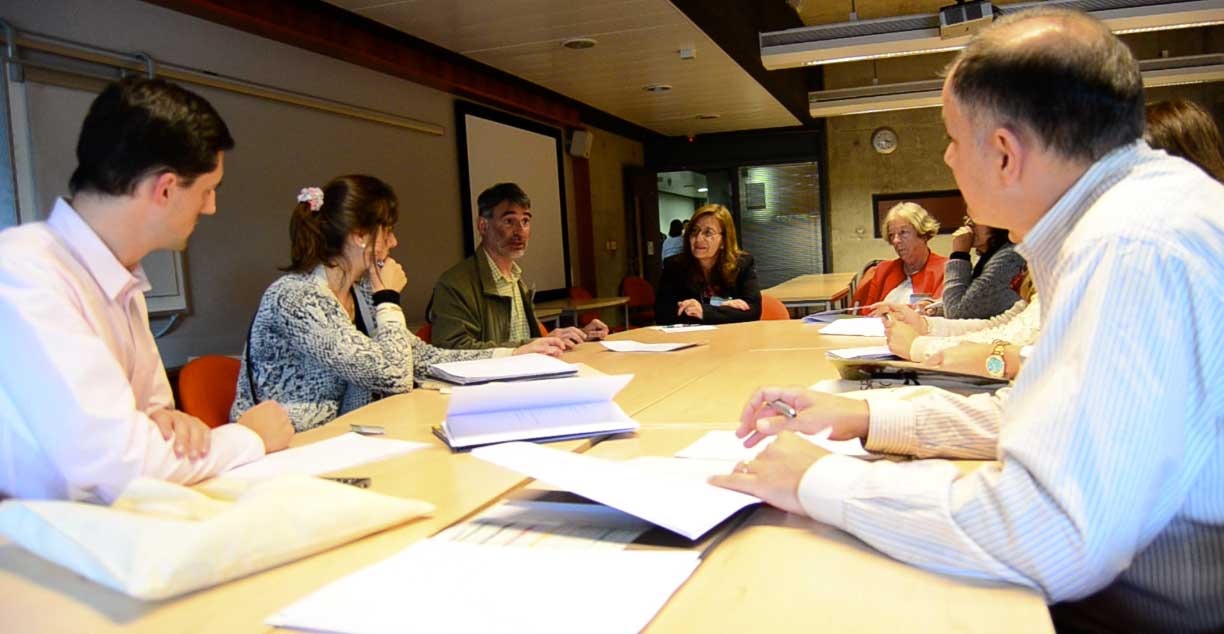 Social Economy Fair
We are proud to have collaborated with the following organisations who were present at the Social Economy Fair at York St John University in 2015.
Buffet provided by Confianza, West Yorkshire - a group of local residents who wanted to help accessing work related training for people with specific needs and abilities that are looking to progress into employment or further education. Their experience lies in mental health and young people aged 15 to 24.
Unity Trust Bank - 'The bank for social impact', that aims to create community, social or environmental benefit in a financially sustainable way.
Social enterprise Yorkshire and the Humber (SEYH) - represents, promotes and connects social enterprise in the region. SEYH Ltd is a not for private profit company limited by guarantee.
The Key Fund, Sheffield - the UK's biggest regionally based social investor, operating across the northern half of England.
Blueberry Academy, York - The Blueberry Academy team provide specialist support for adults with learning difficulties, developing highly innovative curriculum and services.
Miller's Yard, York - The 'Centre for Positive Living' offers meeting rooms to hire, a studio/hall ideal for exercise classes and courses, a variety of therapies, workshops and events for adults and children in York.
Paperworks, Harrogate - a social enterprise offering employment training services, print finishing, direct mailing and fulfilment services.
Skills4Holme, Holme-on-Spalding-Moor - an organisation set up to provide skills training which will help young people obtain employment and do it in a way in which they will enjoy themselves. The focus of the training is carpentry, horticultural, and other practical activities.
See Ahead, West Yorkshire - is made up of a team of experienced people passionate about providing specialist business support to individuals and organisations that want to improve their Social, Economic and Environmental objectives.
The Healing Clinic, York - have provided a wide range of complementary therapies at reasonable rates since 1992. We will always strive to do the best for our clients/patients, with professional and confidential service.
York Disabled Workers' Cooperative - a small disabled workers' cooperative that specialises in bringing new and traditional woodworking to life.
York Timebank - Mission: to get everyone involved in their community and be rewarded for it - in time credits. The smallest act can be of immeasurable significance to the person who receives it. The ability to make a difference, small or large, will be treasured by all.
Globe Arts Education, Huddersfield - has the aim of building confidence and inspiring creativity within young people, their families and the wider community, through the delivery of high quality visual art courses and events.
A1 Community Works, Colburn, North Yorkshire - works to actively support people throughout the area, giving them the ability to take an active role in controlling their own futures. It has a 60% success rate in helping people find jobs within 6 months of engagement.
Yorkshire More - Locally produced jams and chutneys. Everything made by hand. Committed to improving the lives of people with mental health problems.
Participating universities and organisations demonstrating good practices in cross-sector collaboration in the social and solidarity economy
SoJo, Toronto, Canada (represented by Montana Kimmel, British Council Students for Social Impact)
Emmaus, London, UK (represented by Carter Vance, British Council Students for Social Impact)
Ministerio de Educación, Programa de Cooperativismo y Economía Social en la Universidad, Argentina
Universidad de Quilmes, Argentina
Universidad Entre Ríos, Argentina
Universidad de Pelotas, Brazil
British Council – Social Enterprises from Canada
Universidad Cooperativa de Colombia
Universidad Pontificia Bolivariana, Colombia
Universidad Pinar del Río, Cuba
Crearte, Cuba and Western Kentucky University, USA
Benemérita Universidad Autónoma de Puebla, México
Social Enterprise Bright Media – Financial Literacy, South Africa
Connecting communities, Sheffield Hallam University, UK
Ed-venture Frome, UK
Trust and Integrity in the Global Economy, TIGE – Initiatives of Change, UK
Poster exhibition
Posters were exhibited by:
Ingrid Bruynse: Managing my finances: A multimedia intervention developed collaboratively to support improved financial capability
Melba Quijano Triana: Comunicación y economía solidaria: caminos communes para el cambio social
Emily Cairns: All children can learn maths: the JUMP Math experience
Laurence Bertrand: Measuring the social impact of a Digital Platform for the Sharing Economy
Summary of the day and outcomes
The summary of the day was presented each day by Laura Kreiling, Erasmus Mundus Students and the Alumni Association.
You can view the short term, medium term, and long term outcomes of the conference in the table below.
Conference outcomes
Research fields agreed for Social and Solidarity Economy Research Platform among 11 universities worldwide: Argentina, Brazil, Bolivia, Colombia, Cuba, Mexico, Peru, South Africa, Spain, United Kingdom, Zambia.
Social and solidarity economy and local development practices.
Social and solidarity economy education impact.
Social and solidarity economy regulating ethical relationships.
Open resources and practices of communication in social and solidarity economy.
Integrate HEInnovate tool, introduced by Juliet Edwards, European Commission Public Policy Officer, to the Social and Solidarity Economy Handbook: Chapter 8, Universities and ecosystems.
Implement the action plan agreed for the social and solidarity economy research platform 2015 to 2020 platform.
European and Latin American universities have asked to be part of the 2nd edition of the handbook for 2016-2017, adding chapters that are related to their expertise.
Other outcomes and impact based on the aims the conference are evidenced in the following statements for:
(i) exchanging research, studies and examples of best practice in the field;
(ii) sharing the findings of the social and solidarity economy handbook;
(iii) opportunities to learn about innovative contexts and the capabilities necessary to develop and foster effective collaborations (taken directly from delegate evaluations).
I am more knowledgeable about social enterprise and the role that post secondary institutions play.
Building new partnerships and influencing another continent with my work.
It has given me a wider understanding of social enterprise and what is possible when you think differently.
I have already thought about how I can influence the use and support of social enterprises in my work.
I made important contacts and learned new things that will help me think about my next step in working life or a possible research career.
It was a solid benchmark of what I am already doing and opens up to possible new projects.
It has opened my eyes to a new emerging movement - the solidarity economy movement.
It has made me reconsider the way the values of the social and solidarity economy can pervade everyday life, not necessarily through direct enterprise, so these values will continue to inform my actions all the more.
My work will integrate - i will be exploring links for students from [country] to Europe and from Canada and UK to [country]. - I want to contribute the links to African philosophies of communitarianism / Ubuntu to social economies.
I'm currently about to work with ..... to find ways to disseminate the knowledge and contacts I've gained from this conference amongst my fellow students.
I have more resources/ insight to teach on solidarity economics, in my Social Entrepreneurship and Enterprise Modules; the connections with our workshop participants have already led to some beginning collaborations.
The conference has shed light on the notion of social entrepreneurship as well as helping me familiarise with the concept of a social and solidarity economy. The resourcefulness and the numerous possible alternatives to our current global economy has motivated me to carry out further research into the field.
Participar en la conferencia me ha hecho más consciente desde mis hábitos de consumo hasta la manera en que mi trabajo puede generar efectos transformadores aunque sea en pequeña escala.
Ha cambiado muchas cosas en mi manera de visualizar la economía social solidaria y el trabajo de las universidades.
En un alto grado! En la conferencia, pude tomar conciencia de nuestra realidad económica dominada por un sistema capitalista neoliberal. También me di cuenta de que todo ello se puede cambiar mediante pequeños y poderosos pasos, tales como el consumo de productos locales!!
La primer influencia ha sido re-descubrir la riqueza de propuestas y desafíos que nos propone la ESyS, que en la cotidianeidad del trabajo olvidamos.
Evaluación participante / Participants' evaluations
"La energía. Más allá de la diversidad, de las convergencias y divergencias, se podía casi que oler una buena y positiva energía, que estaba en el aire, con tanta gente tan dispuesta a mejorar el mundo."
"There was a sense of parity, everyone engaging with one another as peers."