This guidance will walk you through how to access electronic journals off campus.
The A-Z journals list
You can use the library's A-Z list of journals (link from our Library & Learning Services homepage) to search for journals by title. This allows you to check which journals are accessible and the years that you can access. To find articles in online journals go to the library catalogue search box and select journal article search.
Let's use the British Journal of Management as an example.
Access the A-Z list of journals, and (if prompted) log in with your usual University username and password. You will then be presented with the record for the electronic journal, with a link (or links) to the provider. Click on the provider link and you will be taken to the journal's home page. From here you can navigate to the year, volume and issue you need.
So for the British Journal of Management, we have access via Business Source Premier from 1990 onwards except for the most recent year and via Wiley from 1997 onwards.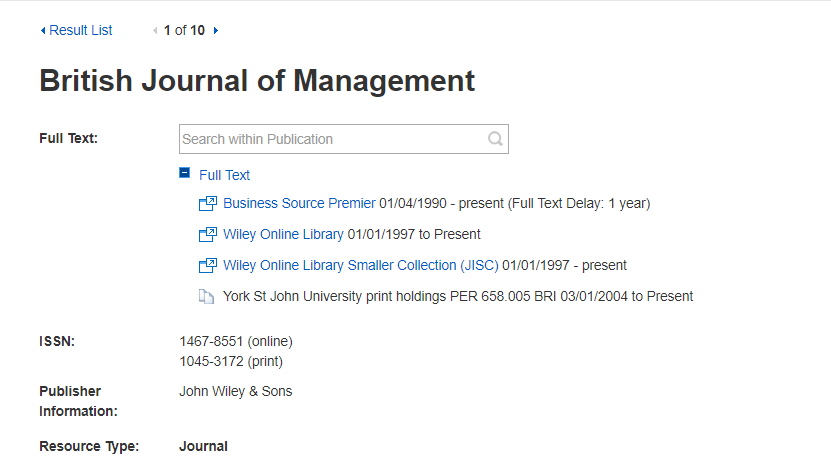 Troubleshooting
It is important to remember that you will only be able to access journals for which we have an electronic subscription. If you are unable to access the text of an article you require, please check the holdings on A-Z journals.
If there is more than one supplier listed via A-Z journals list, and you have trouble accessing the article you want from the first supplier you try, please try the other suppliers.
If we don't have a current subscription or have access to the article you need, we can obtain it through our InterLibrary Loan service. This library resource is available to YSJ students and staff free of charge. As an off-campus student you will likely prefer a PDF so please make sure you register for Secure electronic delivery before making your first request.
If you go to a journal website direct (eg: Wiley, Taylor & Francis etc) without going through Discover or A-Z Journals, you may find that you are not logged in to the resource. Make sure that you use Discover, A-Z journals or one of our many Databases.
Your University username and password. You need to change this once a year and as an off-campus student you won't be prompted to do this. If you find that you are suddenly no longer able to access our resources after a period of successfully doing so, this might be the reason. To change your password please visit change my password.