Research
Disease Detection
and Prevention
(DDaP)
This research group is based in the
School of Science, Technology
and Health (STH) at York St John University.
The DDaP group undertakes targeted and applied biomedical science research, focusing on diverse ways to improve human health. It is led by Dr Adam Odell and underpins the Biosciences subject specialism.
The research group has a broad interest in understanding the biological basis of disease and how healthy tissue can become 'corrupted' by mutations, drugs, environmental factors, toxins, and microbes. DDaP members are also involved in developing new ways to assess organism health, diagnose disease, predict outcomes, and monitor treatment success.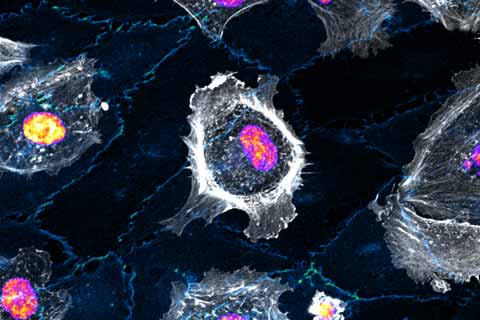 Previous research by group members has examined how specialised cells that line blood vessels (endothelial cells) are involved in cancer and cardiovascular disease, how breast cancer cells migrate and metastasise to the brain, if liquid biopsies can detect early signs of bladder cancer, whether biomarkers can predict responses to stress, how viruses infect the gut, and the impact toxins and genomic stress (such as smoking) has on male fertility.
Figure 1 The image shows breast cancer cells interacting with endothelial cells prior to undergoing metastasis. It highlights the dramatic changes in the cytoskeleton needed before cancers can invade and migrate around the body.
Get in touch
To get in touch, contact Dr Adam Odell: a.odell@yorksj.ac.uk
Our current research projects include:
Microbiome diversity within the built environment and implications for human health
Investigation of salivary biomarkers to predict psychological responses to stress in perfectionism and burnout studies
Overcoming therapeutic resistance in acute promyelocytic leukaemia using a novel small molecule inhibitor
Targeting CD99 to modify cancer metastasis in Ewing's sarcoma and breast cancer
Exploring the relationship between the tumour suppressor protein, p53, and endothelial cell function
Preventing genotoxic damage and improving vascular health in ageing individuals with a simple antioxidant supplement
Targeting catalase and cytochrome P450 to enhance chemotherapy responses in bladder, cervical, pancreatic, and ovarian cancer
Exploiting exosomes and antioxidants as a nano-liposomal therapy approach to treat solid tumours
Characterisation of genome integrity in COVID-19 patients during the recovery phase – is there a link to 'long-Covid'?
Research is supported by the recent expansion of the Biosciences specialist space to include purpose-built research-only laboratory spaces, all fitted with state-of-the-art equipment.
DDaP research activity is conducted through three strands (see Figure 2 below), all concerned with understanding the overall impact of external stressors on human health:
Biomarkers in Health and Disease (BiHaD; lead Dr Owen Kavanagh), centred on measuring changes in critical molecules found within biological samples;
Cancer and Genotoxicity (CaG; lead Dr Adi Baumgartner), concerned with understanding how local and environmental stresses impact genomic health; and
Microbiomes in Action (MiA; lead Dr Claire Wright), the newest research area focused on monitoring various environments for evidence of microbial colonisation, antibiotic resistance, and virulence factors.
Figure 2 Current research structure and expertise of the DDaP group
The group has published in leading international journals such as Journal of Cell Science, Toxicology Letters, Molecular Biology of the Cell and Science Signaling, with members also engaged on editorial and review boards for several journals and granting bodies.
Research findings have also been disseminated at local, national, and international conferences including European Society for Biochemistry (FEBS), Biochemical Society, and National Cancer Research Institute (NCRI).
DDaP is also working closely with local organisations, such as the i2i Football Academy, charities (Different Strokes), and companies (FERA and Covance) to improve research impact. By liaising with clinicians and scientists within York and Scarborough Teaching Hospitals NHS Foundation Trust, DDaP are conducting translatable research with the potential to transform the patient journey.
In addition, research findings have received substantial media coverage (for example, The Guardian, Greatest Hits radio), with extensive national and international collaborators involved to ensure high quality research is successfully undertaken.
Group members
Cancer, Diabetes, Dementia, and Cardiovascular Disease
Biomarkers, Immunology, Virology
Genotoxicity, Cancer, Reproductive Health
Male Reproductive Health, Genotoxicity, Biomarkers
Microbiology, Microbial Colonisation, Antibiotic Resistance
Cancer, Haematology, Point-of-Care Testing, Pharmacology
Professor Roger M Phillips
University of Huddersfield
Pathology Services at Hull York Teaching Hospitals NHS Trust
BSMS Manager, Barnsley Hospital NHS Trust
Specialist Biomedical Scientist, Histology, Harrogate District Hospital
Toxicologist, Technical Director, ERM, Harrogate
Helmholtz Institute of Radiation Medicine, Oberschleissheim, Germany