Theatre Pages is a magazine produced by staff and students on the drama, theatre and dance programmes at York St John University.
Launched in 2011 and produced up to three times a year the magazine includes themed (a lexicon, performance objects, alumni stories) and general issues. Theatre Pages provides students with the opportunity to gain experience in arts journalism, as writers, editors, photographers and designers. It profiles the work of students and staff to potential students, to colleagues in different programmes, to potential partners in the creative industries and to other HE institutions.
It represents a physical calling card for what is an intangible artistic form, representing the vibrant, stimulating and diverse range of projects and ideas emerging from drama, theatre, and dance at York St John University.
Current Issue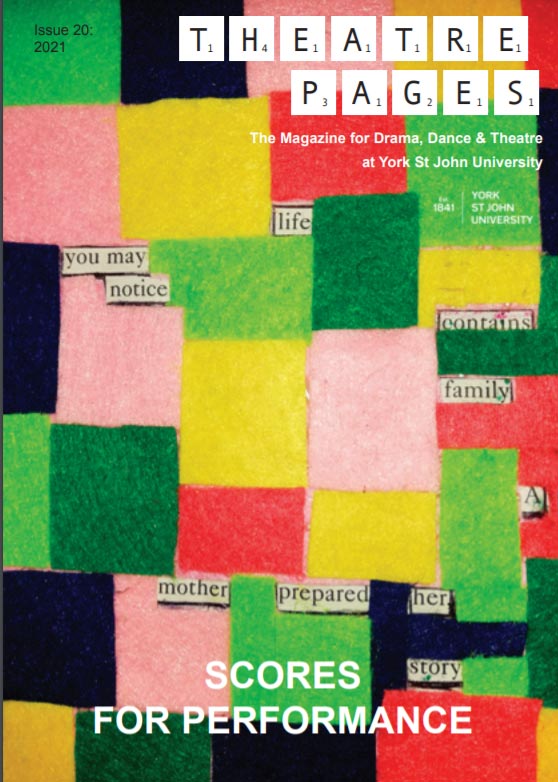 Theatre Pages #20 - Scores for Performance 2021 (PDF 4.8MB)
Archive
Theatre Pages #19 - Graduate Careers 2020 (PDF 6.3MB)
Theatre Pages #18 - Theatre and Environmental Justice 2020 (PDF 14.4MB)
Theatre Pages #17 - Public Engagement Special Issue 2019 (PDF, 21.9MB)
Theatre Pages #16 - What They Did Next 2018 (PDF, 2.83MB)
Theatre Pages #15 - Special Edition (PDF, 7.12MB)
Theatre Pages #14 - Showcase Edition 2017 (PDF 7.1MB)
Theatre Pages #13 - Politically Engaged Practice Edition Winter 2017 (PDF 1.6MB)
Theatre Pages #12 - Create Festival Edition Spring 2016 (PDF, 8.4MB)
Theatre Pages #11 - Alumni Edition Autumn 2015 (PDF, 2.5MB)
Theatre Pages #10 - Create Festival Edition Spring 2015 (PDF, 7.3MB)
Theatre Pages #9 - Objects in Performance Edition Autumn 2014 (PDF, 4.7MB)
Theatre Pages #8 - Create Festival Edition Spring 2014 (PDF, 5.7MB)
Theatre Pages #7 - Lexicon Edition Winter 2014 (PDF, 5.6MB)