We take our fire safety responsibilities very seriously and aim to exceed the nationally recognised standards wherever possible.
Fire safety at York St John University is managed by the Estates Directorate. The primary duty holder is our Director of Estates and the deputy duty holder is our Estates Engineer, supported by Technical Officers and the Maintenance Services Team.
Our fire safety responsibilities include:
Coordinating Fire Risk Assessment of all university buildings and processes
Assessment of third-party Fire Risk Assessments
Evacuation drills
Responding to dire activations
Liaison with the Regulatory Body (North Yorkshire Fire and Rescue)
Regular Fire Safety Inspections
Regular testing and servicing of detection and alarm systems
Reporting through the University's committee structure.
General queries should be directed to firesafety@yorksj.ac.uk or estates.admin@yorksj.ac.uk.
Fire alarm activations
In the event of a fire alarm activation (a continuous, high pitched, loud alarm) all building occupants should exit the building via the stairs and proceed to the Fire Assembly Point, which is marked with the following sign: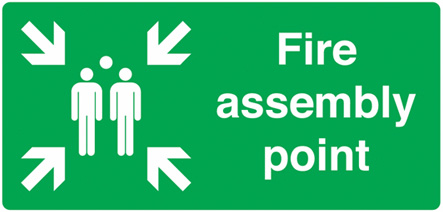 On the Lord Mayor's Walk campus, the fire assembly point is indicated on the map below: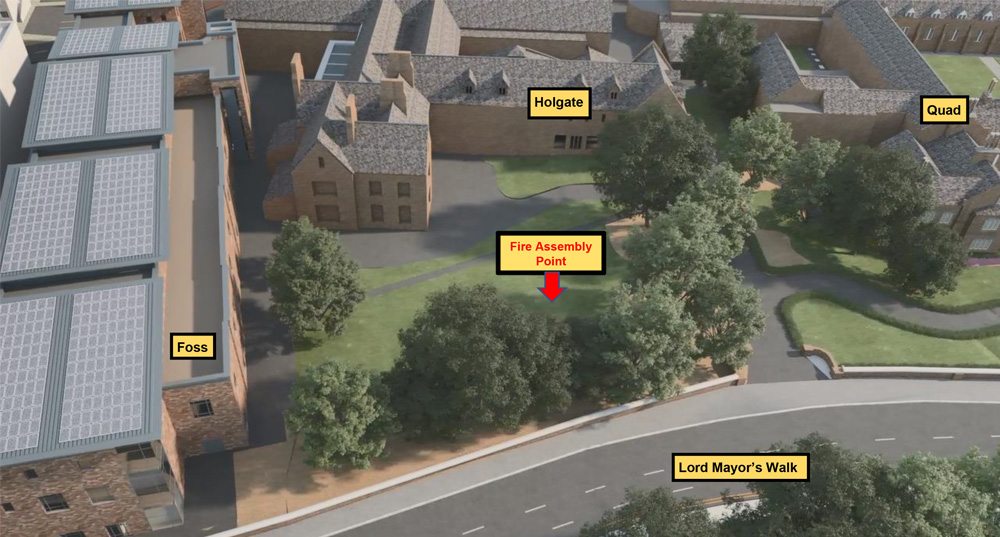 If exiting the building is not possible due to mobility difficulties, disabled refuges with communication links to the security team are situated on escape routes and are checked as part of any activation response.
Training
The university provides a compulsory online staff fire safety awareness training module, which is available at: York St John Fire Safety Training.
The module is aimed at new starters and existing staff, who should complete this as part of their overall induction and as a refresher course at least once every three years.
Testing schedules
Weekly fire alarm testing in teaching and office buildings is completed by the Maintenance Team on the Lord Mayor's Walk campus on Wednesdays. We aim to keep these activations as short as possible and try to adhere to the following approximate order between 1.00pm and 2.30pm.
Chapel (CP)

Cordukes (CD)

Ripon Wing (RW)

Quad including Music Block, Wilmott, and McGregor

44 Lord Mayor's Walk (MW)

Phoenix Building (PH)

17-19 Garden Street (GS)

21 Garden Street (NY)

Temple Wing (TW)

Holgate Building (HG)

Design and Technology (DT)

Foss (FS) and Skell (SK)

St Anthony's House (SA)

Clarence Street Communities Centre (CS)

Gateway House (GH)

De Grey Building (DG)

Fountains Learning Centre (FT)
The Creative Centre is tested between 8.00am and 8.30am on a Wednesday morning.
In accommodation sites, weekly testing schedules vary by site and are publicised in communal kitchens.
Cladding information
We want to reassure all our students, staff and their families that we take fire safety extremely seriously.
After the events of the student accommodation in Bolton in November 2019 and the tragedy of Grenfell Tower in June 2017, we want to be open and honest about the cladding that is used on our university campuses and accommodation.
Some university buildings and those operated by partner organisations do have cladding panels as part of their construction. However, these are extremely limited in extent, and all have passed the relevant EU and British standards and testing procedures to ensure that they are appropriate for their use and therefore are safe in the event of an emergency.
Our fire detection systems on all accommodation blocks and larger buildings automatically alert our 24-hour security team. For larger buildings, the systems also alert the local Fire and Rescue Service, who have a very fast response time in York.
All our student accommodation sites have regular inspections completed alongside testing and reviews of their fire safety, and we continually monitor best practice to prioritise our students' safety.
Our Estates team will continue to work closely with students, the Students' Union and Residential Support Assistants to keep awareness and standards high.