Imagining Futures
Published: 6/07/2017
A group of primary school children from York has launched an inspirational book of writing and drawing following a project with York St John University, City of York Council and Richard O'Neill, acclaimed English travelling author and storyteller.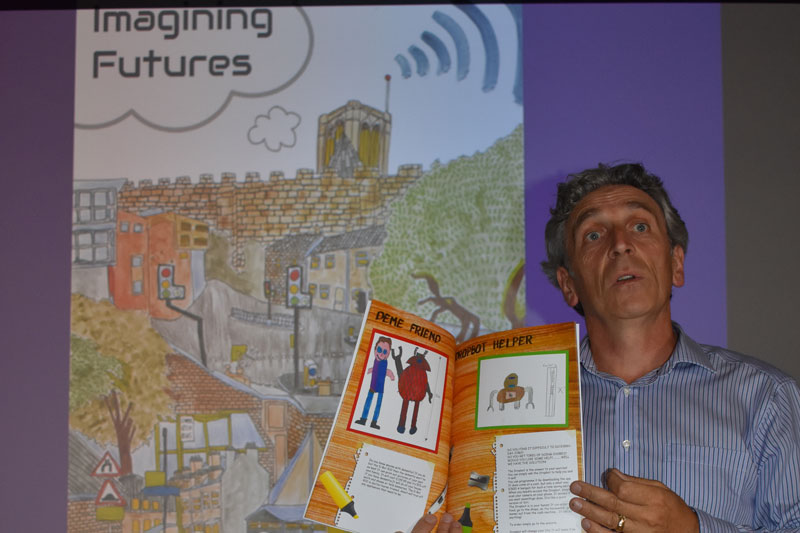 The Imagining Futures project aimed to encourage children to think about their futures in a creative way and by doing so, to raise their aspirations and introduce the idea of going to University when they might not have thought it was possible.
Their ideas, pictures and writing were brought to life following sessions in schools with award-winning storyteller Richard O'Neill, who works with different organisations across the UK to increase creativity and entrepreneurship. His workshops in St Lawrence's Primary, Tang Hall Primary, Clifton Green Primary and Lakeside Primary schools enabled pupils to contribute to the collection of imaginative pictures and stories featured in the Imagining Futures book.
York St John University is committed to working with schools across York to inspire ambition in young people across the city. Projects like this can help build the skills and confidence of young people, introduce them at a young age to the idea and possibility of going to University, and change long-held beliefs about what it means to go to University. It not only increases the chances of children from all backgrounds continuing their education past school age, but can plant a seed that encourages lifelong learning.
Vice Chancellor Professor Karen Stanton, who wrote the introduction to the book, said:
"We welcome students from all backgrounds at York St John University, whether they are the first in their family to go into higher education, or from communities where university education is not the norm.
"I have often said, and I firmly believe, that education is the bedrock of opportunity and nowhere is this truer than for those where education can unlock doors they thought were previously closed to them and provide a pathway to achieving their full potential.
I would like to thank everyone involved in this project – the children, teachers, York St John University staff and Richard O'Neill".
Share this