News article
Channelling PTSD into art
Published: 14 January 2022
A student who served in Northern Ireland at the height of the Troubles is finding creativity and a new sense of self at York St John University, somewhere he "can just be normal."
John Cutting enlisted at the age of 17, serving in the Royal Engineers before back-to-back tours of Northern Ireland. Since his time in the military, John lives with complex PTSD which impacts his life on a daily basis.
"PTSD means that my subconscious still thinks I'm at war and I have nightmares and flashbacks. I served in Northern Ireland at the height of the Troubles surrounded by bombs, riots and snipers, and I continue to live in a state of hyper vigilance. Now, because of the fact that I served in an everyday setting, every time I go out of my house it can affect me. It's very difficult to cope with.
"I made my first piece of art about six years ago, the first thing I'd made since school. My granddaughter rides and I'd been down to the stables, I was having a bad day and just looking at these horseshoes and I started and never stopped. Totally spontaneous, I was channelling my own life experiences through this horse, feeling its distress and panic."
John increasingly found art was a much-needed escape, and having a creative outlet helped him to cope with his anxieties and flashbacks. He became a prolific sculptor, using found objects, both natural and engineered materials, to create assemblage sculpture and installations.
Finding education
After exhibiting in several small shows, he decided to pursue art education as a mature student and after dropping out elsewhere, managed to complete his BA in Fine Art at York St John University.
"I really suffered to start with because of the isolation during Covid. I joined late on in the course, didn't really have the chance to get to know the other students and a few times I thought about just packing it all in. I mentioned this to my tutors and they both said any problems just come and knock on my door.
"York St John is great because everywhere you walk about there's a friendly face. That makes a difference, that family environment that there is at York St John made me able to put up with the challenges and continue with my course. It made all the difference to me. If I'd been somewhere else, I wouldn't have been able to put with it."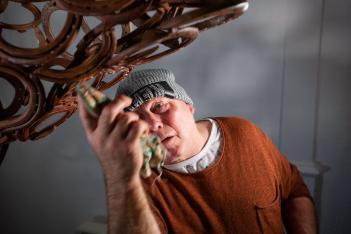 Now into his Fine Art MFA, John is finding that his mental health conditions are not only becoming easier to live with, they are also helping him as a visual artist. He says it's akin to unlocking a super power.
"Since my second semester, my PTSD has turned a corner. I can do things with my mind that I couldn't do six months ago. I can look at something and change its colour, I can visualise things cut into sections or rearranged, like a lamppost with a knot in it or a barrel split into sections like a chocolate orange.
"When I started my Masters I found a new level of confidence, I felt more confident that I ever had been in my life to be honest. I felt like I was home, somewhere that I could just be normal. I know if I have a problem I can go and see anyone of my tutors and they're not going to judge me. It makes a big difference, you need to feel that."
York St John University's Associate Head of Art Helen Turner said: "It is always joyful to work with students who are focused and engaged with their creative practice and John is a great example of this. He brings his life experience to his artistic practice and strives to make authentic work that straddles between powerful and playful.
The MFA course is a good fit for John because it encourages thinking through making which is exactly how John's work emerges. We are delighted he stayed with us at York St John to continue into postgrad education."
Public recognition
As he grows in confidence as an artist, John's work is increasingly gaining public recognition. After exhibiting in the successful 'Through Soldiers Eyes' exhibition, he's now been selected by Tees Valley Community Church to have one of his sculptures installed within the church.
Warren Harrison is a Dean at Teesside University and one of the Tees Valley Community Church leaders, he invited John to the church after seeing his work. After the visit John was inspired to create his artwork Beacon of Hope.
Warren said: "He was inspired by the sense of welcome and belonging that he found in the church, how open it was to people. He used scrap steel to connect with the Tees Valley and as he found the church so honest and open, the steel is raw.
"John has spoken to me about his PTSD, that trauma has opened up a whole new career for him. I like the way he sees the world and his own journey. University should be about the individual flourishing and he's really found a place and voice at York St John."
John's work has also been selected for York Open Studios for the first time this year, York's biggest visual arts festival. His work will be exhibited in York St John Creative Centre, alongside that of fellow students Matilde Tomat and Shannon Vertigan.
Further reading
https://www.johncuttingvisualartist.co.uk/
https://soldierscharity.org/stories/john-cutting/
https://www.yorkopenstudios.co.uk/
More about the Fine Art MFA:
https://www.yorksj.ac.uk/courses/postgraduate/art-illustration-and-photography/fine-art-mfa/
Contact us
Communications team
York St John University, Lord Mayors Walk, York, YO31 7EX
01904 876 466
To contact us out of hours, phone 07812 365 499