News article
York St John student wins international arts prize
Academic Success
Events
International
Students
The prestigious Italian-based competition, hosted by York St John University, has been established in memory of Eleanor Worthington, a severely disabled young woman who was born and lived in York before moving to Urbino, Italy. Whilst in Italy she attended the Istituto Statale d'Arte; a school where she spent many happy, creative years, inspiring fellow students and staff and leaving an enduring legacy. Eleanor spent the last five years of her life confined to a wheelchair, unable to speak or move and only able to use her eyes and face to communicate, before tragically dying in 2008, aged 26.
The prize, established in Eleanor's memory, is run by the Liceo Artistico Scuola del Libro (previously the Istituto Statale d'Arte) and supported by the Urbino Local Authority and York St John University. It is designed to showcase British and Italian art students' free-thinking responses to the theme of art and disability.
Lydia Corfield's winning entry is her final first year photography project at York St John. Entitled 'Hidden Disability', it comprises of a pair of starkly different photographic studies of a ballet dancer (the model in the photos is Lydia's 11 year-old daughter); portraying the good and bad days experienced when living with a disability (winning photographs shown below). Lydia, who used to be a dancer herself, said, "It's called Hidden Disability because it's representative of my own condition, which is not at all obvious to people who don't know me. It comes from my experience of living with a disability and is made up of two photographs. One represents the normal days when I feel upbeat and happy, and the other shows the days when my condition gets me down so that I don't even want to leave the house."
Among the other winners is another York St John student, Nick Booth (MA Fine Art), who was awarded a Special Prize for his work entitled 'Prepare to Scavenge'.
To see Lydia and Nick's prize-winning art, together with all the finalists from the UK and Italy, visit the Eleanor Worthington Prize exhibition in the Quad South Arts Foyer from Wednesday 16 – Saturday 19 May.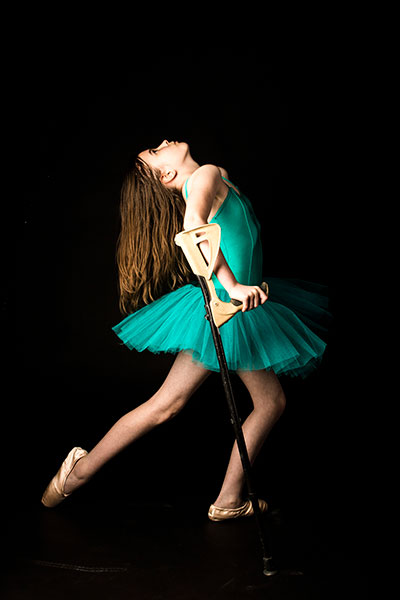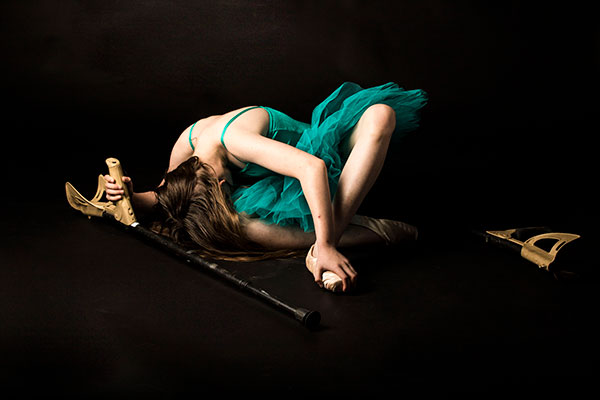 Contact us
Communications team
York St John University, Lord Mayors Walk, York, YO31 7EX
01904 876 466
To contact us out of hours, phone 07812 365 499