York St John University celebrates Ripon heritage
Published: 14/06/2018
On 30 June, York St John University will be naming a building on their Lord Mayor's Walk campus 'Ripon' to acknowledge the incredible impact the Ripon College had on higher education, especially women's education in the region.
York St John University has been at the heart of teacher training and education in York for over 175 years, and for many of those years women were educated at a separate establishment in Ripon. The two establishments were set up as teacher training colleges and both widened their offer to include other degree courses, become co-educational and eventually merge, before the Ripon campus closed in 2003. However the Ripon Training College's contribution to women's education is immeasurable.
"Everyone who studied there knew what a special place it was," says former Ripon student and current Deputy Head of the School of Education at York St John's Caroline Elbra-Ramsey. "Thousands of women, and later men, graduated from the College over its 123 years of service and, as a primary education graduate myself, I know that many of them went on to have a profound impact on children and young people all over the world."
The celebration will take place on the afternoon of Saturday 30 June and is free to all ex-Ripon staff and students. New Wing, one of the older buildings on the Lord Mayor's Walk Campus and one fittingly used for primary education, will be formally renamed by Vice Chancellor Karen Stanton, followed by afternoon tea, lawn games and tours of Ripon memorabilia throughout the current campus.
The University is also planning to commemorate Ripon College with a display of information boards throughout the newly renamed building and will be collecting pictures, stories, memories and any other memorabilia throughout the rest of the year. "It would be great to hear from as many Ripon alumni as possible," says Fundraising and Alumni Manager Jessica Thompson. "We're hoping to build up an archive and create a visual tribute to somewhere that holds a special place in so many hearts and was so instrumental in the history of education throughout Yorkshire and much further afield."
For more information visit www.yorksj.ac.uk/ripon or email alumni@yorksj.ac.uk
Share this
University Partners with Mental Health Trust
Published: 12/11/2018
The mental health of students, staff and the wider York community is at the forefront of a new partnership which has been formed between York St John University and Tees, Esk, and Wear Valleys (TEWV) NHS Foundation Trust.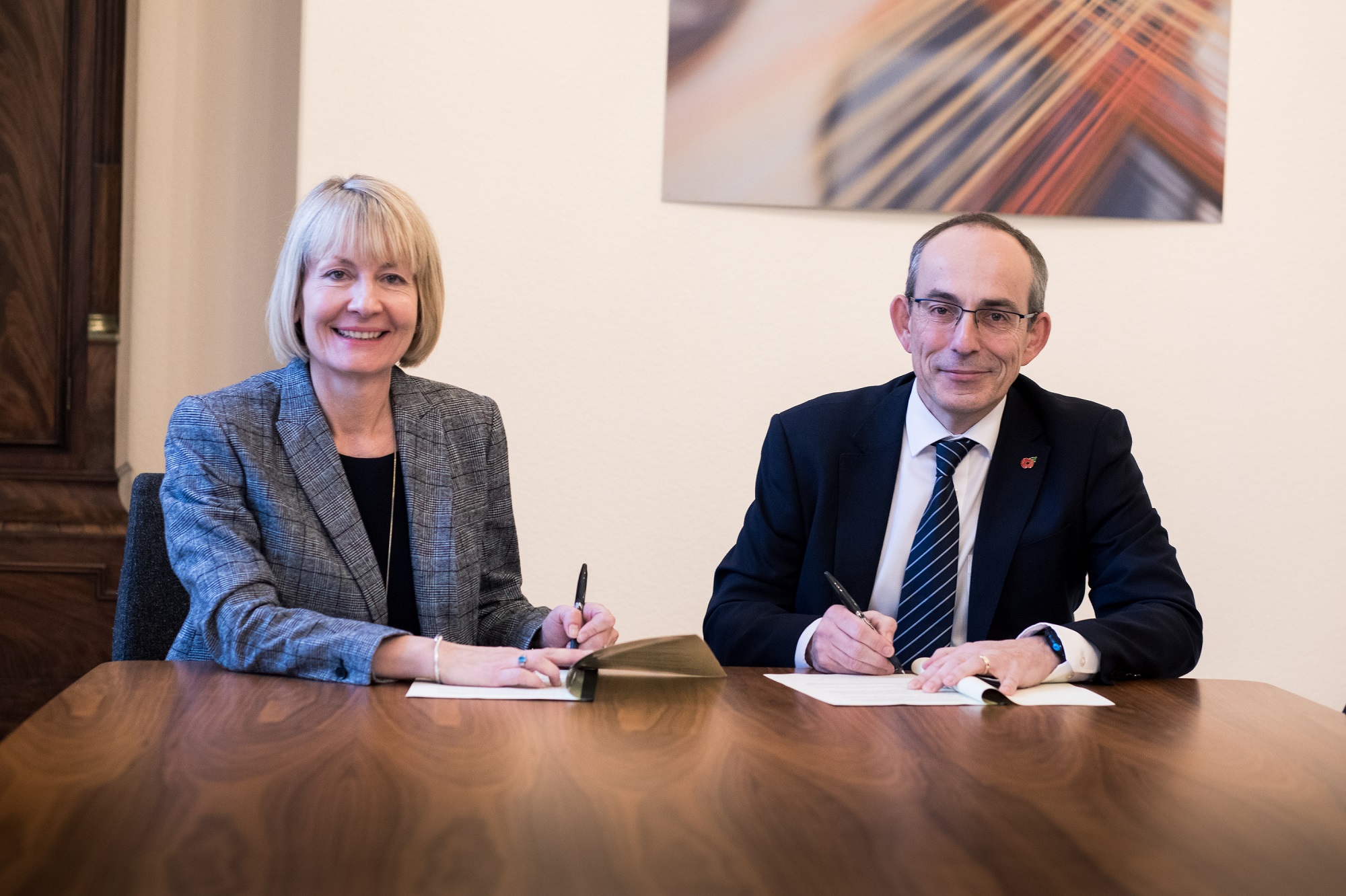 York St John University has a strong track record of supporting the mental health of students, staff and citizens through collaboration in the community. Practice-led work and evidence-based research makes a sustained contribution to local communities by providing a distinctive approach to peoples' experiences and perceptions of mental health and wellbeing. The University's current initiatives, including the pioneering Converge project, benefit mental health service users from York and the wider region and our partnership work with citizens and organisations involves both staff and students.
The partnership will also explore opportunities to develop world-class teaching and research facilities. The University will work closely with the Trust and collaborate to maximise the student and patient experience within the partnership, including placements for post graduate students.
The partnership is already having a positive impact on students in the area. This month York St John University launched a Doctorate of Counselling Psychology, with support from TEWV. The university will annually source graduate students for the new partnership programme, who will work across various TEWV community mental health venues during their studies. Students in the programme will also be assessed by supervisors from both the university and TEWV, who will oversee student progress during mid and final placement reviews.
Karen Stanton, Vice Chancellor at York St John University, said: "This partnership opens up so many exciting opportunities for both organisations. As neighbours, we have the opportunity to forge a thriving research community with the potential to generate impactful research in areas of mutual interest for the benefit of local, national and international mental health communities."
Professor Mark Edwards, Pro Vice Chancellor and Head of School of Psychological and Social Sciences at York St John University, said: "Our partnership with the Trust will also enable us to grow our academic provision beyond its current touchpoints in physiotherapy, occupational therapy and performance to include sport and exercise, psychology and STEM, along with continual professional development and consultancy activities."
Colin Martin, Chief Executive at TEWV said: "We are delighted to be working closely with York St John University. This partnership signifies the commitment of both organisations to work together and to explore opportunities, particularly in teaching and research, which will make a positive impact in York.
"As a Trust we are committed to transforming mental health services in York and this partnership comes at an exciting time, with the building of the new mental health hospital now underway.
"York St John University has a clear focus on mental health support for students, staff and the people of York and by working together I'm sure there is a lot that can be achieved."
Share this
York Top 100 Businesses Announced
Published: 14/11/2018
Persimmon Plc has topped the list of best performing businesses in York for a second year running. The company scooped the award again at the York Top 100 Businesses event held in partnership between York St John University, Make It York and The Press, York.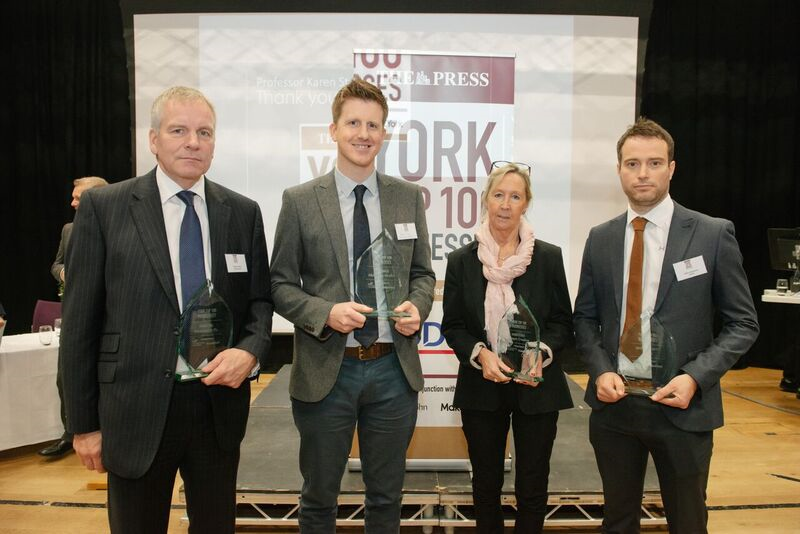 After months of research, data gathering and number crunching, a team at York St John University's York Business School revealed York's top 100 vibrant local businesses. Based on financial reporting data, businesses were ranked according to a wide range of metrics, including number of employees, turnover, profit and shareholder funds to paint a glowing picture of economic health amongst the York business community.
Four awards were presented at the event, including Highest Climber, Highest New Entry, One to Watch and First Place.
Professor Karen Stanton, Vice Chancellor of York St John University, said: "The Top 100 Business Awards bring to life the pride in the city of the York business community. The awards highlight the strength of the business community and show how vibrant it is. The relationship between the University and businesses in the city is something we take very seriously. These awards give us a chance to collectively celebrate the big and small businesses in York. In the last two years we have been recognised as the fastest growing university in the UK with over 7000 students currently. Amidst times of uncertainty, we must ensure that our students and our local businesses are future-ready as we work together as a city."
York's top 100 businesses achieved a collective financial growth of 12.5% over the last year, compared to a national average growth of 1.2%. The top 100 also saw £6 billion revenue with an accumulative workforce of 21,000 people, which is one fifth of all York employees.
Persimmon, who saw a ten times bigger revenue margin than anyone else on the list at £3.2 billion, build over 16,000 new homes a year in more than 380 locations nationwide.
Richard Latham, Group HR Director, collected the award. He said: "We are very pleased to receive this award; it's been a challenging year. However, today is about the city of York – a great place to do business. Whilst our reach takes us national, our heart remains in York. We are proud to recognise our history in York and what we have achieved in the community. We look forward to the year ahead where we'll be looking to build and sell more homes."
The Highest New Entry Award was presented to Harsh, a family-owned business that manufactures, supplies, installs and services precision hydraulic equipment and truck components. Adam Hargreaves, Managing Director, said: "For us as a company we are switched on to the potential of business and strive for excellence and continued evolution. We owe this success to our colleagues who have made this possible, and we look forward to the future. It's great to be amongst such talent in the Top 100 business of York."
Abingdon Health, a leading diagnostics group focused on developing, manufacturing and commercialising immunoassay tests and reader systems, was presented with the One to Watch Award. Scott Page, Finance Director Designate said: "As a company that has been in business since 2008 and employs 42 people, we are very happy to have made this list. We feel humbled to be given this award and are looking to achieve 30% growth in the next five years."
Paragon Creative, a world –leading design development and build company, collected the Highest Climber Award after jumping from 81st to 35th on the list.
Amanda Procter, HR, Training & Development Director said: "This is an incredibly proud moment for us. We are delighted to be named the highest climber. Our Chief Executive is currently overseas bringing even more investment into the city of York and couldn't be with us at the ceremony. We're really excited about the year ahead and have further innovation planned for our business."
This second ever list of the city's top businesses was published in a 48 page supplement in The Press to coincide with York Business Week, a celebration of the business community in our region.
Pavers Holdings, Gear4Music, Animalcare Group and Total System Service Processing Europe all made the top five.
Share this
Tomorrow's Scientists Graduate with Flying Colours
Published: 11/12/2018
The first cohort of Biomedical Science students have graduated from the Institute of Biomedical Science programme at York St John University with flying colours.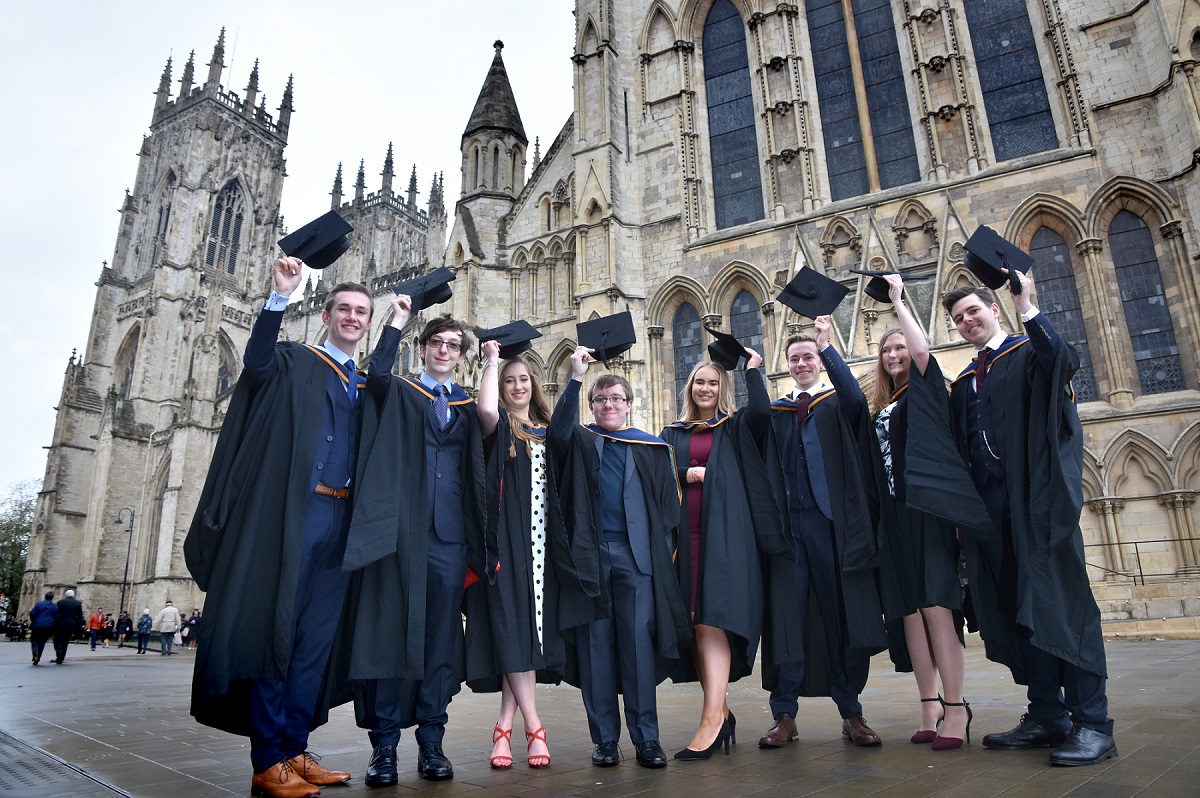 The three year accredited Biomedical Science BSc programme examines the causes of human diseases and their effects at the molecular, cellular and tissue level. York St John University students have investigated the biological processes involved in healthy individuals, along with diagnosis and treatment of human diseases.
Rebecca Hand, who achieved a first class degree in Biomedical Science at York St John University, said: "I was ecstatic to learn I had been given the opportunity to study Biomedical Science at York St John. Being an IBMS accredited degree I was taught the appropriate subjects needed if I decided to pursue a career as a Biomedical Scientist. As a student I was also offered the opportunity to complete my portfolio within a year hospital placement."
In addition to being awarded final year dissertation prize, Rebecca is currently studying a Masters degree in Biology and Control of Parasites and Disease Vectors at the Liverpool School of Tropical Medicine. Rebecca added: "My time at York St John was nothing but exceptional – whether it be making friends for life, gaining valuable experience, or developing myself as an individual - I definitely made the right decision when choosing this as my university."
The Biomedical programme at York St John University is accredited by the Institute of Biomedical Science (IBMS), the professional body for Biomedical Scientists. The course has been running for 3 years and has achieved 100% student satisfaction in the National Student Survey 2018.
Share this