Never Mind the Bollards
Published: 29/11/2018
A unique take on a one hundred-year-old Russian musical instrument has been created by a York inventor who is now developing the product to revolutionise therapy for disabled people.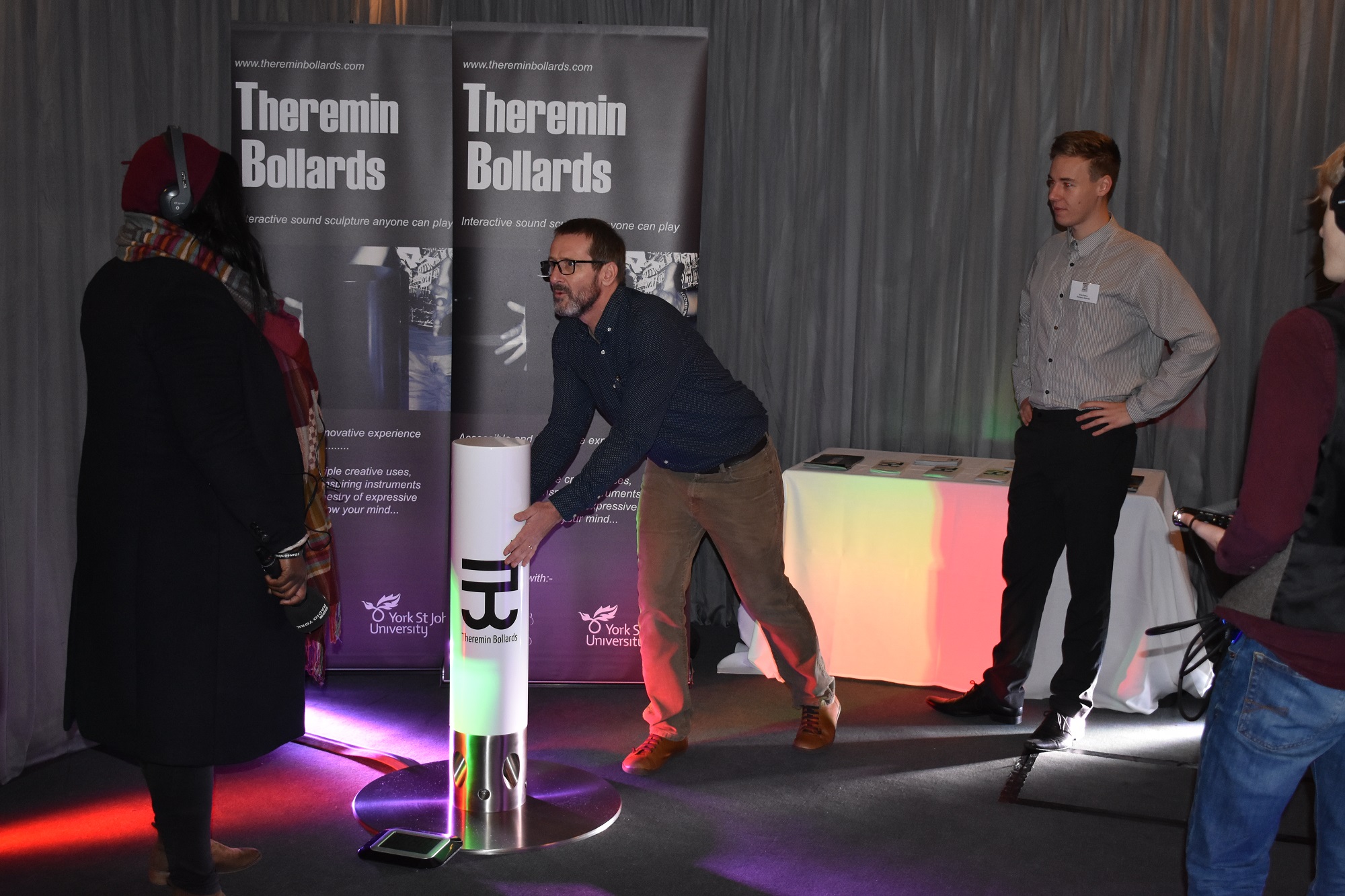 David Young, a former York St John University student has seen his Theremin Bollards installed across the globe, and is now preparing to launch a new version of the product as he engages with the NHS and disability organisations. The interactive bollard can detect the smallest of movements and translates these motions into sounds. The omni-directional and hi-resolution system offers a response and sensitivity that has been recognised as a creditable and innovative therapy tool by patients, doctors and therapists.
Designed in 1918 by Russian scientist Leon Theremin, the Theremin is one of the oldest electronic music instruments that can be played without touching. An electromagnetic field surrounds the Theremin that breaks when a player moves towards the Theremin. The original instrument is regarded as one of the most difficult instruments to play. Though David's Theremin Bollards draw parallel to the Russian blueprint, advances in digital technologies enable anyone to tap into their inner musician without the need for any experience or practical ability.
The York inventor, David Young said: "Theremin Bollards allow everyone a level playing field to enjoy a music making experience. Spinal injuries, physical disabilities, autism, stroke and dementia treatments are some of the therapies recognised by professionals as areas where Theremin Bollards offer assistive tools. Since the early days of Theremin Bollards, I've had the idea to produce a product for the therapy market, an area that resonates with me personally being the father of an amazing daughter who has cerebral palsy. Tymba is the name of my new device, which is in the very early stages of development. "
David, who has seen Theremin Bollards installed all over the world including the Twin Towers in Kuala Lumpur and Virginia State, USA, has also completed commissions for the National Science Museum, London and the City of Culture celebration event in Hull.
The new versions of the Theremin Bollards can now withstand the rigours of the outdoor environment and have recently been seen in the Yorkshire Sculpture Park.
David added: "To be able to say I have installed my work in the same space as Henry Moore, James Turrel and Jaume Plensa is breath-taking for a guy who 20 years ago was a gardener."
Share this